Softcom achieves 50% women in leadership roles and celebrates female partners of potential
International Women's Day (IWD), celebrated annually, is an opportunity to reflect on the achievement of gender equality in the world.
A choice to challenge is a decision to stir up action backed conversations on issues that matter. All progress begins with a choice to confront the status-quo; and apply our collective energies and alert minds to creating a world of equal opportunities and endless possibilities for women and men.
International Women's Day (IWD), celebrated annually, is an opportunity to reflect on the achievement of gender equality in the world, and particularly in Africa. The commemoration of IWD provides a chance to assess the changes and progress made towards the achievement of gender equality generally and the protection of the human rights of women and girls particularly.
Across the world; the last few years have seen the rightful and unprecedented rise of the woman; with global organisations like the World Trade Organisation, International Monetary Fund, UNESCO, European Central Bank among others being women-led. Ethiopia appointed its first female president. And women in Saudi Arabia were not only allowed to attend a public soccer match for the first time, they were also permitted to drive legally.
In technology, we saw the youngest woman to take a company public earlier this year and flipping through the pages of TIMES Next 100 Women, it is easy to observe the progress made in increasing visibility and driving inclusiveness for women.
We, however, remain far from a crescendo. For many women across the world; the struggle to be heard, supported and seen remains fierce. In Nigeria, in particular, male dominance in political and corporate spheres remains a strong indication that more work still needs to be done. Women, young and old, across various strata of our society, hold the promise of our collective future, as such, the choice to challenge limiting norms around gender roles is a task that we, at Softcom have remained relentlessly committed to. Nowhere is this more evident than in our company's top leadership roles; which is split 50/50 and women as just as well represented as men.
Diversity and inclusion is an integral part of our organisation's values, and we have ensured that the opportunities to enable it are felt and equal for all. We have designed a workplace that celebrates women; recognizing their strength in diversity and encouraging them to be the best versions of themselves.
We believe the journey to finding the right answers should begin with an inclusive approach in creating solutions and decision making. Each day, the women at Softcom are working on making this happen for people, businesses, and society.
Celebrating our women is very important for us in creating a safe and healthy environment where everyone is seen, respected, and valued.
With our unique brand promise of being 'a proud partner of potential' our role of birthing and nursing dreams to reality is akin to that of the woman. As a result, our connection to the notions of female inclusivity, visibility and equality transcends platitudes but rests at our core. This is why, to commemorate the 2021 International Women's Day, Softcom would be celebrating two groups of women partners of potential. The first the 92 women at Softcom who are daily creating solutions to problems affecting millions of Africans. The next are exemplary women across various industries who because of the others in society are thriving. This includes young partners of potential below the age of 25, and the more established leading women whose gallantry has remained in the public eye long enough for them to be referred to as legends in their own rights.
Our commitment to women can be summarised in one word; 'defiant'. As in a world still riddled with complexities about gender roles, we would continue to wrestle for the hope we are convinced, creates the best future for us all; an equal world.
Charles Odii
Senior Vice President, Softcom.
CHI Limited celebrates its maiden Hollandia Dairy Day
The Hollandia Dairy Day Conference is a public interest initiative created to highlight the importance of dairy in everyday nutrition and healthy living in Nigeria.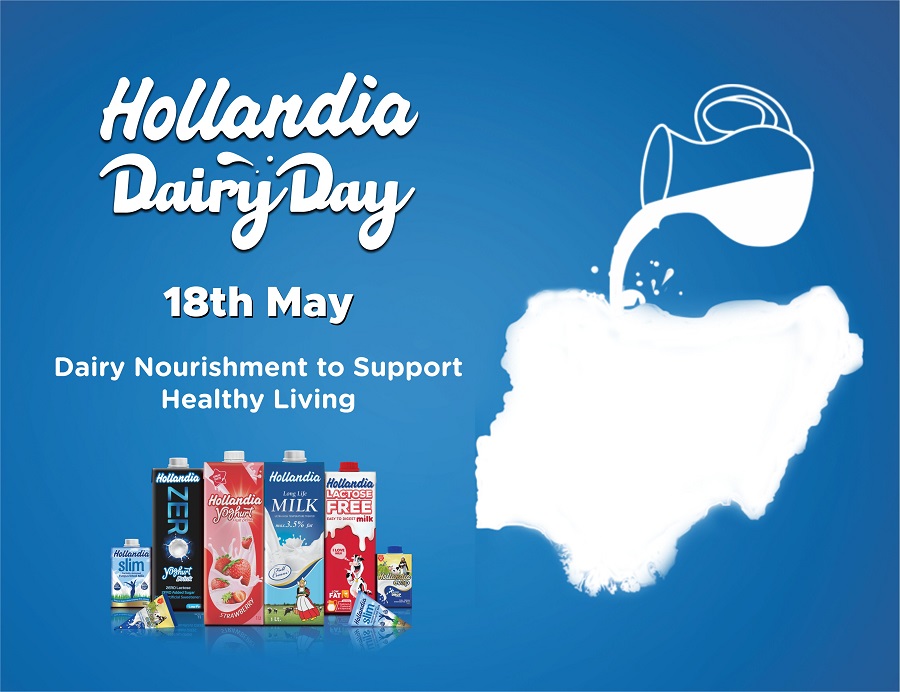 Nigeria's leading dairy brand, Hollandia, is set to hold the maiden edition of its Hollandia Dairy Day. The event which will be celebrated on the 18th of May 2021 will provide a veritable platform to drive national discourse on the unrivaled health and nutrition benefits of dairy consumption to people of all ages.
Set to be hosted as a conference, the theme of this year's event is "Dairy Nourishment to Support Healthy Living", and it focuses on the vital role dairy consumption plays in our everyday nourishment, its benefit to our overall health, and why dairy products should be included in our diets every day.
This conference, which is designed as a hybrid of physical and virtual event, will feature presentations, interviews and panel discussions from health experts and nutritionists as they provide insights and share perspectives to guide informed decisions about dairy consumption as part of a daily balanced diet. The event is opened to the public through the brand's multiple social media platforms.
According to a report by the Food and Agriculture Organization of the United Nations, 2019, Nigeria has low dairy consumption levels per head – 15 to 20 liters' per capita consumption. This is partly attributable to low purchasing power of the average Nigerian household, who rank milk and dairy products as non-essential luxuries and prioritize other staple foods such as rice, beans, and yam.
By provoking the conversations and stimulating public action/intervention, Hollandia aims to drive consciousness for dairy consumption and its importance to achieving optimum health, and to get many more Nigerians drinking, using, and consuming dairy products.
The past year has presented unprecedented shocks and disruptions, including a global COVID-19 pandemic. As communities throughout the world look for ways to minimize the risk of COVID-19, maintaining and boosting good health is top of mind for many. Dairy foods such as milk and yogurt contain essential nutrients, including Vitamins A and D, Zinc and Protein, which support immune function.
The Hollandia Dairy Day Conference is a public interest initiative created to highlight the importance of dairy in everyday nutrition and healthy living in Nigeria.
Key learnings from the Fintech Rising webinar with SEC
The main benefit of being regulated has to do with investor confidence, security, and scale.
Last week, Nairametrics hosted a webinar tagged "Fintech Rising: Creating synergy between fintech players and regulators" to discuss the regulatory environment within which the wealth-tech ecosystem operates and how it is transforming the sector.
The recent announcement by the SEC about its first license for Fintechs – Digital Sub-broker license – has led to several questions being asked about what this type of registration would mean for players within the space. Tosin Osibodu of Chaka, a digital trading platform for local and foreign stocks, who was present on the panel, provided insights into what being regulated by SEC means, and the benefits to the sector.
Being regulated does not limit your business:
He highlighted that from the start, Chaka has been extremely focused on being regulator friendly, explaining that being regulated does not mean that one's business would be limited. Regulators are committed to ensuring development and innovation within the ecosystem but will first make sure that businesses are aligned with their goals and are beneficial to the public.
SEC's intention for creating this new license:
The regulators' intention is to make sure that everyone participating is registered and structured in line with set guidelines, and it is incumbent for players to engage SEC to do that. The right approach to take is to engage regulators, show the benefits of your business to the economy as being an enabler of digital investing, making sure it is easier for people to tap into the markets, and so on; then get requisite registration.
The importance of regulation:
Tosin further highlighted that the main benefit of being regulated has to do with investor confidence, security, and scale. When a wealth-tech company just starts out, it is exciting both for the operators and the customers, but as it grows, it is necessary to scale, and that would require business and regulatory compliance according to set guidelines that obtain within the sector. Customers would want to know that in the long-term their money is safe, which the SEC is trying to ensure.  The disadvantage of not having regulation in this sector is the uncertainty for the investing public, which the SEC is guarding against.
With this new license, which Chaka is in line to receive, the SEC is ensuring that only compliant platforms would be allowed to operate so that investors will be more confident knowing that their assets are safe and stable. It would further encourage more people to invest, and encourage more players to enter the market, therefore spurring innovation.
Nairametrics | Company Earnings
Access our Live Feed portal for the latest company earnings as they drop.