Buhari to commission phase 1 of brand new refinery this week
President Buhari is set to commission the first phase of a new petroleum refinery located in Imo State.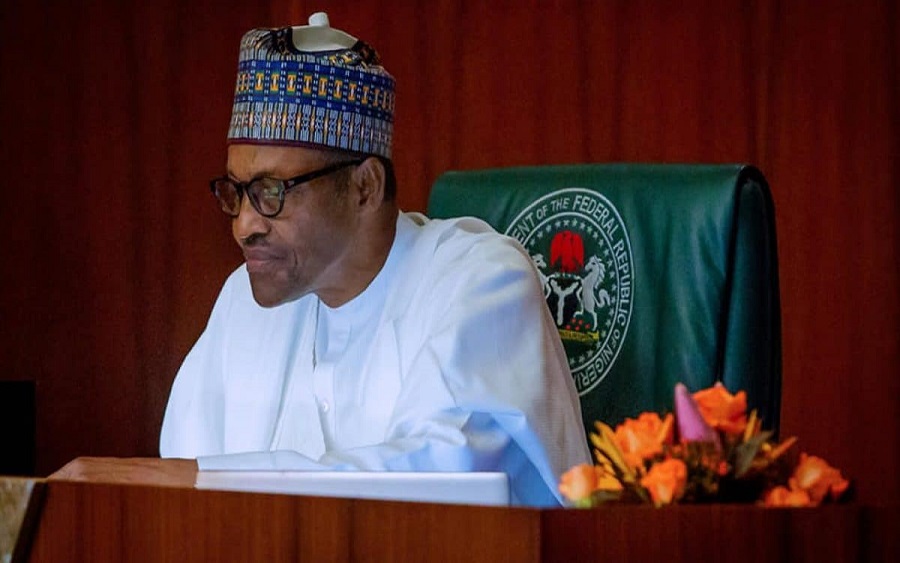 President Muhammadu Buhari is expected to commission the first phase of a brand new petroleum refinery, which is located at Ibigwe, Imo State and owned by oil and gas integrated firm, Waltersmith Limited, this week.
The Federal Government holds a stake in the refinery, following an investment by the Nigerian Content Development and Monitoring Board (NCDMB).
READ: Leo Stan Ekeh, the whiz who launched Nigeria's first locally manufactured computers
This disclosure was made by the presidency through a tweet post on his official Twitter handle on Sunday, November 21, 2020.
The presidency in its tweet post said, "This week President Muhammadu Buhari will commission the first phase of a brand new petroleum refinery by WalterSmith Limited, located at Ibigwe in Imo State. The Nigerian Government holds a stake in the refinery, following an investment by NCDMB."
READ: Irate Nigerians drag Imo State Governor for snubbing Innoson Vehicles
The phase 1 of the project is the delivery of 5,000 barrels per day (BPD) Modular capacity refinery that is strategically located near the existing flow station and will process the circa 6,000 barrels of oil equivalent per day (boepd) currently produced by the upstream business to the readily available market in the south-eastern part of Nigeria.
This is expected to contribute about 271 million litres of refined products including Diesel, Naptha, HFO and Kerosene annually to the domestic market and create both direct and indirect jobs particularly within the host communities.
READ: Dangote urged to extend investments to Tanzanian oil industry
The second phase is the delivery of 25,000 BPD crude and condensates refinery; an upgrade on the 5,000bpd modular refinery.
The project is still at an early stage of development but is designed to produce the following products: gasoline, diesel, LPG, kerosene and aviation fuel.
READ: CAC to implement new technology for business registration, customers to print certificates
This is a huge boost to the Federal Government's efforts to increase the country's refining capacity of petroleum products and stop its importation.
Apart from the 650,000 barrels per day Dangote refinery that is expected to come on stream, there are several other modular refineries that are expected to take off.
READ: CBN grants licenses to 3 Payment Service Banks
Explore Data on the Nairametrics Research Website
This week President @MBuhari will Commission the first Phase of a brand new Petroleum Refinery by WalterSmith Limited, located at Ibigwe in Imo State. The @NigeriaGov holds a stake in the Refinery, following an investment by @OfficialNCDMB: https://t.co/BMlW8p8gMR

— Presidency Nigeria (@NGRPresident) November 22, 2020
TCN restores collapsed electricity grid
TCN has now restored the electricity grid system which collapsed across the country over the past weekend.
The Transmission Company of Nigeria (TCN) has restored the collapsed electricity grid system across the country.
This was disclosed by the Acting Managing Director of TCN, Mr Sule Abdulaziz, during a media briefing on Wednesday.
According to the TCN boss, the system which collapsed on Sunday evening was restored within 40 minutes of the incident.
He said, "The company immediately went into action and stabilised the system in Abuja, before other parts of the country. There is nothing strange but it is normal for a system to collapse and that can happen in any country of the world.
"Since I came on board, we never had any system collapse and this one that happened on Sunday was restored immediately which is the fastest system collapse recovery. We are guarding the grid, we don't want the system collapse to happen, but when it happens, the most important thing is what was done and how it was done to restore the system."
What you need to know
Three days ago, Nairametrics reported that the recent power blackout in the country was due to multiple trippings.
General Manager, Public Affairs, TCN, Ndidi Mbah, who made the announcement through a statement said the company had started the process of restoration to the national grid.
Mbah pointed out that the places that power is yet to be restored were Calabar, Makurdi, Jos, Gombe, Yola, Ugwuaji and Maiduguri axis.
She stated, "The Transmission Company of Nigeria (TCN) regrets to inform electricity consumers nationwide that at 11:25 am today, the nation's electricity grid experienced multiple trippings, which led to the collapse of the system.'
"TCN has since commenced grid restoration; power has been successfully restored to every part of the country, except Calabar, Ugwuaji, Markurdi, Jos, Gombe, Yola, and Maiduguri axes. The effort is however ongoing to ensure full restoration nationwide."
N250bn to be spent to fund compressed Natural Gas infrastructure
The CBN is to make available the sum of N250 billion to fund Compressed Natural Gas infrastructure.
The Central Bank of Nigeria (CBN) is poised to make available the sum of N250 billion to fund Compressed Natural Gas infrastructure.
This move is in a bid to expand gas use and cut reliance on imported fuel, as the government looks forward to offering free conversion to enable some cars run on gas.
It is expected that by 2021, about 1 million cars would have been converted from PMS to Autogas for free.
The National Gas Expansion Programme (NGEP) launched by President Muhammadu Buhari, is part of the country's effort to free itself of costly gasoline subsidies and conserve the hard-earned foreign reserves from petroleum product imports, making it imperative to focus on gas as an alternative fuel.
(READ MORE: Nigeria to import petroleum products from Niger Republic, sign MoU on transportation, storage)
What they are saying
According to the Group Managing Director (GMD) of Nigerian National Petroleum Corporation (NNPC), Mallam Mele Kyari,
"Select NNPC stations across the country will offer free conversion of 'some cars' to enable them to run on liquefied petroleum gas (LPG) or compressed natural gas (CNG). There are currently 80 locations in the country capable of fuelling the vehicles."
Bottom line
This is a welcome development as it is cleaner, safer, and affordable to run the cars on gas.
It would also, to a large extent, conserve the foreign reserves being depleted from huge petroleum product imports, as well as offer millions of job opportunities.
FG says vehicle owners to pay N250,000 to convert from petrol to autogas
FG says owners in the country will have to pay N250,000 to have their cars converted to autogas from petrol.
The Federal Government has revealed that vehicle owners in the country will have to pay N250,000 to have their cars converted to autogas from petrol.
This disclosure was made on Wednesday, December 2, 2020, by the Technical Adviser on Gas Business and Policy Implementation to Minister of State for Petroleum, Justice Derefaka, while on Channels Television's Sunrise Daily, which was monitored by Nairametrics.
READ: FEC okays N5.4 billion for gas parks, airport security project 
While stating that the conversion of vehicles from petrol to autogas will take at least 7 hours at the various conversion centres, Derefaka also pointed out that vehicle owners will have different payment plans to perform the conversion.
What they are saying
Derefaka, who is also the Programme Manager, Nigerian Gas Flare Commercialization Project, said:
"The cost varies. So, in terms of cost implication, it depends on the cylinder of the vehicle and of course, for a typical SUV cylinder, it is a bit higher. On the average, it is around N200,000 to N250,000 and this is for a four-cylinder vehicle, but it becomes a little bit higher for a six-cylinder SUV vehicle."
READ: Ikeja Electric tops with 10.7% approved meter allocation – NERC
Nairametrics earlier reported that the Group Managing Director of Nigerian National Petroleum Corporation (NNPC), Mele Kyari, disclosed that the corporation is going to provide free conversion services in some selected NNPC retail filling stations across the country.
Derefaka further explained that there will be different payment plans for making the conversion, adding that vehicle owners can have agreement with commercial banks to get the conversion done.
READ: FG to make forex available to oil marketers for import to drive down petrol price
He also said, "The owner of the car basically will decide to say I want to run on autogas or CNG or LNG and like the Honourable Minister had mentioned as well, conversion basically has different strands, you can partner with your bank and then the bank will now agree with the conversion centre to say 'Convert this our customer's car for free.'
"Not free in its entirety, but you now go and covert your vehicle. What happens is that the installer will put some form of mechanism, that each time you buy the gas; a certain amount will be deducted to pay for the conversion kits."
While dismissing the notion amongst many Nigerians that the conversion fee is expensive, the ministerial aide noted that payment can be done within 5 to 7 months, in addition to saving up 45-50% cost associated with petrol.
READ: My recent experience selling a car on Carvana, lessons for Nigerian startups
What you should know
The Federal Government had on Tuesday launched the autogas scheme, called the National Gas Expansion Programme.
The programme involves the conversion of fuel-powered cars and generators from petrol to gas, and is aimed at deepening domestic usage of natural gas in its various forms.
The programme is also in line with the Federal Government's plan to make gas the first choice source of cheaper and cleaner energy. This follows the deregulation of the downstream sector of the oil industry with sharp increases in prices of petrol.
The Minister of State for Petroleum Resources said that the availability of Autogas as an alternative fuel option will afford Nigerians cheaper, cleaner and additional choice of fuel. Cheaper than the price of petrol and better for automobile and other engines.
READ: Hyundai to invest $87 billion into producing 44 new electric vehicles