Covid-19: Unilever Nigeria suffers 40% revenue loss
The results also provides another insight into the effects of Covid-19 on consumer goods companies.
Unilever Nigeria suffered a revenue loss of 40% for the three months period ended June 2020 according to information contained in its 2020 half year report. The company reported a revenue of N14 billion between April and June 2020 compared to N23.4 billion for the same period in 2019.
The drop in revenues negatively impacted its half year 2020 results when compared to same period last year. For the first half this year (January to June 2020) Unilever reported N27.3 billion compared to N42.6 billion same period last year. The drop in revenue threw the company into a loss per share of 9 kobo compared to 61 kobo same period in 2021.
READ ALSO: Lagos bus service limited announces 46% fare increase, to use BRT lanes
Why the drop? A cursory review of the results reveal the company's food product segments fell to N7.8 billion this quarter compared to N12 billion same period last year. Its other major division, Home & Personal Care division fell from N12 billion to N6.1 billion. Despite the year on year drop, the operating expenses remained almost flat.
Pointers: Unilever is a consumer goods company that manufacturers and distributes household food and goods to millions of Nigerians. The second quarter revenues of N14 billion is the lowest we have seen since 2016 when Nairametrics started keeping records of their quarterly results.  The results also provides another insight into the effects of Covid-19 on performance of listed companies, particularly those who service ordinary Nigerians.
In the news: Unilever skipped paying dividends in its most recent financial year following its N7 billion loss in 2019. The company has been recording declining profits for years culminating in a forced resignation of its former CEO. Last year the company  Carl Raymond Cruz as the Company's new Managing Director after its former Managing Director Yaw Nsarkoh was forced to resign.
READ ALSO: Apapa Command's revenue rises 10.59% to N227.3 billion in the first half of 2020 – Customs 
In one of its first public comments on its results, the new CEO, Raymond Cruz highlighted as follows;
"Although we are not declaring dividend for FY 2019, we are optimistic because our results show that we made progress in some other critical areas of our operations which speaks to the fact that we are on the right path to growing our business for profitability and better returns on investment for our shareholders. Therefore, the task before the Board and Management is to drive our strategic objectives that would not only keep the business afloat but also ensure it operates efficiently," 
Unilever is behind several popular products like Close-Up toothpaste, Pepsodent toothpaste, LUX beauty soap, Lifebuoy soap, Rexona, Vaseline lotion and Vaseline Petroleum Jelly, OMO Multi-Active Detergent, Sunlight washing powder, Sunlight washing bar soap and Sunlight Dishwashing liquid, Pears Baby Product ranges among others. Its Food products include Lipton Yellow Label Tea, Knorr bouillon cubes in the Foods Unit, Royco bouillon cubes, etc. The company had, in 2018, sold off its Spreads business which includes the household name brand Blueband Magarine.
Stocks, cryptos rank high as financial experts reveal their best investments in 2020
As top financial experts and analysts discuss their best investments this year, guess which assets made the list?
The year 2020 can't be forgotten so soon, as the COVID-19 pandemic disrupted global financial markets at unprecedented levels.
Some investors gained, as they took the right bets and emerged with high returns; others were taken by the storm and recorded huge losses.
Incredible gains in U.S stocks like Tesla made its founder, Elon Musk, the only billionaire in modern history to gain over $111 billion within a year.
READ: Nigeria's new Gold ETF and money market funds suffer huge outflow
He became the second-richest person in the world with a $139 billion fortune, leading many experts to believe the global investment climate has changed for good.
Cryptos were no left out of the train, as Bitcoin, Ethereum, and Ripple, pulled over 150% ROI in 2020, with no signs of slowing down.
Locally, Nigerian Investors moved towards the equity market in search of higher yields – the ASI increased by 30.15% since January 2020.
READ: Ngozi Okonjo-Iweala bags Forbes African of the Year, 2020
Nairametrics interviewed 8 high-profile Financial Analysts to find out their best investments so far in an unpredictable year like 2020. Their responses were insightful, diverse, and ranged from leading stocks to digital assets.
What they are saying
James Blackwood, Regional Director, TigerWit Limited
"2020 is a year I will not forget in a hurry. The market presented me with many opportunities to recalibrate my long-term SIPP portfolio and take advantage of the big dips experienced in March due to coronavirus, government stimulus spending, and more recently Brexit and the US elections.
READ: GTBank, Nigerian Breweries, CAP drop, investors lose N42 billion
"In no particular order, 2020 has been particularly good for stocks with exposure to gold, copper, oil, natural gas, as well as my exposure to a small group of cryptocurrencies.
"They have all served me well and with the right timing and in no particular order, I am now long Fresnillo, Glencore Xtrata, Gulf Keystone, Boohoo, Ethereum, and Nimiq."
READ: United Capital Asset Management explains mutual funds' positive performance
Taiwo Yusuf, CFA, Meristem Wealth Management
"No doubt, my top investment choices for the year are equities and bonds (FGN Naira bond and Eurobond). Wide price volatility in both asset classes offered discerning investors opportunities to make substantial ROI in 2020.
"Within a period of about 8 months – between the advent of lockdown and present, the prices of bonds and equities moved from extremely low prices to high levels.
"This is a reflection of reactions to the economic uncertainties that heralded the Covid-19 health challenge and the increasing optimism of a gradual return to the normal world order."
READ: GTBank, Cadbury, keep Nigerian Stocks fired up, Investors gain N105.76 Billion
Silas Ozoya, Founder/CEO, SUBA Capital
"About investments, 2020 has been a very interesting year for both alternative investment managers like us and for retail investors we deal with generally.
"For me, my favorite investments in 2020 would be agricultural commodities and medium-term fixed income assets like Eurobond. Thanks to technology, we were able to scale through marginally during the pandemic lockdown."
READ: Oil prices heading for 5th week of gains, near $50 per barrel
Omoniyi David-Mosaku, Business Development Manager of Ziing (powered by Investment One Financial Services Limited)
"For me, 2020 came with different opportunities in the Nigerian Capital and Money Market space as experts' outlook for the year was positive, especially, for the Nigerian Stock Market.
"While expectations for interest rates were a bit pessimistic, I looked forward to diversifying my risk through available money market instruments. However, the pandemic gave a knee jerk reaction to the economy and my investment appetite changed with it.
READ: Bitcoin jumpstarts strongly, daily trading volume hits $25 billion
"Personally, I would say that my best investment decision for 2020 was investing in the Nigerian Stock Market and dollar-denominated investments. I enjoyed higher returns from the stock market and prevented capital loss (due to Foreign Exchange rate) on a dollar-denominated fund."
Obiamaka Ibe, Senior Analyst, SEL Capital & Finance
"MTNN – The Money Market remains unattractive to investors, as yields on Treasury & OMO Bills are below 1%. Investors are moving towards the equity market in search of higher yields. The ASI has increased by 30.15% since the beginning of January 2020.
"With regard to the Equity market, MTNN is my favorite stock pick in 2020. There has been a 43% increase in share price since the beginning of the year and the stock achieved its 52-week high.
READ: How declining interest rates, others drive a shift in Nigeria's investment sector
"It is expected that investors will continue to take advantage of the low-interest rates and huge market demand for relatively higher yields in the equity market. There has also been a growing interest in Alternative Investment classes."
Darlington-Morsi Onyemaka, Co-founder, Quba Exchange
"The good, bad, and ugly events of 2020 brought lots of volatility to the market and lots of opportunities too, which I'm happy to have spotted early enough.
"These events have been the backbone of every investment decision I made during the year. Some of my best investments this year have been in my stocks and crypto portfolio. Even though the portfolio had sizeable losses, the gains from $LULU, $Zoom and Bitcoin multiplied its overall value by nearly 500%.
"Owing to the continued uncertainty and possible second outbreak of the pandemic, I'll continue to hold and closely watch these assets in the meantime."
READ: 3 wealthy crypto investors move over $400 million worth of Bitcoin
Thelma Ugonna Ohiri-Anyanwu, CFA, Banker at Nigeria's top tier-1 bank
"2020 has been a very challenging year and a year that birthed a new way of life. However, it has been one of my best years in terms of investments, as I took deliberate decisions with regard to my finance.
"It is also a year I diversified my portfolio and made very good returns on it. It's hard to decide on what my favorite investment for 2020 is. I will settle for my top two – investment in Ethereum and in some Value stocks on the NSE, which yielded annualized returns of 95% and 60% respectively.
"It has indeed been a great year of unlearning, re-learning, and re-strategizing. I look forward to 2021, and intend to fully diversify to the global market and also invest in commodity trading."
Elelu-Bashir Mohammed, Nigeria Community Manager at Crypto.com
"2020 has been a roller-coaster year for stocks and cryptos. Right from the massive dip of the entire crypto and stock market in March due to an outbreak of coronavirus, to stocks and crypto soaring above their all-time high in late Q3 and Q4.
"During these periods of ups and downs, one of the major challenges people faced was a problem choice. Choice in terms of what they can invest in because virtually everything was in a good buying range.
"There are also thousands of cryptocurrencies and stocks available in the marketplace, which makes it even more difficult and overwhelming to carry out individual research on what to invest in.
"Here's a list of my favorite investments for the year 2020 in no particular order – Bitcoin, Ethereum, crypto.com coin (CRO), Zoom, Netflix, Tesla, Moderna, and lastly Gold."
Bottom line
The comments by the financial experts reveal significant diversity in their choice of best assets to invest in this year, with a significant number of them picking unconventional financial assets like cryptos.
Also, their choices reflected different appetite for risks, with some investing in riskier assets and others playing a safer investment game.
Summarily, 2020 is truly a year many local and international financial experts won't forget in a hurry, with its attendant highs and lows. Surely, the lessons learnt will make investors smarter in future dealings.
Nigerian stocks close November with biggest monthly gains in two years
The Nigerian stock market closed the month of October with aplomb posting the biggest monthly gains in almost two years.
The Nigerian stock market closed the month of October with aplomb posting the biggest monthly gains in almost two years. The Nigerian All Share Index ended the point with 35,034 points closing with a month to date gains of 14.72%.
Stocks are up 30.48% year to date and on track to reverse the losses of the last two years. Stocks are still off the 2017 high of 38, 243 points suggesting that there could be more room for growth.
READ: U.S biggest listed companies post best monthly gains since January 1987
Major Driver for Stocks
The stock market has attracted significant demand from institutional and retail investors seeking higher returns on their investments. With interest rates on alternative investments such as fixed income, hundreds of billions of local investor cash flowed into the stock market sending the bulls raging.
The central bank's policy on lowering interest rates has been positive for the stock market as investors scrambling for yield turn to the stock market. The Covid-19 lockdown sent stocks crashing earlier in the year falling by 18.75% in March alone as investors dumped stocks in droves.
This sent dividend yield into double digits only making it a matter of time before investors.
Nigerian stocks have also benefited from the positive sentiments surrounding the rise in oil prices even and the slew of announcements of a vaccine being found for Covid-19.
READ: 34.5% decline in aviation jet fuel daily sufficiency, a worry for airline companies
Top stocks
During the month, Livestock Feeds gained the highest with a 132% returns month to date followed by International Breweries with an 84% pop. Airtel Africa joined the top 10 gainers list during the month with a 55% gain as investors rewarded the telco for its impressive results.
On a year to date basis, Sunu Assurance topped the gainers' chart with a 400% gain followed by BUA cement with 204%. Livestock Feeds, Airtel, and United Capital makes up the rest of the top 5 stocks this year gaining 160%, 97%, and 88% respectively.
United Capital and BUA Cement are included in Nairametrics Stock Select Portfolio.
READ: Tesla's market value bigger than any African country
Can this be sustained?
Investors remain wary of the stock market with the experiences of the last two years still fresh in memories. However, there are factors that could tip the market towards a bearish run.
Interest rates – When the CBN chooses to raise interest rates on treasury bills or OMO bills just know it is time to exit. I need not explain this further.
Zombie Stocks gaining – These are stocks with little to zero fundamentals gaining by double digits. We saw some of these last week and it was quite disturbing. But as an SSN subscriber, we will never recommend a Zombie stock so you cannot be caught napping.
READ: Bank stocks remain a buy amid uncertainty prevailing Nigeria's economy
Political Instability – Nigerian Stocks withstood the EndSars protest after a few days of panicking selling. However, with tensions still in the air, any more political skirmishes could depress the market severely.  Nigerian politicians have so far demonstrated an impressive array of skills in managing internal crisis so I am betting that they can manage this. However, with the economy in dire straits, this remains a huge concern for me.
Bombing – I shuddered during the week when I heard there were meetings going on in the Niger Delta to discuss states in the North who were mining and selling Gold. The last thing we need now is another bombing from Niger Delta Militants. If that happens then expect a massive sell off.
READ: Tesla up 500% in 2020, near $500 billion market value
Oil Prices – Nigerians stocks remain perfectly correlated to oil prices. It is a rule that has remained for decades and still matters. Whilst we have seen oil prices dipped below $40 in recent weeks, it has found ways to creep above it. The recent wave of covid-19 cases globally remains a concern but this is largely mitigated by the discovery of a possible Covid-19 vaccine.
Foreign Investors – During the week, the operators of the MSCI Index for frontier markets decided to take no action on Nigeria. This means despite all the challenges we have with forex; they still see the Nigerian stock market as a destination for foreign portfolio investments. I do not expect foreign investors to continue to invest in Nigeria due to challenges with capital control, but our market is still attractive. In fact, I hear stocks like Nestle, Nigeria Breweries, International Breweries are attracting significant foreign portfolio investments.
READ: Nigerian retail industry can't grow without proper franchise system – CIG boss
Where does this lead to?
We are now on the cusps of a new market order. If interest rates remain this low, we will continue to see a stock market that will be robust and resilient. Our bold theory is that we might never see another major stock market crash if we sustain this bullish ride for another full quarter.
Explore Data on the Nairametrics Research Website
Investors will demand more accountability from the management of companies while regulators will enforce transparency.
Companies will publish interim and annual reports regularly and will reinforce their investor relations business.
This will trigger confidence in the stock market allowing for sustained investing. At some point soon, we will see the return of mega IPOs, Public Offers, and right issues.
Retail investors will flock into the market, but they will be better informed about what to buy and what not to buy.
This might all sound overly optimistic but let us remember the US stock market has been on a bullish ride since 2008.
READ: Nigerian pension funds increase exposure to foreign money market funds
Indeed, the global equities market will remain sustained on the positive side if governments in the west continue with their quantitative easing programs that pump in cheap money into the economy.
U.S biggest listed companies post best monthly gains since January 1987
The Dow jumped 11.8% in November, posting its best one-month gain since January 1987. The S&P 500 and Nasdaq Composite surged by 10.8% and 11.8%, respectively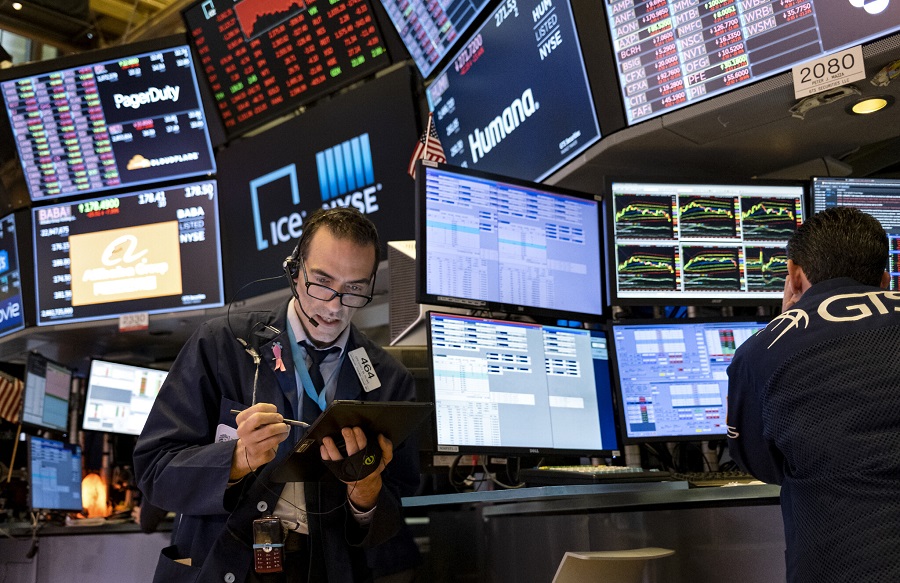 U.S biggest listed companies were all fired up in the month of November, as they posted incredible gains, amid three promising Covid-19 vaccines presently in play.
This triggered investors buying pressure in the world's largest and most liquid equity market.
The Dow jumped 11.8% in November, posting its best one-month gain since January 1987.
The S&P 500 and Nasdaq Composite surged by 10.8% and 11.8% respectively, for their strongest monthly advances since April.
What this means
November gains are coming amid a slew of positive COVID-19 vaccine news, which lifted the broader market sentiments up and sparked a surge of blue-chip brands that include Apple, Amazon, Coca-Cola, Salesforce, Intel, IBM, Google, Chevron, IBM, JP Morgan Chase, Goldman Sachs, Amgen, Boeing, Visa, Walmart, and Walt Disney.
The iShares Russell 1000 Value ETF (IWD) rallied 13.4% for the month and outpaced its growth counterpart, the iShares Russell 1000 Growth ETF (IWF), by 3 more percentage points.
What they are saying
Stephen Innes, Chief Global Market Strategist at Axi, in a note to Nairametrics, advised stock traders to be wary of recent data showing a plunge seen in Dallas Fed November Manufacturing activity data, following the Chicago PMI miss earlier on Monday.
"The Dallas Fed miss was consistent through most of the sub-indices, with new orders falling to 7.2 from 19.9, though the number of employees increased to 11.7 from 8.7. Prices paid rose to 35.0 from 29.4, while prices received fell to 4.7 from 6.8, indicating potential margin pressure.
"However, even worse for these firms are the year-on-year comparisons, it seems. It is usually in these last couple of months where many retailers make their annual profit.
"The weakness of data outside of Asia highlights lockdowns (forced or self-imposed) have begun to affect. Simultaneously, early reports suggest Black Friday may have been underwhelming — even taking into account online activity, one of the new 'norms' of 2020."
What you should know
The Dow Jones or Dow Jones Industrial Average (DJIA) is a popularly known stock market index that measures the stock performance of the 30 biggest companies listed on stock exchanges in the United States.
What to expect
In the coming days, global investors are anticipating an even stronger 2021 profit outlook possibly coupled with a quick inoculation-driven economic recovery at least for the mid-term.