Elon Musk is fast becoming the Steve Jobs of today
Elon will be left to dominate and control the trends in Artificial Intelligence, Space travel among others.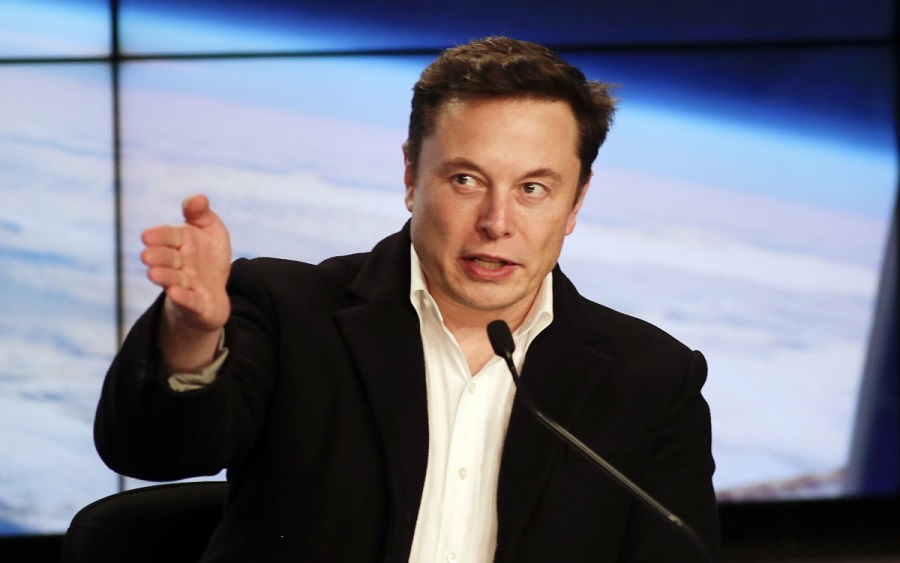 Elon Musk is one of the many individuals that has played a crucial role in tech innovation. Musk is known all over the world for a number of companies and a variety of products.
Specifically, he is known as an engineer, industrial designer, technology entrepreneur and philanthropist. Tesla as his brain child has led the revolution of electric cars which have the potential to replace the polluting combustion engine-driven vehicles.
Tesla vehicles represent man's drive towards clean transportation; being able to move around without contaminating the air he breathes. In 2019, the company manufactured over 300,000 vehicles and generated about US$24.578 dollars. That's a lot of money.
READ ALSO: Elon Musk fires back at SEC on twitter
Musk is also the progenitor of The Boring Company, an American Infrastructural and tunnel construction company founded in 2016. We can't also forget Open AI, an Artificial Intelligence company dedicated to ensuring AI does not lead to human extinction. Elon with regards to Open AI, shares the idea that AI, if not controlled can broaden its ability to re-design and improve itself which can be inimical for man. Because of this, the company partners with other organisations and researchers in the field to ensure AI remains an extension of human intelligence and not necessarily a competitor.
A company that will be of interest to any is SpaceX officially known as the Space Explosion Technologies Corp., an American aerospace manufacturing and space transportation company. SpaceX is not just a representation of Elon's desire for space travel, but the deeper vision of colonizing Mars.
In 2017, SpaceX unveiled the Interplanetary Transport System, a privately funded system.
In 2020, SpaceX in collaboration with NASA launched two astronauts into space, the first launch since the U.S. government retired its space program after a national tragedy. It was also the first collaboration between NASA and a private organisation. This, however, does not seem to be the last launch for Elon's company as the next launch is scheduled for June 12.
READ ALSO: Disruptive Opportunities: Can developing AI and robotics stabilise the Naira?
SpaceX will among other things, be sending another 60 of its starling satellites into orbit. Elon Musk's works do not in any way undermine the products, innovations, researches and actions of others in the tech field. But they unsurprisingly put him at the forefront of it all.
How this affects the tech space and the rest of the world?
Elon's companies and their products are causing ripple effects in their respective industries. They are giving the "old" way of doing things a run for its money. His inventions and innovations ordinarily represent the tools of the new era of tech.
At the same time, he is becoming a threat to competitors in the tech industry. Kanye's West words, "how can one man have all that power?!" resonates in the minds of competitors and businessmen who want a slice of Elon's cake.
Be this as it may, without worthy competitors, Elon will be left to dominate and control the trends in Artificial Intelligence, Space travel among others. This is not strange in any way. Once upon a time, we had Steve Jobs at the forefront of innovation in tech.
For consumers, Elon's dominance in the tech field might be a little troublesome. Having innovative tech is good for us, but having them from the same person does not cut it. If that is to happen, the tech market will be dominated by Elon Musk and his many tech companies which could in more ways than one, limit the variety of products in our lives.
READ ALSO: Tech group suspends Crowdfunded relief to Nigerians
Moreover, tech could become monotonous being that the concepts emanated from the same mind. Governmental policies could also be affected by Elon's dominance of the tech industry.
SpaceX launches, as much as they have a record of firsts, it won't be wrong to say that either subtly or not, the company and Elon has impacted government's policies; specifically, as regards space travel.
On the whole, these don't mean Elon Musk is an overbearing capitalist, but we need the tech industry to step up to match his innovations specifically in these fields: artificial intelligence, space travel, automobile and car manufacturing.
Oil markets need airlines to resume
Now we have Oil markets leeching on a relatively insignificant demand for travel.
Summer 2020 is here, and without the interference of COVID-19, this would have been one of the busiest summers in history.  For the first time, we had a European Soccer Tournament hosted across different countries in Europe. Spain, Holland, Romania, Denmark, Hungary, Ireland, England, Russia, and a few countries, to mention a few, are all in line to host the world for this spectacular tournament. Many people (including myself) were planning on trips to Europe to watch some of the tournament's exciting games. Another tournament scheduled to hold in Tokyo this summer was the 2020 Olympics. Think about what that would have meant for the Asian markets. Think about the demands that would have generated across the board.
The Dubai Expo 2020, a once in a lifetime event, was going to be the largest ever celebration hosted in the Emirates. The event was primed to welcome 190 participating countries and millions of visitors from across other continents. Think about tourism to Dubai usually, think about tourism to Dubai if this event were to hold (without COVID-19), and now think of it not even holding at all.
READ MORE: Shell warns investors it may write down up to $22 billion due to oil crash
The demand for travel was primed to reach its zenith this year. That would have meant a lot for the aviation industry, airlines, and, most importantly, Oil markets. Now we have Oil markets leeching on a relatively insignificant demand for travel. Jet fuel demand averages about 8 million barrels per day. As a result of the pandemic, The International Energy Agency expects demand for jet fuel and kerosene to fall by 2.1 million bpd on average in 2020.
According to an article in Reuters, Per Magnus Nysveen, Head of Analysis at Rystad Energy said, "Jet fuel consumption will be impacted for a longer time and maybe not recover fully even next year. The reason is that travelers remain concerned about long-haul vacations, and businesses get used to online meetings".
We are now faced with a travel industry that is more precautionary of a virus, so this means fewer travels and social distancing in aircraft. Although a few people are acting oblivious to the pandemic by carrying on with their summer plans, travels are still below pre-pandemic levels. American Airlines and United Airlines have also decided to ditch social distancing, as seen in an article on Forbes. American Airlines said in its press statement last week.
READ ALSO: Forex: U.S dollar gains strength, global geopolitical climate worsens
"As more people continue to travel, customers may notice that flights are booked to capacity starting July 1. American will continue to notify customers and allow them to move to more open flights when available, all without incurring any cost," Nysveen added.
Albeit, that statement caused a lot of criticism from some members of the public, it is evident the airline is trying to salvage some revenue after the dilapidating effect the pandemic had on the airline industry just as the pandemic hurt Oil markets.
Now the Oil markets need airlines to rally. In the diagram below, some resistance is formed above the $43 mark, albeit worries over a second wave of the coronavirus surfacing in most American cities. A massive sell-off happened at Wall Street last week on the back of these concerns. The Oil bulls need momentum to reach the $50 price level, and that would only be possible if airlines resume in full capacity.
The markets have reached their current levels on the backdrop of OPEC production cut and hopes of a reopening economy. If airlines begin to operate pre-pandemic capacity, we would be in store for a rally in prices. But when would airlines begin operating at pre-pandemic capacity? That remains the question the Oil markets have no answer to.
Why Insurance firms are selling off their PFAs
It has not been uncommon over the years to have insurance companies with pension subsidiaries.
The idea of mitigating risks and curtailing losses at the bare minimum begins from the insurance industry and only crosses into the pension space with the need for retirement planning. For this reason, it has not been uncommon over the years to have insurance companies with pension subsidiaries. However, controlling the wealth of people is no easy feat – and crossover companies are beginning to think it might not be worth it competing with the big guns; that is, the pension fund administrators (PFAs) that already cater to the majority of Nigerians.
A few months ago, AXA Mansard Insurance Plc announced that its shareholders have approved the company's plan to sell its pension management subsidiary, AXA Mansard Pensions Ltd, as well as a few undisclosed real estate investments. It did not provide any reason for the divestment. More recently, AIICO Insurance Plc also let go of majority ownership in its pension arm, AIICO Pension Managers Ltd. FCMB Pensions Ltd announced its plans to acquire 70% stakes in the pension company, while also acquiring an additional 26% stake held by other shareholders, ultimately bringing the proposed acquisition to a 96% stake in AIICO Pension. The reason for the sell-off by AIICO does not also appear to be attributed to poor performance as the group's profit in 2019 had soared by 88% driven by growth across all lines of business within the group.
 So why are they selling them off? 
Pension Fund Administration is, no doubt, a competitive landscape. Asides the wealth of the over N10 trillion industry, there is also the overarching advantage that pension contributors do not change PFAs regularly. Therefore, making it hard to compete against the big names and industry leaders that have been in the game for decades – the kinds of Stanbic IBTC, ARM, Premium Pension, Sigma, and FCMB. Of course, the fact that PFAs also make their money through fees means the bigger the size, the more money you make. With pressure to capitalize mounting, insurance firms will most likely spin off as they just don't have the right focus, skills, and talents to compete.
The recent occurrence of PENCOM giving contributors the opportunity to switch from one PFA to another might have seemed like the perfect opportunity for the smaller pension companies to increase their market shares by offering better returns. More so, with the introduction of more aggrieved portfolios in the multi-fund structure comprising of RSA funds 1, 2, & 3, PFAs can invest in riskier securities and enhance their returns. However, the reality of things is that the smaller PFAs don't have what it takes to effectively market to that effect. With the gains being made from the sector not particularly extraordinary, it is easier for them to employ their available resources into expanding their core business. There is also the fact that their focus now rests on meeting the new capital requirements laced by NAICOM. Like Monopoly, the next smart move is to sell underperforming assets just to keep their head above water.
READ MORE: AIICO seeks NSE's approval for conducting Rights Issue
Olasiji Omotayo, Head of Risk in a leading pension fund administrator, explained that "Most insurance businesses selling their pension subsidiaries may be doing so to raise funds. Recapitalization is a major challenge now for the insurance sector and the Nigerian Capital Market may not welcome any public offer at the moment. Consequently, selling their pension business may be their lifeline at the moment. Also, some may be selling for strategic reasons as it's a business of scale. You have a lot of fixed costs due to regulatory requirements and you need a good size to be profitable. If you can't scale up, you can also sell if you get a good offer."
What the future holds
With the smaller PFAs spinning off, the Pension industry is about to witness the birth of an oligopoly like the Tier 1 players in the Banking sector. Interestingly, the same will also happen with Insurance. The only real issue is that we will now have limited choices. In truth, we don't necessarily need many of them as long all firms remain competitive. But there is the risk that the companies just get comfortable with their population growth-induced expansion while simply focusing on low-yielding investments. The existence of the pandemic as well as the really low rates in the fixed-income market is, however, expected to propel companies to seek out creative ways to at least keep up with the constantly rising rate of inflation.
Nigerian Banks expected to write off 12% of its loans in 2020 
The Nigerian banking system has been through two major asset quality crisis.
The Nigerian Banking Sector has witnessed a number of asset management challenges owing largely to macroeconomic shocks and, sometimes, its operational inefficiencies in how loans are disbursed. Rising default rates over time have led to periodic spikes in the non-performing loans (NPLs) of these institutions and it is in an attempt to curtail these challenges that changes have been made in the acceptable Loan to Deposit (LDR) ratios, amongst others, by the apex regulatory body, CBN. 
Projections by EFG Hermes in a recent research report reveal that as a result of the current economic challenges as well as what it calls "CBN's erratic and unorthodox policies over the past five years," banks are expected to write off around 12.3% of their loan books in constant currency terms between 2020 and 2022, the highest of all the previous NPL crisis faced by financial institutions within the nation.  
Note that Access Bank, FBN Holdings, Guaranty Trust Bank, Stanbic IBTC, United Bank for Africa and Zenith Bank were used to form the universe of Nigerian banks by EFG Hermes.  
READ MORE: What banks might do to avoid getting crushed by Oil & Gas Loans
Background  
Over the past twelve years, the Nigerian banking system has been through two major asset quality crisis. The first is the 2009 to 2012 margin loan crisis and the other is the 2014 to 2018 oil price crash crisis.  
The 2008-2012 margin loan crisis was born out of the lending institutions giving out cheap and readily-available credit for investments, focusing on probable compensation incentives over prudent credit underwriting strategies and stern risk management systems. The result had been a spike in NPL ratio from 6.3% in 2008 to 27.6% in 2009. The same crash in NPL ratio was witnessed in 2014 as well as a result of the oil price crash of the period which had crashed the Naira and sent investors packing. The oil price crash had resulted in the NPL ratio spiking from 2.3% in 2014 to 14.0% in 2016.  
Using its universe of banks, the NPL ratio spiked from an average of 6.1% in 2008 to 10.8% in 2009 and from 2.6% in 2014 to 9.1% in 2016. During both cycles, EFG Hermes estimated that the banks wrote-off between 10-12% of their loan book in constant currency terms.  
 READ MORE: Ratings firm explains why bank non-performing loans could be worse than expected
The current situation 
Given the potential macro-economic shock with real GDP expected to contract by 4%, the Naira-Dollar exchange rate expected to devalue to a range of 420-450, oil export revenue expected to drop by as much as 50% in 2020 and the weak balance sheet positions of the regulator and AMCON, the risk of another significant NPL cycle is high. In order to effectively assess the impact of these on financial institutions, EFG Hermes modelled three different asset-quality scenarios for the banks all of which have their different implications for banks' capital adequacy, growth rates and profitability.  These cases are the base case, lower case, and upper case. 
Base Case: The company's base case scenario, which they assigned a 55% probability, the average NPL ratio and cost of risk was projected to increase from an average of 6.4% and 1.0% in 2019 to 7.6% and 5.3% in 2020 and 6.4% and 4.7% in 20201, before declining to 4.9% and 1.0% in 2024, respectively. Based on its assumptions, they expect banks to write-off around 12.3% of their loan books in constant currency terms between 2020 and 2022, a rate that is marginally higher than the average of 11.3% written-off during the previous two NPL cycles. Under this scenario, estimated ROE is expected to plunge from an average of 21.8% in 2019 to 7.9% in 2020 and 7.7% in 2021 before recovering to 18.1% in 2024.  
Lower or Pessimistic Case: In its pessimistic scenario which has a 40% chance of occurrence, the company projects that the average NPL ratio will rise from 6.4% in 2019 to 11.8% in 2020 and 10.0% in 2021 before moderating to 4.9% by 2024. It also estimates that the average cost of risk for its banks will peak at 10% in 2020 and 2021, fall to 5.0% in 2022, before moderating from 2023 onwards. Under this scenario, banks are expected to write off around as much as 26.6% of their loan books in constant currency terms over the next three years. Average ROE of the banks here is expected to drop to -8.8% in 2020, -21.4% in 2021 and -2.9% in 2022, before increasing to 19.7% in 2024.   
Upper or optimistic case: In a situation where the pandemic ebbs away and macro-economic activity rebounds quickly, the optimistic or upper case will hold. This, however, has just a 5% chance of occurrence. In this scenario, the company assumes that the average NPL ratio of the banks would increase from 6.4% in 2019 to 6.8% in 2020 and moderate to 4.8% by 2024. Average cost of risk will also spike to 4.2% in 2020 before easing to 2.4% in 2021 and average 0.9% thereafter through the rest of our forecast period. Finally, average ROE will drop to 11.6% in 2020 before recovering to 14.4% in 2021 and 19.0% in 2024. 
With the highest probabilities ascribed to both the base case and the pessimistic scenario, the company has gone ahead to downgrade the rating of the entire sector to 'Neutral' with a probability-weighted average ROE (market cap-weighted) of 13.7% 2020 and 2024. The implication of the reduced earnings and the new losses from written-off loans could impact the short to medium term growth or value of banking stocks. However, in the long term, the sector will revert to the norm as they always do.