IMF pressures Nigeria to fast track exchange rate unification 
IMF expressed special interest in getting Nigeria to follow through with the unification of the multiple exchange rates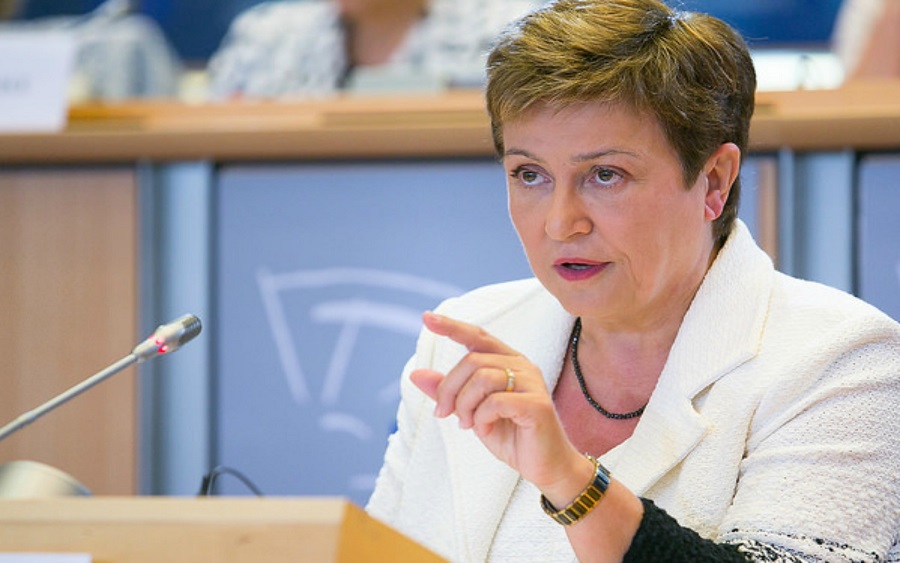 As a fallout of the economic crisis caused by the coronavirus outbreak, the International Monetary Fund (IMF), on Tuesday, April 28, 2020, approved the sum of $3.4 billion, as emergency financial support for Nigeria. 
The financial support, which is under its Rapid Financing Instrument (RFI) programme, is to help mitigate the impact of the coronavirus pandemic on the Nigerian economy, especially with plugging the revenue gaps. 
As part of the highlights of the IMF statement, the Deputy Managing Director/Acting Chair of the Bretton Woods Institution, Mitsuhiro Furusawa, expressed special interest in getting Nigeria to follow through with the unification of the multiple exchange rates. 
In his words, the IMF Chief said, ''Steps taken towards a more unified and flexible exchange rate are also important and unification of the exchange rate should be expedited.'' 
While approving the $3.4 billion loan for Nigeria, the IMF is still pressuring Nigeria to fast track the unification of various exchange rates that are currently applicable in Nigeria. 
The global lender has been very consistent with its opposition to the usage of multiple exchange rates because it believes that it creates a lot of distortion in prices, hurts businesses, and encourages corruption as it is susceptible to manipulation. The unified exchange rate will encourage transparency and help attract more Foreign Direct Investment (FDI). 
The single exchange rate has been identified as a very effective tool for resource allocation. 
The Central Bank of Nigeria (CBN), on its part, pointed out that it operates multiple windows, rather than multiple exchange rates. 
However, as a fallout of the crash in crude oil prices globally and the gradual depletion of the country's external reserve, the CBN moved towards the unification of the exchange rate, when it adjusted the official rate from N305 per dollar to N360 per dollar, and adjusted the rate for Bureau de Change operators from N360 per dollar to N380 per dollar.  
The investors and exporters window was also adjusted from N366 per dollar to about N380 per dollar. 
The IMF had earlier acknowledged that the country is already working towards that direction through the Economic Recovery and Growth Plan (ERGP).  
It pointed out that unifying the exchange rate will impact the economy more positively than the multiple exchange rates, which create a lot of opportunities for arbitrage. Also, it avoids situations where public and private sector decisions are distorted due to uncertainties. 
Skills Africa needs for sustainable development
Over a billion people with 5 official working languages – Arabic, English, French, Portuguese and Swahili , will again celebrate Africa Day this year.
From Addis Ababa to Durban, Lagos to Cairo, from the Sahara Dessert to the Nile River, over a billion people with 5 official working languages – Arabic, English, French, Portuguese and Swahili – will again celebrate Africa Day this year.
A day to remember, reminisce and celebrate successes recorded against the struggles for independence, freedom from apartheid and colonization. Although, with the new normal brought about by Coronavirus, the 2020 celebrations would be quite unlike previous years.
The Africa Union (Formerly OAU) has recorded good milestones in terms of political independence and self-governance. So now is a good time for Africa to reflect on our independence.
On reading the objectives of the Africa Union (AU), words like independence, territorial integrity, human rights, security, cooperation are splattered across the pages. Significantly, none of the AU objectives seeks economic autonomy for Africa or her member states. This is a fundamental flaw which speaks directly to Africa's issue of having a large population without the requisite skills for growth.
Our education is largely dependent on the western curriculum and narrative. There is hardly any major infrastructure, industrial or development project in Africa with 100% African content in manpower, materials or capital.
(READ MORE: Nigerian economy going into recession, might contract by -8.9% – Finance Minister)
It is now well established and more evident that political independence without economic independence is like a car without an engine. Economic empowerment is the nucleus of national development. No fewer than 14 West African countries currently use CFA Franc, with some having used the currency for at least 75 years. This goes beyond nameplate as the Bank of France holds half of those countries' currency reserves. This is effectively cutting their growth capacity by 50%.
8 of those 14 countries will relinquish the CFA franc for the new ECOWAS currency, ECO (to be launched in July 2020). However, there is no indication that the affected African leaders would ask France for compensation for the years of economic sabotage to their countries. The introduction of the ECO was to bring a ray of hope, but we hope the real difference would not just be in the colour of the currency. This is because the ECO will not be autonomous but would be pegged against the Euro.
France is not alone in the economic sabotage of Africa, they are in the good company of the United Kingdom, the US and Belgium, to mention a few. However, are these foreign countries to blame? Africa got her independence, but African leaders refuse to be independent and the dependent mentality is also enshrined in the AU objectives.
One of the AU objectives states "to work with relevant international partners in the eradication of preventable diseases and the promotion of good health on the continent." The statement looks good superficially, but it is enlaced with aid orientation, the lack of drive for self-reliance, and a beggarly mindset.
(READ MORE: Sahara Group donates medical equipment to support fight against COVID-19)
Let us educate Africa to pursue the development of its people, with core skills that are necessary to deliver the quality of the progress and growth that Africans desire. African construction companies should make African infrastructure and 100% African content should be the target in automobile engineering, healthcare, information technology,
Necessity is said to be the mother of invention. The need for Africans to lead Africa out of poverty, tyranny and underdevelopment is a matter of great importance, far beyond just necessity. Every African must desire to get skilled, and not just education, as we currently have it. We must have the competence to develop our agriculture system, mine Africa's natural resources and add value by processing them locally.
Africa Day would only be truly worthy of celebration when African people and countries are skilled enough to accomplish our dreams of self-reliance and economic independence.
Article written by Olatunde Akintola. Olatunde is a Fellow of the Institute of Chartered Accountant of Nigeria and alumni of Manchester Business School. He writes from Lagos.
Tiktok's In-App revenue surges amid lockdown
ByteDance Ltd's brainchild, TikTok, together with Douyin ranking tops globally on mobile apps with the highest revenue generated for the month of April.
The meme-making business has proven to be worth all the fuss, with TikTok, as well as its Chinese twin app, Douyin, ranking tops globally on mobile apps with the highest revenue generated for the month of April.
Sensor Tower, notes that just in the first quarter of this year, ByteDance Ltd's brainchild, TikTok, together with Douyin which caters to the Chinese market, generated 315 million downloads globally, from the 187 million it had just a year earlier.
The ranking, which was based on their in-app purchases, reveal a tenfold increase, as the companies garnered a whopping $78 million in revenue. The Chinese market is said to have contributed 86.6% of Douyin's revenue, followed by the U.S market which contributed 8.2%.
This places them ahead of older names like Netflix & YouTube. As opposed to using subscriptions like these established brands, TikTok and Douyin allow users to purchase virtual currency to spend on their favorite content creators.
(READ MORE: Does YouTube stand a chance against TikTok?)
While ByteDance is exploring the world of online commerce, it continues to rely on advertising as its primary income source. However, Emarketer projects that more than 75 million US social network users will make at least one purchase from a social channel in the year 2020.
Sanwo-Olu to virtually inaugurate projects as he presents scorecard of first year in office
Some of the projects to be commissioned will be done virtually, while a few will be done on-site.
Lagos state governor, Babajide Sanwo-Olu, will virtually inaugurate housing, education, and road projects on May 29, as part of activities to mark his first year in office.
According to a report by NAN, the projects are part of the government's efforts to renew infrastructure in critical sectors and to make the commercial centre a smart city.
Some of the projects to be commissioned will be done virtually, while a few will be done on-site.
The projects
Lagos state Commissioner for Information and Strategy, Mr Gbenga Omotoso, listed some of the projects in an official statement. He said:
"In the education sector, Sanwo-Olu will conduct virtual inauguration of completed classroom blocks in Maya Secondary School, Ikorodu; Eva Adelaja Junior School, Bariga; and Saviour Primary School, Ifako-Ijaiye, among others. 
"Virtual inauguration of completed works such as the Concrete Jetty in Baiyeku, Ikorodu, Aradagun-Ajido- Epeme Road in Badagry, and the Maryland Signalisation project also form part of the itinerary to commemorate the anniversary."
(READ MORE: Lagos increases health workers' allowances, commissions local production of face masks)
Omotoso also stated that the Governor would inaugurate the 360-unit Lagos Homes in Ikorodu, and then visit Igbogbo Baiyeku IIB Estate, Lekki, and the Courtland Villas on Femi Okunnu Estate during the week.
Plans for celebrating Children's Day
 In a related development, Governor Sanwo-Olu will deliver an address on Wednesday May 27 to mark the children's day celebration, and the 53rd anniversary of Lagos state.
Omotoso, however, noted that all celebrations would be kept on the low in reflection of the current challenges and realities of the COVID-19 pandemic.
Presenting one-year scorecards
The activities for the week are expected to begin with press briefings at J.J.T Park in Alausa on May 27, where members of the State Executive Council will present their scorecards in line with the six pillars of the state's T.H.E.M.E.S Agenda.
(READ MORE: Lagos Medical workers call off strike, as IG sends strong warning to security agencies)
According to the information commissioner, there will be two sessions of press briefings daily from May 27 to June 3, as the Governor considers it expedient to render a stewardship account of the last one year.
"Three special publications highlighting the achievements of the Babajide Sanwo-Olu administration and testimonies of beneficiaries of various initiatives of the government are slated for presentation to the public by the governor and his Deputy, Dr Obafemi Hamzat," he added.