NOVA Merchant Bank Limited Declares N1.65billion PAT
NOVA Merchant Bank Limited has released its audited results for the financial year ended December 31st, 2019, recording impressive performances across its major financial lines.
NOVA Merchant Bank Limited has released its audited results for the financial year ended December 31st, 2019, recording impressive performances across its major financial lines.
Specifically, the Bank declared a profit after tax of N1.65 billion for the 2019 financial year representing an impressive 44% growth compared to N1.15bn recorded at the end of the 2018 financial year.
The result showed that the Bank achieved strong growth across all parameters as it recorded a remarkable 113% growth in gross earnings from N2.76bn in 2018 to N5.87bn in the year under consideration, while profit before tax closed at N1.5bn, representing a 56% rise from N0.96bn the year before, even as total assets grew by 155% from N25bn to N63.8bn in the year under consideration.
In the same vein, Customer Deposits stood at N40.5bn in 2019, compared to N6.4bn in 2018 representing a rise by 533%; while Shareholders Funds increased by 11% to N19.5bn in 2019 compared to N17.6bn in 2018. Loans to customers closed the 2019 financial year at N29.3bn up from N2.4bn in 2018 representing a significant rise by 1121%.
Market watchers are of the opinion that this increase shows that the Bank is beginning to reap the benefits of its investments in its operations, technology and people. This also demonstrates the Bank's growth trajectory which is expected to accelerate as it continues to scale its business and grow its client base.
READ ALSO: Zenith Bank retains position as Nigeria's most valuable banking brand for the third consecutive year
The company's Managing Director and Chief Executive Officer, NOVA Merchant Bank, Mr Anya Duroha, who commented on the result, said that as a young bank, the motivation to be the best Merchant Bank remains a key driving force that made the Bank churn out products and services to satisfy and meet the needs of its growing client base.
He said, "Our full year 2019 performance resonates our resilience and commitment to excel and succeed despite being a fairly new Merchant Bank and macroeconomic headwinds that persisted in 2019."
Continuing, he explained, "Going into 2020 we will continue our resolve to be the best merchant bank in Nigeria as we will leverage our track record of trust, to deliver on operational efficiency through digital innovation while proffering customer-centric solutions to our existing and new customers."
On his part, the Chairman, Mr Phillips Oduoza stated, "I am particularly delighted that the key ratios are trending in the right direction, we are beginning to see the results of our distinct and impactful business model as exhibited in the strong figures across all key indices. A notable reference that we recorded 0% Non-Performing Loans in 2019"
"We are well equipped with the leading technology, structure and staff to leverage all opportunities the market presents to us while operating at the highest level of governance."
READ ALSO: Access Bank's shareholders to get N9 billion interim dividend
Oduoza added "The year 2020 we believe our business will grow exponentially with the commencement of our capital market subsidiaries, deployment of innovative products to our customers leveraging our investments in digital channels, whilst reinforcing risk management and compliance. All of which is in line with our over- arching philosophy of 'New Thinking, New Opportunities' to deliver superior value to all our stakeholders."
NOVA Merchant Bank offers an integrated suite of financial solutions covering Wholesale Banking, Investment Banking, Asset Management, Wealth Management, Trade Services, Transaction Banking, Cash Management and Digital Banking.
CBN extends Covid-19 forbearance for intervention loans by another 12 months
CBN will continue to charge an interest rate of 5% for its intervention loans for another 1 year.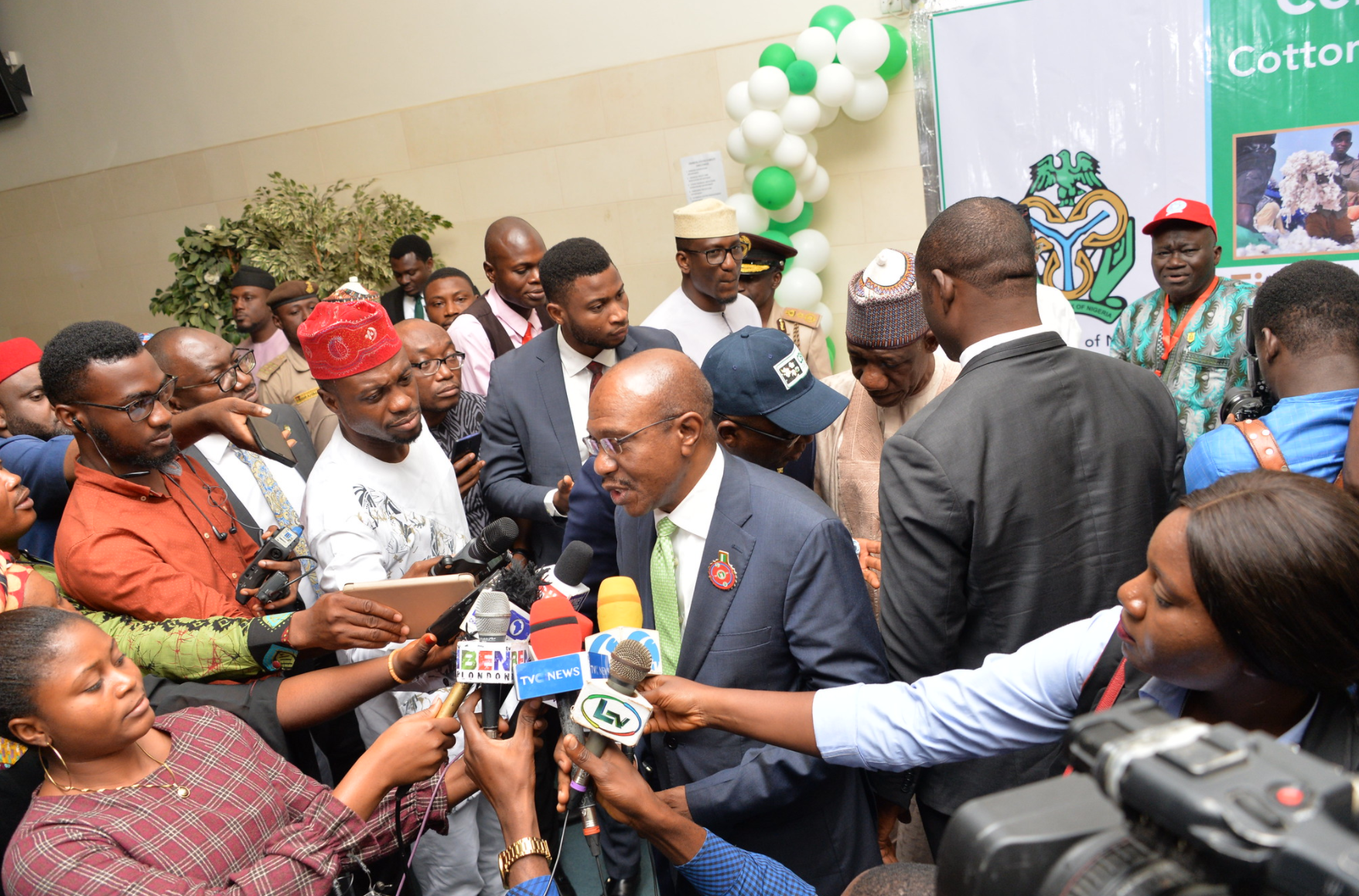 The Central Bank of Nigeria has announced an extension of its regulatory forbearance for the restructuring of its intervention facilities by another 12 months.
In a circular signed by Dr. Kevin Amugo, the Director of Financial Policy and Regulatory. the apex bank said it will continue to charge its borrowers an interest rate of 5% per annum as against the 9% originally offered. The CBN had on March 20th reduced the interest rates on its intervention loans from 9% to 5% as part of its response to the economic crunch brought on by Covid-19 induced lockdowns.
The CBN also offered to rollover moratorium granted on all principal payments on a case by case basis. All credit facilities had been granted a one-year moratorium starting from march 1, 2020 when the pandemic first gripped Nigeria.
See excerpt from Circular
"The Central Bank of Nigeria reduced the interest rates on the CBN intervention facilities from 9% to 5% per annum for one-year effective March 1, 2020, as part of measures to mitigate the negative impact of COVID-19 Pandemic on the Nigerian economy."
Credit facilities, availed through participating banks and OFIs, were also granted a one-year moratorium on all principal payments with effect from March 1, 2020.
Following the expiration of the above timelines, the CBN hereby approves as follows:
1) The extension by another twelve (12) months to February 28, 2022 of the discounted interest rate for the CBN intervention facilities;
2) The roll-over of the moratorium on the above facilities shall be considered on a case by case basis.
What this means
Companies who secured intervention funds from the CBN or through any of its on-lending banks will continue to service the loans at an interest rate of 5% per annum instead of 9%.
They can also get another year of not needing to pay back the principal sum collection. However, they will need to apply.
Whilst this move helps the small businesses continue to manage their cash flow, it means the CBN will record a reduction in its income extended under such facility.
Regulatory forbearance is a widely adopted concept during an economic crunch and it is meant to help stimulate businesses. These pronouncements if implemented will only affect those who borrow from the CBN or BOI but those who do not will miss out.
Download the circular here.
LNG boss tasks FG to begin the monetization of Nigeria's gas
Mr Attah has urged the FG to take the gas sector more seriously as the future of Nigeria's energy lies with it.
The MD and CEO of Nigeria LNG Limited Mr. Tony Attah has tasked the Federal Government to begin the revamping and monetization of the Gas sector in Nigeria.
He made this statement while making his presentation at the 2nd virtual Nigerian Gas Association (NGA) Industry Multilogues, with the theme: "Powering Forward, Enabling Nigeria's Industrialization via Gas."
Mr. Tony Attah drew the attention of the audience to the hidden treasure in the Nigerian Gas industry which he believes is not getting enough attention from the government.
On the future of gas as an alternative energy source, Mr. Attah stated that the developed world is already keying into gas as an alternative to crude oil. Gas has proven to be a cleaner and more sustainable alternative.
He exclaimed that Nigeria is very rich in gas and yet poor in energy. Nigeria is the 9th country with the largest gas reserves in the world but makes very little use of it.
Mr. Attah went further to paint a clear picture of the promise of investing in gas using the success achieved by Qatar. Qatar is currently the largest LNG exporter in the world.
"We just touched on a quick case study of Qatar. Someone mentioned Qatar already from a poor fishing country to a gas giant and it took just 10 years, which is why we, as Nigeria LNG, firmly believe in the conversation and the narrative about the declaration of the decade of gas.
"We believe it is possible. If you look at Qatar from 1995, when they really went into gas development, we were just two years behind Qatar. So, Qatar's first LNG was in 1997.
"Nigeria's first LNG was in 1999, just two years behind. But then, within 10 years, because of the deliberateness of the government and focus on gas, they have gone to 77 million tonnes and we are at best, 22 million tonnes," Attah said.
Mr. Attah stressed further the importance of the gas sector in Nigeria's future. He recalled that the Nigerian Government declared 2021-2030 as the decade of gas. He pleaded with the government to take the sector more seriously as the future of Nigeria's energy lies with it.
"Gas is the future. That future is now, and just as the Minister of State has made us to realize, gas is food in fertilizer. Gas is transport as you saw in the Auto gas project that was declared.
"Gas is life, as a matter of fact, for cooking, for heating, for existence. Gas is development in manufacturing, gas is power. Gas is everything. "We think it's time for gas. It's time for Nigeria to diversify and that is why we fully support the decade of gas," he said.
What you should know
Early last year, the director of the Department of Petroleum Resources (DPR) Mr Sarki Auwalu confirmed that Nigeria's proven gas reserve stood at 203.16 trillion cubic feet.
Nigeria has the 9th largest gas reserves in the world. It is also the 6th largest exporter of gas.
The Federal Government declared the year 2021–2030 as the "Year of the Gas". It pledged to finally kick start the development and commercialization of Nigeria's huge gas reserves.
Nairametrics | Company Earnings