FCMB Nigeria's evening of investment talks with Ugodre
First City Monument Bank Nigeria (FCMB) organised an evening of investment talks with Ugodre on Thursday, February 27th, 2020.
Imagine a beautiful Thursday evening spent by the poolside, in the midst of vibrant Nigerian professionals, rubbing minds together on how to invest right. That is exactly what happened on Thursday, February 27th, 2020, thanks to First City Monument Bank (FCMB) Nigeria.
The evening began with the arrival of guests at the Protea Hotel by Marriot in Lagos Island. A time to meet and greet allowed the guests to mingle and network, long before the main event began. And then at about 7 pm, FCMB Nigeria's Executive Director in charge of Retail Banking, Mr Olu Akanmu, took the microphone and officially welcomed everybody. He said:
"One thing that is on every relatively affluent person's mind is how to legitimately preserve their wealth. And that is what we are all gathered here to talk about."
To help dissect that subject matter, the bank had invited Nairametrics' very own Founder, Ugochukwu "Ugodre" Obichukwu as a guest speaker. Following his introduction to the audience, Ugodre delved right into the topic, albeit in the most interactive way.
What troubles you the most about the Nigerian economy?
That is the question Ugodre posed to members of the audience. As expected, there were varying responses to this question. Some people said they worried most about inflation. Others mentioned devaluation, unstable electricity, unpredictable government policies, and policy somersault. Of course, there were also concerns about how to multiply one's income and guarantee returns on investment.
Inflation rate could rise above 14% by year-end
These are all legitimate concerns by the way, and each of them was addressed. Beginning with Nigeria's inflation rate which recently climbed to 12.13%, Ugodre alarmed the audience by predicting that there could even be a further increase in the coming quarters. This is due to a number of factors which include:
Nigeria's land border closure;
the recent increase in VAT which is continuing to push prices of goods up;
the high possibility that the government will stop providing subsidy for electricity, thereby causing NERC to increase electricity tariff. If this happens, the inflation rate will rise further because people's cost of living will increase;
there is also a possibility that fuel subsidy may eventually be removed. If this happens, it has the potential to exacerbate inflation;
something else that could trigger inflation is taxes. As you may well know, the government has recently been very aggressive in that regard; and
he concluded by predicting again that 2020 might end with Nigeria's inflation rate well above 14%.
Don't panic over inflation, unless…
On whether the Central Bank of Nigeria is going to devalue the naira, Ugodre stated that this is most unlikely. However, there are some caveats. He said that Nigerians should keep their eyes focused on Nigeria's external reserves. If the external reserves drop below $30 billion, then there is no gainsaying the fact that devaluation will become inevitable.
[READ: CBN issues N847.4 billion treasury bills for Q1 202 ]
More so, if oil prices drop below $40 per barrel, then there is a serious problem and the CBN may have no choice but to devalue. Last week, Brent Crude traded below $50 per barrel as Nairametrics reported. And this is no thanks to the Coronavirus pandemic which has wrought both health and economic hazards across the world.
Moving on to the concerns about government policies, Ugodre stated that Nigerians should expect more regulatory onslaught. This prediction was based on recent happenings in the regulatory environment.
Meanwhile, as far as returns on investment are concerned, Ugodre told the audience that it depends mostly on the industry one is investing in. He said:
"Some people believe that the banking sector is good. But the CBN has been squeezing them recently. So, they too may soon be having issues with returns on investment. The breweries industry is already suffering, with all the top three brewers reporting negative performances in their annual financials. Maybe the telecoms sector may be able to guarantee returns on investment."
Where else should you invest your money?
Real Estate: Ugodre also mentioned the real estate sector as a potential area that can guarantee investment returns. This he said with much optimism because the real estate sector is one of the best places to invest in when the economy is shaky. This is in spite of the fact that the Nigerian real sector is often overlooked by investors, a situation that has led to it not being quite as developed/organised as what obtains in most advanced countries. This has, unfortunately, resulted in "so much value being locked in" he said.
Note that yields in the Nigerian real estate are typically within the rates of 6-8%, he said. Interestingly, the value on a piece of real estate only keeps going up over time. He also advised potential investors to be strategic in choosing real estate in areas with significant commercial value.
Treasury Bills versus FGN Bonds: Return on investment in the Nigerian Treasury Bills market is not quite as high and lucrative as it was a couple of years ago. Ugodre explained why. According to him, CBN's decision to restrict individuals from participating in OMO sales forced many people into the treasury bills market. Consequently, rates dropped, thereby making treasury bills a less interesting investment option. On the other hand, FGN Bonds is a good investment option in that it currently guarantees higher returns than treasury bills.
The stock market: This is also another relatively good investment option, although it can also be disappointingly risky. Regardless of the associates associated with it, Ugodre advised the audience to invest in stock because this is probably the best time to do so. However, he clarified that investors should not invest all of their money in stock as there is always the need to diversify one's portfolio. Moreover, it is also important to ensure that investors avoid what he called "danfo stocks".
Cryptocurrency is also another investment option that can guarantee high returns as much as 60%. The only downside is that it is not regulated in Nigeria, mainly because government regulators such as the CBN and the Securities and Exchange Commission do not support it.
Investors can also carefully consider agrotech schemes that are claiming to offer high returns, Ugodre stated that Mutual funds also make for good investments, mainly because it is good for passive investors who do not have the time or the technical know-how to constantly keep a tab on their investments. He also encouraged everyone to not only continue to invest in themselves but to always recognise opportunities around them and invest in those opportunities, including investing in people and startups. He said:
"One thing that I've learned from what the government is doing is that the government is basically telling us to invest in businesses instead of pursuing treasury bills. So, if you are somebody who has a deep pocket, look around you for relatives who may be needing someone to invest in their business ideas."
Meanwhile, FCMB Group can help Nigerians to actualise their investment potentials
At the end of Ugodre's keynote address, the Chief Marketing Officer of FCMB Pensions, Osarhieme Osaghae, took the stage to talk about how he and his team can help Nigerians to better manage their pension contributions in order to ensure a good retirement.
He, therefore, urged all FCMB customers whose pension accounts are not currently being managed by FCMB Pensions, to plan towards transferring their pensions to FCMB Pensions. According to him, the Pension Commission will, by July 1st, 2020, make it possible for pension fund contributors to be able to transfer their accounts from one Pension Funds Administrator to the other. Nigerians should take advantage of that and move to FCMB Pensions, the only PFA that is bank-backed, he said.
Moving on, the Managing Director of FCMB Assets Management, James Ilori, also took the stage to share some important tips on how to invest well in order to retire comfortably. Some of these tips can be seen in Steven R. Covey's book "Five Habits of Highly Effective People", as well as George .S. Clason's "The Richest Man in Babylon". See the tips below:
Always have your investment end goal figured out from the onset. This enables you to determine whether your investment should be short-term, medium-term, or long-term.
Always set aside small amounts on a regular basis. This is important to do because at the end of the day, the small amounts that have been set aside compounds to form a lot of money in the future.
In line with the second tip, Ilori spoke about INEST, an FCMB Asset Management product that enables Nigerians to invest as little as N500 on a regular basis. Over time, the compounding effect along with the interest guarantees investors some level of financial security in the future.
Note that FCMB Assets Management also offers mutual fund services, portfolio management for both local and foreign currencies, credit-linked investment plans, and more.
The evening of investment talks ended on a pleasant note, with light meals served and more networking among the invited guests.
KLM demands rapid antigen tests from Lagos passengers, as Netherland bans flights to UK, others
Passengers are to obtain rapid antigen tests at Murtala Mohammed International Airport before departure via Air France KLM Royal Dutch Airlines.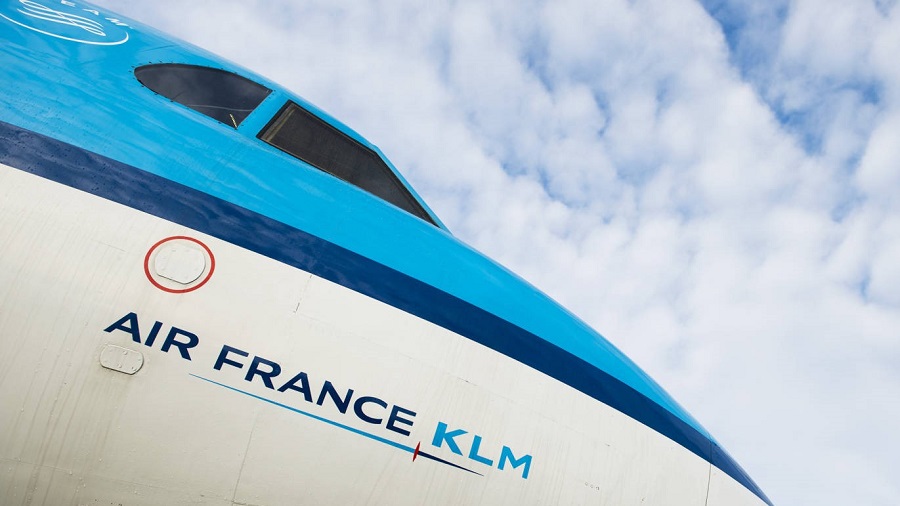 Air France KLM Royal Dutch Airlines has asked passengers departing from Lagos to obtain a rapid antigen test at Murtala Mohammed International Airport before departure from January 26, 2021.
This was disclosed by the Commercial Team Nigeria, Air France KLM Royal Dutch Airlines in its newsletter.
The airlines explained that customers, who are traveling to France as their final destination, now need to show a negative COVID-19 test result before boarding the aircraft and that the test result cannot be older than 72 hours and only PCR or LAMP tests are accepted.
Also, to fight against COVID-19, the Dutch government imposed flight ban to the United Kingdom, South Africa and South America.
It stated, "In addition, a second COVID-19 test will be required (rapid test – antigen) for all customers traveling to The Netherlands, including transfer customers.
"No passengers will be allowed to board the aircraft without both the negative PCR test (72 hours before departure) and antigen test results (4 hours before departure) and will be rebooked accordingly. For now, all flights to/from U.K will be suspended until 27 January 2021."
Steps to obtain rapid test
Antigen testing for passengers flying to The Netherlands including transfer customers need to be done as of 4
hours prior to flight departure. In order to undergo the test, each passenger must complete a biodata form
The payment for the COVID-19 antigen test needs to be made via cash or card. The venue for sample collection is at the airport close to the check-in desks.
Rebook policy for mandatory PCR test: Customers that are not able to provide negative test results on time can take advantage of Air France and KLM PCR-test rebook policy.
What you should know
In December 2020, Nairametrics reported that KLM Royal Dutch Airlines and Air France resumed flight operations to Abuja and Lagos.
The airlines in a statement disclosed that international passengers can now fly Air France and KLM from Nigeria (Abuja and Lagos) to Paris and Amsterdam, with the possibility of further transfers to other European and North Atlantic destinations.
In a piece of travel advice, the airline asked customers to ensure they are well prepared for their trip and check the entry and travel requirements for their destination and transit countries in line with travel restrictions and governmental authorizations before making any travel plans. This is as the entry requirements may change with short notice.
Twitter acquires newsletter service, Revue
Twitter has acquired Revue, an email service that lets writers publish newsletters.
Twitter has acquired Revue, a Dutch startup that makes it free and easy for anyone to start and publish editorial newsletters. This is coming after a failed attempt to acquire Revue's competition Substack.
Twitter has made massive moves over the past two months to acquire start-ups as it tries to expand beyond its core timeline product.
What they are saying
According to a blog post by Twitter VP of Publisher Products, Mike Park and Product Lead, Kayvon Beykpour, "Many established writers and publishers have built their brand on Twitter, amassing an audience that's hungry for the next article or perspective they Tweet. Our goal is to make it easy for them to connect with their subscribers, while also helping readers better discover writers and their content. We're imagining a lot of ways to do this, from allowing people to sign up for newsletters from their favorite follows on Twitter, to new settings for writers to host conversations with their subscribers. It will all work seamlessly within Twitter.
They added that Twitter will continue to operate Revue as a standalone product, with its team remaining "focused on improving the ways writers create their newsletters, build their audience and get paid for their work."
"Revue will accelerate our work to help people stay informed about their interests while giving all types of writers a way to monetize their audience – whether it's through the one they built at a publication, their website, on Twitter, or elsewhere," the Twitter executives said.
They also said that bringing Revue to Twitter will supercharge this offering, helping writers grow their paid subscribers while also incentivizing them to produce engaging and relevant content that drives conversations on Twitter.
Twitter will make Revue's Pro features free for all accounts and lower the paid newsletter fee to 5%, a competitive rate that lets writers keep more of the revenue generated from subscriptions.
What you should know:
In December, Twitter bought Squad, a multi-participant video chat app, and this month it acquired the social broadcasting service, Breaker to create audio conversations for Twitter users. And now, they have added Revue to the collection of startups.
Revue was originally founded in 2015 in the Netherlands.
Twitter's acquisition of Revue also places it in direct competition with Substack, a rival email newsletter service that has been growing in popularity recently.
Benue State Governor, Ortom tests positive for COVID-19
Benue State Governor has commenced treatment after testing positive for COVID-19.
Governor Samuel Ortom of Benue State has tested positive for COVID-19.
This was disclosed by his Chief Press Secretary, Terver Akase, in a statement issued on Wednesday.
He stated, "This follows the test results of most of the Governor's close aides who also returned positive in the last few weeks.
"Though the Governor has not shown any symptoms of the disease, he has already commenced treatment as prescribed by medical personnel."
According to him, the governor has advised those who have come in contact with him in the last couple of days to go for a test.
"The Governor says it is equally important that those who came in contact with other persons who have tested positive for the virus should go for a test to ascertain their COVID-19 status.
"Governor Ortom urged Benue people to continue to observe the protocols for the prevention of the virus such as wearing of face masks, use of sanitisers, regular hand washing and physical distancing," he added.
What you should know
Some of the governor's aides which included his personal physician, aide de camp, orderly, permanent secretaries among others had recently tested positive for the virus.