Forbes 2020 world's richest rankings: Only 4 Nigerians make exclusive billionaires list
Only 4 Nigerians, Aliko Dangote, Mike Adenuga, Abdul Samad Rabiu and Folorunsho Alakija made Forbes' 2020 coveted billionaires ranking.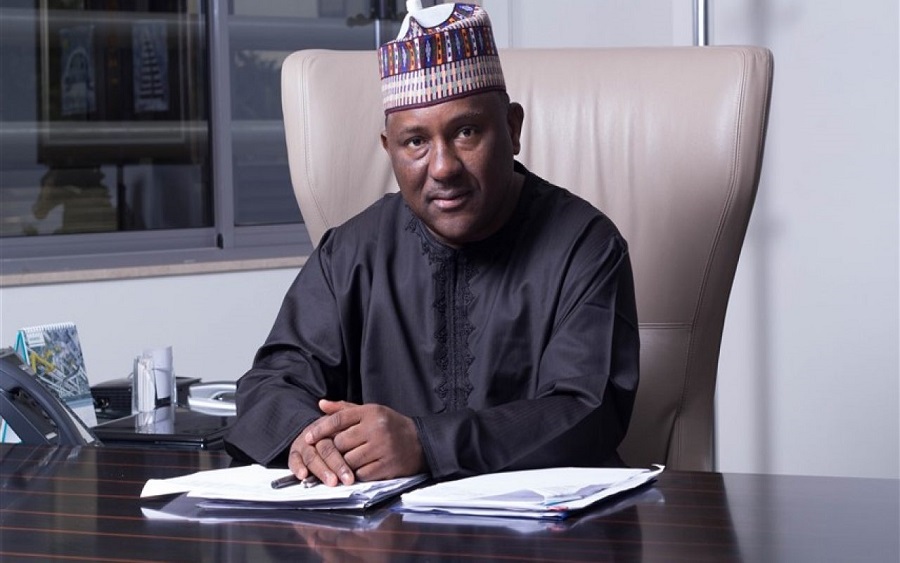 Forbes recently released its annual exclusive billionaires ranking with only 4 Nigerians, Aliko Dangote, Mike Adenuga, Abdul Samad Rabiu and Folorunsho Alakija making the highly coveted list. Amongst the four, Aliko Dangote, President of Dangote Group retained his spot as the World's richest black person with a fortune of USD10.1 billion. Mike Adenuga, Chairman of Globacom came in as second in Nigeria and third in Africa with a fortune of USD7.7 billion whilst Abdul Samad Rabiu of BUA Group was 3rd in Nigeria and 8th in Africa with a fortune of USD3.13 billion – moving up 8 places from last year's ranking. Folorunsho Alakija of Famfa Oil completes the list of Forbes billionaires from Nigeria with a fortune of USD1 billion dollars coming in at #20 in Africa.
Of the four Nigerians on this year's Forbes list, only BUA's Abdul Samad Rabiu saw an increase in his fortunes from the previous year. Abdul Samad in January merged his Obu Cement Company with the publicly listed Cement Company of Northern Nigeria (CCNN) where he had controlling shares. The new entity listed as BUA Cement Plc on the Nigeria Stock Exchange became the third largest entity on the exchange with N1.18 trillion market capitalization.
According to Forbes, only eight of Africa's 54 nations have billionaires in the list of Global billionaires. Egypt and South Africa are tied with five billionaires each, Nigeria four; Morocco has two, while Zimbabwe and Tanzania have one billionaire each. In the list, Africa's 20 wealthiest people are richer in 2019 than 2018 with combined worth at $73.4 billion.
The magazine said the list was generated after the billionaires' net worth was calculated using stock prices and currency exchange rates from the close of business on Friday, January 10, 2020. "To value privately-held businesses, we couple estimates of revenues or profits with prevailing price-to-sales or price-to-earnings ratios for similar public companies. Some list members grow richer or poorer within weeks or days of our measurement date," Forbes statement further added.
The current list shows that Nassef Sawiris of Egypt's came second in Africa with his fortunes rising to 8billion dollars from $6.3billion.
Others on the list from Africa are: Nicky Oppenheimer $7.7 billion; Johann Rupert $6.5 billion; Issad Rebrab $4.4 billion; Mohamed Mansour $3.3 billion; Naguib Sawiris $3 billion; Patrice Motsepe $2.6 billion; Koos Bekker  $2.5 billion; Yasseen Mansour $2.3 billion; Isabel dos Santos $2.2 billion; Youssef Mansour $1.9 billion; Aziz Akhannouch $1.7 billion; Mohammed Dewji $1.6 billion; Othman Benjelloun $1.4 billion; Michiel Le Roux $1.3 billion; Strive Masiyiwa $1.1 billion and Folorunso Alakija $1 billion.
Mr. Eazi, Nigerian music sensation, makes Glo-powered African Voices
Mr. Eazi will be telling viewers how his music traversed Nigeria to Ghana.
Nigerian songwriter and music entrepreneur, Oluwatosin Ajibade, popularly known by the stage name, Mr. Eazi, will this week grace African Voices Changemakers, a personality magazine programme of the Cable News Network (CNN) sponsored by telecommunications service giant, Globacom.
Born July 19, 1991, in Port Harcourt, Nigeria, the 29-year-old read Mechanical Engineering at the Kwame Nkrumah University of Science and Technology, Kumasi, Ghana, from where he began his musical career in 2012 with his rhythm and blues single entitled "Pipi Dance".
The single garnered huge traction online culminating in more high-profile recordings for him. These included  "Skin Tight"  which featured Efya in 2015. This gave rise to further collaborations with other notable artistes including  Ghanaian R&B star, Sarkodie; Lil Kesh, and Burna Boy who are both successful Nigerian music merchants.
In 2017, Mr. Eazi released the mixtape, Life Is Eazi, Vol. 1: Accra to Lagos, which featured guest appearances by Big Lean, Tekno, Phyno, DJ Cuppy, and others. The album contained singles like "Leg Over" and "Tilapia" which became instant hits with music lovers across the African continent.
He will be telling viewers how his music traversed Nigeria to Ghana leading to him pioneering Banku music which is a rare fusion of Ghanaian highlife and Nigerian chord progressions and rhythms.
African Voices Changemakers will be on DSTV Channel 401 on Saturday at 9.00 p.m. and on Sunday at 4.30 a.m., 7.30 a.m., 12.30 p.m. and 7.30 p.m. The programme will be repeated on Monday at 5.30 a.m.
7 fundamental reasons to buy LeornadobySujimoto now
In Building the Leonardo, we also wanted to understand the market direction and maximise investors' gratification.
1. Price:
The Leonardo's 2 Bedroom is currently selling for N200million, the 3 Bedroom is N250million and 4 Bedroom is for N300million.
In terms of pricing, the most expensive 4 Bedroom Apartments today in Nigeria are in Bourdillon and Eko Atlantic and their prices ranges from $935,000 to $3.5millon which is about N420million to N1.5 Billion, while a 4 Bedroom at the LeonardoBySujimoto is selling for N300million for Now! Our 2 Bedroom that is selling now at N200million will sell for N350million when we launch in October, and sell for $1.2m when completed. (We have researched the best, but what we are building beats the best).
2. Quality: 
For Leonardo, we have decided to go all out, creating a building that from foundation to Chandeliers, your only experience will be luxury.
State-of-the-art features and facilities such as Full Home Automation, Kohler kitchen, 3 Metres Doors, Duravit's Phillip Stark and Zaha Hadid's Award-winning  Sanitary Wares , Simone Saragoni's Technogym, Olympic size pool, Minimart, Mini Clinic, Hair salon, Interactive Lobby like a 5-star hotel, Tennis Court, Squash Court, Imax Cinema, Indoor Virtual Golf, Luxury Spa, Bar & Lounge and lots more.
We are not boasting but no other building will compete with Leonardo, not anywhere in Nigeria, not even in Africa (Please hold us by these words).
When we started Sujimoto, we adopted 2 fundamental principles – QUALITY AND INTEGRITY. 5 years ago, we promised that the MediciBySujimoto will come wrapped in Marble, today not one marble has fallen off!  We promised that the Medici will come with Duravit Sanitary wares, not just regular Duravit, but the limited edition, designed by Phillip Stark. We promised that our gym will come with Simone Saragoni's Technogym 5 years ago, and today, the MediciBySujimoto project is still one of the best building in Ikoyi!
3. Investment ROI:
 No one can carry your house from Banana Island to Ibadan!
The Leonardo promises 400% returns on investment and we have proof for it. With the Leonardo, you can buy, resell and make 400% ROI in 2 years. You can also buy and do a short let rental that can guarantee you between N30million to N60million Naira annually.
You can also buy a unit, make use of it whenever you are in LAGOS and put it up for short let whenever it is not in use. Please note that if you want a long term rental, Sujimoto has signed a rental agreement with top multinationals and other companies that will rent the Leonardo, immediately it is completed. Now, with treasury bills at 3% per annum, and volatility in Stocks and Bonds, everyone between the ages of 35 and 60 are choosing real estate as the safest investment option, putting LeonardoBySujimoto as the first option.
4. Architecture:
People say why Leonardo Da Vinci, I say why not? We have studied the Iconic master of art – the Leonardo Da Vinci, whose work outlives the 16th century, finding relevance even in the 21st century; studying him and coming up with this design is to remind us that what we are building will not only be aesthetically different but iconic in character.
It will be the first building in the world to have more than 1000 art pieces, hanging in every corner, reminding the residence and their visitors of the artistic genius and creativity that goes into the creation of Leonardo project.
5. Location:
Dubbed as the most affluent neighbourhood in Africa, Banana Island houses the 1% of the 1% ultra-wealthy in Nigeria, making it the richest square metre in Africa. Banana Island is also home to the ultra-wealthy few such as the Adenugas, MDs of Multinationals, Executive Directors, HNIs, Billionaires  Businessmen, and Music Entrepreneur – Davido, to mention a few. Imagine jogging in the evening and seeing Davido taking a stroll with his pet.
Aside from the fact that lands are limited in Banana Island, leading to an increase in the value of the space, Banana Island has been described by Forbes Africa as the 2nd safest place in Nigeria, second only to Aso Rock. This luxury location is perfect for those who value security and those who are thinking of ROI as the value of properties in Banana Island keep rising. Lekki and Victoria Island are all great locations, but Banana Island's value has remained and increased more than 100% over the last 18 months.
6. Association:
If your neighbour is a Vulcaniser, the possibility of you selling Car tyres is very high, but what happens if you live in a building that houses 1% of the 1% ultra-wealthy Nigerians?
The Leonardo is only for the vital few! We have confidentiality codes, because our KYC system allows like-minded people, from MDs of IOCs to ultra-high net worth individuals, to be the caliber of people you will find at the Leonardo, you can call us "success racist" it's ok.
7. Developer:
We might not be the Emmar Groups of Dubai, the Candy Brothers that built One Hyde Park in London, or Arthur Zeckendorf of New York City, but we are Sujimoto and 'we no dey carry last'. We don't do things for immediate gratification, but for value creation.
In Building the Leonardo, we didn't only carry out research on architecture or location, we also wanted to understand the market direction and maximise investors' gratification. We spoke with developers and tenants, landlords and their neighbours; understood the pains of residence and their deepest desires, armed with this information, we set out to build what will not only compete with the best buildings in Africa but the best in the world!
As COVID-19 ravages the world and businesses, our prayers and thoughts are with everyone who have lost a loved one and every business that have been affected by this pandemic. We have turned our pains to gains and remained positive, ever winning because the hype is real!
---
Every effort is made to provide accurate and complete information by the Nairametrics Financial Advocate Ltd (NFAL) from this sponsored post. However, NFAL cannot guarantee that there will be no errors. NFAL or its employees or its authors make no claims, promises or guarantees about the accuracy of the contents of this post. Neither NFAL, nor its employees and authors make any warranty, express or implied or statutory including but not limited to the warranties of non-infringement of third party rights. Neither does NFAL, its employees and its authors assume any legal liability for any direct or indirect or any loss or damage of any kind for the accuracy or completeness or usefulness of any information contained in this sponsored post. NFAL does not represent that use of the information contained in the sponsored post and would not infringe on privately owned rights."
Building financial competence with an Annual Savings plan
This fund could be savings towards a vacation, property purchase, rent, retirement, school fees, investments.
To be financially competent means to possess the knowledge necessary to allow an individual make informed and effective decisions with all of their financial resources. In improving your financial competence, utilising an annual savings plan can help in achieving your life goals. The primary principles of financial literacy include learning how to budget, track spending, effectively pay off debt, and properly plan for retirement.
An annual savings plan involves deciding how much money you would like to have saved at the end of the year, choosing a bank account for that purpose and making weekly or monthly contributions to that account to meet that annual target. For example, if you would like to have N300,000 saved by the end of December, you could decide to save about N5800 every week or N25,000 every month.
This fund could be savings towards a vacation, property purchase, rent, retirement, school fees, investments or other pursuits. An annual savings plan isn't an emergency fund (an emergency fund is a stash of money set aside to cover unexpected and urgent financial requirements), this savings plan allows you build your net worth and have a good base to start an investment portfolio.
It is important to keep a record of the target amount to be met, how often money should be deposited and how much should be deposited at every interval. Equally important is choosing the right kind of account to save it in. The account to be used for your annual savings plan should be one designed specifically to save towards a set goal, like UBA's Target Account, which accrues credit interest on your savings and gives incentives for self-control.
The importance of saving money cannot be understated. With so many proven benefits, saving money is one of the best financial habits you can adopt and with continuous practice it can help you develop financial competence.
About the Author
Gloria Kafui Agbomadzi writes about useful tips for balanced living. Her writings are based on real life experiences and research. She also writes on diverse topics including finance, education, health and lot more.