Nigeria Fintechs take lead in Africa, attract $122 million fund in 2019
The Financial Technology (Fintech) industry in Nigeria has come to stay, as it took the lead in Africa attracting $122 million in funds in 2019.
The Financial Technology (Fintech) industry in Nigeria has come to stay, as it took the lead in Africa attracting $122 million in funds in 2019. This was disclosed in the 2019 African Tech Startups Funding Report.
The report stated that African tech startups, with 311 companies secured $491.6 million worth of investment in 2019 and Nigeria got 24.8% of that fund. The number of investors in African tech startups jumped by 61% to reach 261.
Details: The report details how Kenya and Nigeria emerged as the premier investment destinations on the continent in 2019, attracting US$149 million and US$122 million in funding respectively.
Egypt continued its development into a major continental tech hub, with more startups from the North African country securing investment than anywhere else. South Africa's growth slowed, according to the report, which also contains in-depth data on the investment landscapes in Ghana and Uganda, as well as an overview of activity in 13 other countries.
What you need to know about Fintech: The sector remained the most popular among investors, though its share of total funding fell to 21.8% as other sectors, notably logistics, transport, e-commerce, agri-tech, and e-health, enjoyed bumper years.
[READ MORE: Digital technology and blockchain altering conventional banking models – Emefiele]
The report also provides information on funding activity in six African countries; figures on the number of deals per location, and average deal sizes; data on growth in funds and deals over the past five years; highlights of key deals across the continent; sector-specific breakdowns across 13 sectors, and tracking of acquisitions in 2019.
Meanwhile, Nairametrics had reported that the transactions recorded by some Fintechs in 2019.
Highlights
With the entrance of new players into the payment services market and the strengthening of the financial networks, a growing number of underserved Nigerians had access to cost-effective banking services.
Visa/Interswitch 
On November 12, 2019, Interswitch, Africa-focused integrated digital payments, and Visa (NYSE: V), announced a strategic partnership that further advances the digital payments ecosystem across Africa.
As part of the agreement, Visa will acquire a significant minority equity stake in Interswitch at a total company valuation of $1 billion. Visa is thought to be paying $200 million, valuing Interswitch at about $1 billion (N360 billion)
Founded in 2002, Interswitch reportedly generates annual revenue of N30 billion, suggesting that the current value is about 10x its current revenues. Interswitch is also now valued higher than FBNH (N208 billion), UBA (N225 billion) and Access Bank (N327 billion). Zenith Bank still owns a 5% stake in Interswitch and is currently valued at N538.4 billion.
In addition to its switching and processing services, Interswitch owns Verve, the largest domestic debit card scheme in Africa with more than 19 million cards activated on its network as of May 2019, and also operates Quickteller, a leading multichannel consumer payment platform, driving financial inclusion across Nigeria.
Transsion/OPay & Palmpay
In two separate rounds, Chinese investors put $220 million into OPay and PalmPay, two fledgeling startups with plans to scale in Nigeria and the broader continent.
PalmPay, a consumer-oriented payments product, went live in November with a $40 million seed round led by Africa's biggest mobile-phone seller, China's Transsion.
The startup was upfront about its ambitions, stating in a company release, its goals to become "Africa's largest financial services platform."
To that end, PalmPay conveniently entered a strategic partnership with its lead investor. The startup's payment app will come pre-installed on Transsion's mobile device brands, such as Tecno in Africa, for an estimated reach of 20 million phones.
TeamApt
Nigerian Fintech startup, TeamApt also raised $5.5 million capital in a Series A round led by Quantum Capital Partners in February. The Lagos based firm is expected to use the funds to expand its white label digital finance products and pivot to consumer finance with the launch of its AptPay banking app.
Andela
Another Tech startup, Andela raised $100 million in Series D funding in January 2019. Generation Investment Management (Generation IM) led the current funding round.
Proceeds of the funds, according to Andela's country director, Omowale David-Ashiru will be used for expansion.
"Due to our unwavering commitment to our mission throughout the last four years, Andela has grown into a thriving platform for hundreds of technologists in Nigeria. With this investment, Andela will accelerate the development of Africa's best tech talent in Nigeria and beyond."
Lilly Wollman, Co-Head of Growth Equity at Generation Investment Management stated that the private equity firm believes there is room for growth in Andela's area of operations.
She said, "The global demand for software engineers far exceeds supply, and that gap is projected to widen. Andela's leading technology enables firms to effectively build and manage distributed engineering teams. We are great admirers of the outstanding team, mission and culture Andela has built across two continents and five countries."
[READ ALSO: CBN OMO Blues: Your FinTech saving app could suffer bigly)
Hurdles of the industry
Like other sectors, FinTech also has its challenges. From lack of appropriate regulation to access to credit, lack of established database, strategic partnership and corporate governance limitations among others, the industry still has a long way to go.
No wonder, FT Partners declared that the nation's journey to becoming the Giant of Africa, especially in financial inclusiveness, is farther than it appears, as its payments market fell behind other African nations like Kenya, and South Africa.
In FT Partners' FinTech Industry research, it found that 6% of the nation's bankable population has mobile money accounts. The report, which was obtained by Nairametrics, rated the most populous black nation behind Kenya's 73% and South Africa's 19%.
Also, Nigeria's Smartphone penetration (27%), accounts in financial institutions (39%) and debit/credit card ownership (35%) all fell behind Kenya's 60%, 56%, 44%, and South Africa's 64%, 67%, 43% respectively.
In all, while the firms are trying to keep their heads above water, Emefiele explained that as part of the bank's priorities for 2020, it would also, sustain these efforts in 2020 as part of its plan to reduce financial exclusion rate to under 20% over the next year.
House of Reps to make Youths globally competitive
House of Representatives is determined to make the Youths globally competitive.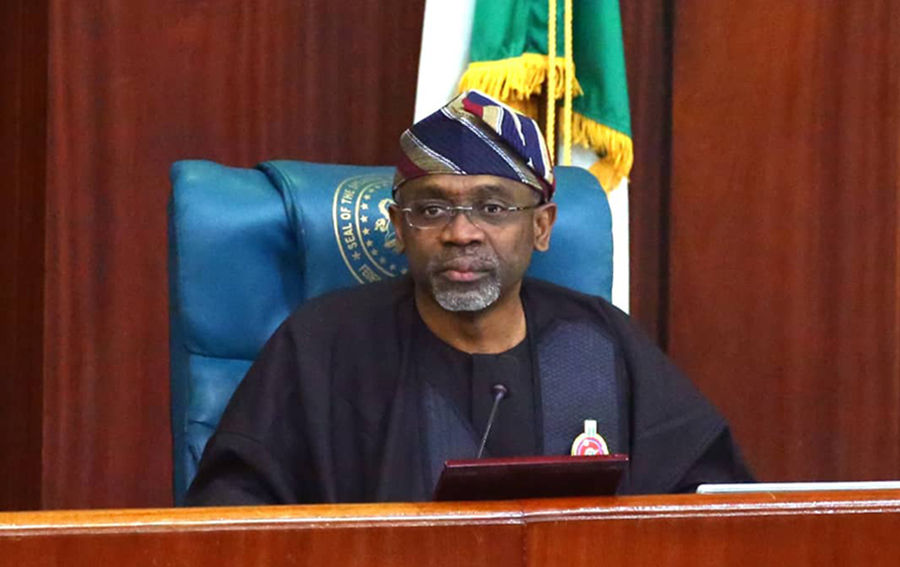 Lawmakers in the House of Representatives have assured Nigerian youths that they are committed to make them globally competitive.
This was disclosed by the Speaker of Nigeria's House of Representatives, Femi Gbajabiamila, on Wednesday.
 In a tweet, which the speaker shared after a meeting with a group of young lawmakers under the aegis of 'Young Parliamentarians Forum', he  reiterated that some of the demands of the youths following the #EndSARS protests would be addressed constitutionally, as part of the decision was to reform the Police, in a quest to accommodate a better Police Force.
On youth empowerment, the Speaker said that a lot still needs to be done, while pointing out that no government had done more than what the present administration has done.
What they are saying
He said, "All of us, every segment of the government, especially the House of Representatives, before the protests took the initiative, debated motions and took far-reaching decisions on the floor. We gave ourselves 30 days, and since then, we've been working night and day, especially with the Nigerian Bar Association (NBA).
"We thought the best way to go about it is that we amend the Police Service Commission Act, and that has been done and the report has been concluded and soon, it will be published and be on the floor.
"We are determined to resolve the Academic Staff Union of Universities (ASUU) matter, and if we can resolve two out of three issues, I think we would have gone a long way to help the lecturers who are on strike.
"There's a bill on vocational education, I think from the 8th Assembly that was even my bill. We'll pick it up again and pass it to you (Young Parliamentarians Group) to polish it up and add it to whatever ideas you have."
While speaking on the giant strides by the current administration in terms of youth empowerment, the Speaker said:
"I make bold to say that no government, in Nigerian history from inception, and I stand to be corrected, has put in as much in youth empowerment as this present government."
"Facts don't lie, a government that has devoted N500bn to youth empowerment every year. There's Trader Moni, N-Power, and several others, they are all there," he added.
Gbajabiamila added that the President Muhammadu Buhari's administration has done a lot about youth empowerment and is ready to do more.
COVID-19: Ogun orders full reopening of churches, mosques, hotels
Religious centres and other public places have been reopened following the success recorded in flattening the curve of COVID-19.
The Ogun State Government has ordered the full reopening of churches, mosques, businesses, hotels, and entertainment centres across the state.
This was disclosed by the State Governor, Dapo Abiodun, in a statement signed by his Chief Press Secretary, Kunle Somorin, via the state's Twitter handle on Wednesday.
Abiodun stated that the religious centres and other public places had been reopened, following the success recorded in flattening the curve of COVID-19.
According to him, the government is aware that many people are just recovering from the economic hardship imposed by COVID-19, as their activities had been affected by the lockdown, while necessary measures had been put in place to combat the pandemic.
He stated, "In the process of rebuilding the economy, the State Government was irrevocably committed to the successful implementation of the "Building our Future Together" agenda, and would ensure everything possible for people to have increased prosperity that would place the State on a sound footing towards continued development.
"Government would improve on testing, just as it continues to monitor the development and not hesitate to do selective lockdown should there be any flagrant disobedience to the set COVID-19 protocols."
COVID-19: Ogun orders full reopening of churches, mosque, hotels

Pleased with the drop of COVID-19 infections in Ogun State, @dabiodunMFR, has announced that all hotels, viewing centres, marquees, event centres, suites, guest houses, motels, and establishments providing…. pic.twitter.com/sMiUe3DUt5

— Ogun State Government – OGSG (@OGSG_Official) October 28, 2020
What you should know
Governor Abiodun had closed religious centres, businesses and schools in March, as part of moves to flatten the curve of the coronavirus.
He later announced the reopening of only worship centres and schools in August.
Abiodun pegged the number of worshippers for each service at 200, and insisted that services must not exceed one and a half hours.
CBN reveals framework for the N75 billion Youth Investment Fund
The Nigerian Youth Investment Fund will be funded through the NIRSAL MFB window of the CBN.
The Central Bank of Nigeria (CBN) has revealed the implementation framework for the Nigerian Youth Investment Fund.
This was disclosed in a publication by the Development Finance Department under the auspices of the Central Bank of Nigeria.
The CBN stated that the Nigerian Youth Investment Fund (N-YIF) would be funded through NIRSAL MFB window, with an initial take-off seed capital of N12.5 billion.
READ: #EndSARS: FG creates new N25 billion Youth Fund, to increase to N75 billion in 3 years
The N-YIF aims to financially empower Nigerian youths to generate at least 500,000 jobs between 2020 and 2023.
Objectives of the scheme:
 Improve access to finance for youths and youth-owned enterprises for national development.

 Generate much-needed employment opportunities to curb youth restiveness.

 Boost the managerial capacity of the youths, and develop their potentials to become the future large corporate organizations.
Explore Data on the Nairametrics Research Website
What you should know
Recall that on the 22nd of July, 2020, the Federal Executive Council (FEC) approved the sum of N75 billion for the establishment of the Nigeria Youth Investment Fund for the period of 2020 – 2023.
The fund was created to support the innovative ideas, skills and talents of Nigerian youths, and to institutionally provide Nigerian youths with a special window for accessing much-needed funds, finances, business management skills and other inputs critical for sustainable enterprise development.
The fund targets young people between the ages of 18 and 35 years.

Beneficiaries of NMFB, TCF and AgSMEIS loans, and other government loan schemes that remain unpaid are also not eligible to participate.

Individuals (unregistered businesses) shall be determined based on activity/nature of projects subject to the maximum of N250,000.

Registered businesses (Business name, Limited Liability, Cooperative, Commodity Association) shall be determined by activity/nature of projects subject to the maximum of N3.0 million (including working capital).

The tenor of the intervention is for a Maximum of 5 years, depending on the nature of the business and the assets acquired, of which interest rate of not more than 5% under the intervention shall be charged annually.

The Federal Ministry of Youth and Sports Development (FMYSD) will collaborate with relevant stakeholders to identify potential training for training/mentoring.

The youths that are duly screened (and undergo the mandatory training where applicable) shall be advised to login to the portal provided by the NMFB to apply for the facility.
READ: CBN raises alarm over fraudulent loan offers, investment schemes with charged fees
Optics
As a huge percentage of youths are engaged in the informal sector, the NYIF will facilitate the transition of informal enterprises owned by youths into the formal mainstream economy, where they can be supported comprehensively, build a bankable track record, and be accurately captured as active participants in economic development.