CBN holds N43 billion stamp duty charges from banks – FG
The Federal Government has disclosed that the sum of N43 billion collected as stamp duty on domestic transactions is being kept with the CBN. #CBN #Ahmed #NASS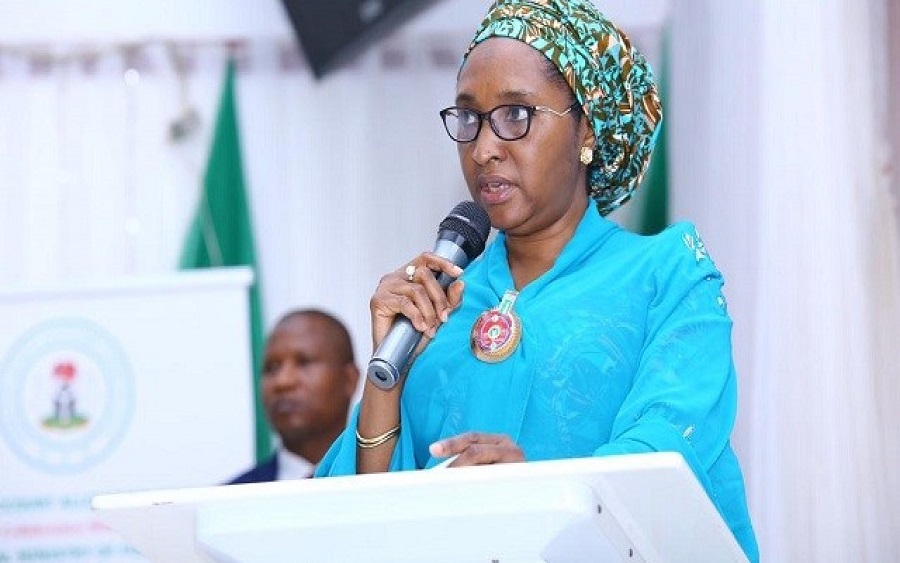 The Federal Government has disclosed that the sum of N43 billion collected as stamp duty on domestic transactions is being kept with the Central Bank of Nigeria (CBN).
Minister, Finance, Budget and National Planning, Zainab Ahmed, explained that the funds had to kept with CBN due to legal dispute between the Nigerian Postal Service (NPS) and Federal Inland Revenue Service (FIRS) over who take custody of the said funds
Ahmed added that the finance bill, which was passed recently, had resolved the custody battle with the act giving custody of the said fund to the FIRS.
[READ MORE: FG defends new $22.7 billion loans from World Bank, others)
"The CBN has itself said it holds about N43 billion now, but in the new Finance Act recently passed by the two houses of the National Assembly, there is an amendment that is made to the Stamp Duties Act that relates to the mode of collection. 
 "The stamp duties, up till now, have been a subject of litigation between the Nigerian Postal Service and Federal Inland Revenue Service. So, while the banks when you make any transfer charges N50, these revenues were not accruing to government. 
 "The Finance Bill has made the FIRS as the collecting agency. So, that addresses the issue of the litigation. So, going forward, the revenue should be remitted as they are being collected, unlike what has happened in the past that the funds were kept in a special account because of the litigation that is going on," Ahmed said.
Meanwhile, Nairametrics had reported that the Senate had on Tuesday instructed its Committee on Finance to investigate reasons the N20 trillion collected by banks and other financial institutions as stamp duty revenue between 2013 to 2016 was not remitted to the Federation Account.
SpaceX says it's pursuing necessary licenses to bring Starlink to Nigeria
Broadband penetration of 70% which covers 90% of the population is the FG's target in its National Broadband Plan (NNBP), 2020-2025.
American private space exploration company founded by Elon Musk, SpaceX says it is working to pursue all necessary licenses needed to bring the Starlink Satellite internet services to Nigeria.
This was disclosed by Mr Ryan Goodnight, SpaceX's Starlink Market Access Director for Africa in a meeting with NCC's Executive Vice-Chairman (EVC), Prof. Umar Danbatta on Friday in Abuja.
What SpaceX is saying about Starlink in Nigeria
"SpaceX has been in discussion with NCC virtually over the past several months to begin the process of pursuing all necessary licences to bring Starlink, its satellite-based broadband services, to Nigeria.
Having made substantial progress in the discussion, the commission granted SpaceX's request for a face-to-face discussion to gain better insights on the prospects," they said.
The NCC stated that it has listened to SpaceX's presentation and will review it vis-à-vis its regulatory direction of ensuring an effective and sustainable telecoms ecosystem where a licensee's operational model does not dampen healthy competition among other licensees.
"As the regulator of a highly dynamic sector in Nigeria, the commission is conscious of the need to ensure that our regulatory actions are anchored on national interest," they said.
NCC added that broadband penetration of 70% which covers 90% of the population is the FG's target in its National Broadband Plan (NNBP), 2020-2025. This is also in line with its National Digital Economy Policy and Strategy (NDEPS), 2010-2030.
What you should know
Starlink is an internet service launched by SpaceX to improve internet coverage in rural and underserved areas globally. Starlink satellites are over 60 times closer to Earth than traditional satellites, resulting in lower latency and the ability to support services typically not possible with traditional satellite internet.
Nairametrics also reported this month that the  Federal Government announced a deal with Microsoft through the Federal Ministry of Communications and Digital Economy for the development of high-speed internet infrastructure across the six regions in the country.
What FGN Free Meter Program means for the power sector
Without effective penalties for erring DisCos and consumers, progress may still remain very slow.
According to news reports, the Minister of Power, Mamman Saleh on Wednesday said the distribution of the four million free electricity prepaid meters pledged by the Central Bank of Nigeria would soon begin across the country.
According to him, the government is wrapping up the distribution of its initial one million meters, which he labelled phase zero, and would soon begin the distribution of the four million sponsored by CBN, which he tagged phase two. He also noted that the Federal Executive Council approved N3bn for the execution of six major electricity projects in the country to upgrade Nigeria's electricity facilities and improve power supply across the country.
Ineffective metering remains a major drawback to the success of power sector reforms in Nigeria. While some consumers avoid paying for power consumed through meter bypass, some other consumers are made to pay for what they have not consumed through estimated billing by DisCos.
DisCos have been largely unsuccessful with metering their customers.
As far as inadequate metering is concerned, DisCos over time, have used this situation to their advantage via estimated billings. It appears that fully metering customers are currently being viewed as a disincentive, given that estimated bills can easily be manipulated.
According to a report by the Nigerian Electricity Regulatory Commission (NERC), only 4,234,759 (40.27%) of the total customer population of 10,516,090 were metered as of 30 June 2020. Clearly, this validates the widely held view that there are a wide number of customers on estimated billing which gives room for illegal connection to the networks and in turn corrupt practices. NERC further revealed that only three out of 11 Electricity Distribution Companies in the country had metered more than 50% of electricity customers under their coverage areas as of June 2020.
Effective metering in our view is one step ahead in solving the myriad of problems embattling the Nigerian power sector. Though supposed to be unpaid for, many customers in a bid to avoid the bureaucracy associated with getting meters have paid to get their own meters. We believe the provision of meters to all end-use customers will go a long way in ameliorating the liquidity squeeze in the power sector whilst also providing cashflow to the DisCos for investment in equipment needed to evacuate unused electricity to consumers nationwide.
We laud the FG's efforts at distributing meters freely to end-users, but we note that without effective penalties for erring DisCos and consumers, progress may still remain very slow.
---
CSL Stockbrokers Limited, Lagos (CSLS) is a wholly owned subsidiary of FCMB Group Plc and is regulated by the Securities and Exchange Commission, Nigeria. CSLS is a member of the Nigerian Stock Exchange.
Nairametrics | Company Earnings
Access our Live Feed portal for the latest company earnings as they drop.