Unemployment to hit 33.5% in 2020, NECA warns 
The rate of unemployment in Nigeria may rise to 33.5% next year from the current rate pegged at 23.1%, NECA has warned.
The rate of unemployment in Nigeria may rise to 33.5% next year from the current rate pegged at 23.1%, the Nigeria Employers' Consultative Association (NECA) has warned. According to the body, lack of employment opportunities and the shutdown of several companies are the reasons for the renewed fears.
The Details: Timothy Olawale, Director-General, NECA urged the Federal Government to create the necessary policies that will develop the economy and create more jobs.
In addition, he asked the government to encourage industrialization and tailor its fiscal policies to promote ease of business that will eventually raise people out of poverty.
Olawale's words: "There is no better time for the government to focus on a radical industrialisation of the country to make it the hub of economic activities in the West African sub-region and also ensure Nigeria benefits maximally from the AfCFTA, than now.  
"We have consistently taken the lazy path of tax increases that stifle and further burden businesses rather than the ingenious way of promoting and stimulating production.  
"The government should demonstrate a bold attempt to industrialise the country and take it out of the woods by embracing a major policy shift from just focusing on taxation. 
"What our economy requires now are radical far-reaching policies like the abolition of the Value Added Tax on real estate sales, financial services and domestic airlines ticket sales and abolishing capital gains tax on sales of shares and import duty on spare parts.
"Reduction of VAT on small traders to 3%, abolition of import duty on machinery and raw materials, among many others, will directly stimulate production and create wealth for the nation and its citizenry."
Why this matters: High unemployment rate indicates the economy is operating below full capacity which will lead to lower output and income.
According to Olawale, it is imperative that Nigeria sorts this issue of unemployment to enable it to reposition itself at the centre of economic activities in the West African sub-region due to the African Continental Free Trade Agreement (ACFTA) signed recently.
WTO Job: Okonjo-Iweala reveals how to resolve the rift between US and China
Mrs Iweala revealed how she hopes to resolve the rift between the United States of America and China.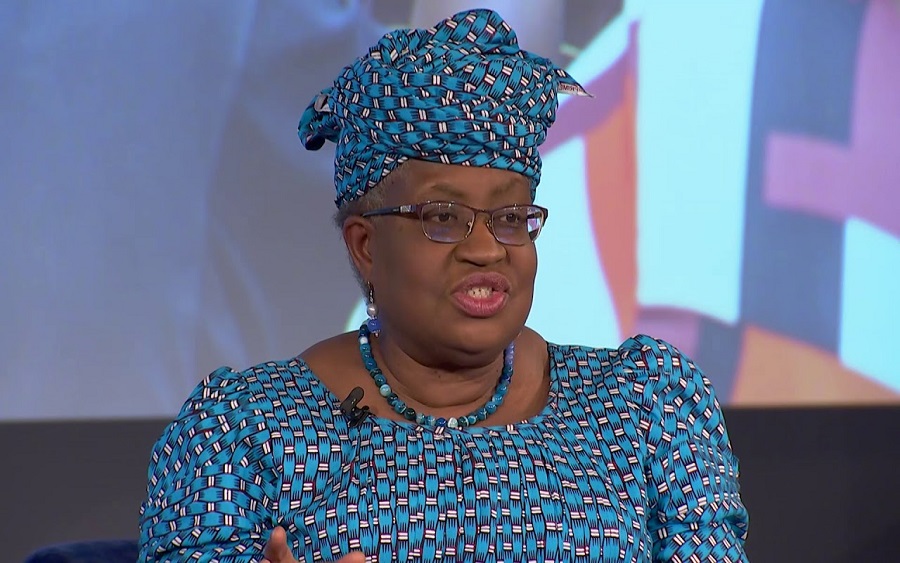 As the jostle for the top job at the World Trade Organization (WTO) becomes more intense, the Nigerian candidate, Ngozi Okonjo-Iweala, has disclosed some of her plans for the institution. The former Nigerian Finance Minister recently had an exclusive interview with CNBC Africa.
Speaking during the interview, Mrs Iweala revealed how she hopes to resolve the rift between the United States of America and China, the 2 biggest economies in the world, especially as regards trade issues. She also noted that part of her vision is to build a trade institution where there is greater trust among its members. She also stressed that the WTO, at this critical time, is needed to ensure that trade and global markets remain open.
On healing the rift between the US and China, Okonjo-Iweala admitted that it is going to be challenging and not be easy. She said:
"Well this is not going to be easy, if it was easy, it could have been done a long time since. So it would be very challenging but it is not an impossible job. It is very clear that both the US and China have been helped and benefitted from the multilateral trading system in the past. Hundreds of millions have been lifted out of poverty. They have experienced shared prosperity in the economies and their countries.''
The Nigerian candidate pointed out that it is important to remind the US and China of this shared prosperity. She then disclosed that she would listen to both countries to find out what really are the issues causing distrust among them. She said that she will not want to be involved in the larger political problems, but will rather separate the trade issues and focus on them and build this trust.
Going further on how to settle their rift, Okonjo-Iweala said, "You need to begin to find areas where there can be confidence-building and trade. Building trust is not talking about it, you have to have areas where both can work together and agree and we have a golden opportunity in the fisheries subsidies negotiations that are going on now because the US is a party to it, China is a party, the EU, all other members.''
"It is a multilateral negotiation, so if they can sit around the table with others to negotiate this and have a successful outcome, that is one thing that will be shared in common between the 2. So that will begin to build confidence. Then reaching out both in the US and in China to talk to the policymakers, go where the decisions are made, talk to congress also in the US and begin to show the benefits of the system again.''
She also said they will look at reasons why they need to work together because their rift may be causing negative externalities for other members. She is of the opinion that exposing all of these, working with them, and listening carefully will begin to build confidence.
She believes that while achieving this will be difficult, focusing seriously on trade issues can create room for a breakthrough.
US hands over 200 ventilators to Nigeria
The US Ambassador to Nigeria said USAID and  Nigeria will work very closely over the next couple of weeks.
The United States of America, on Tuesday, August 11th, handed over some 200 ventilators to the Federal Government of Nigeria. This was disclosed by the Federal Ministry of Health via its Twitter handle, following the handover ceremony in Abuja.
The US Ambassador to Nigeria, Ambassador Mary Beth Leonard, at the handover event, explained that the ventilators are compact & portable & can be easily mobilized to reach those patients with the most severe symptoms of COVID-19.
The US Ambassador to #Nigeria Her Excellency Ambassador Mary Beth Leonard at the handover event stated that "the 200 ventilators being transferred today are compact & portable & can be easily mobilized to reach those patients with the most severe symptoms of #COVID19". pic.twitter.com/4nSgYVoEHk

— Federal Ministry of Health, NIGERIA (@Fmohnigeria) August 11, 2020
Speaking during the handover ceremony, the Ambassador said, "Their arrival fulfills the commitment discussed between US and President Muhammadu Buhari earlier this year. Our support includes; training on the use & maintenance of this equipment, ensuring that the ventilators can address other respiratory illnesses in the years beyond."
According to her, the United States Agency for International Development (USAID) and  Nigeria will work very closely and energetically over the next couple of weeks, with the Presidential Taskforce on COVID-19, to bring these ventilators across each of Nigeria's states & the Federal Capital Territory.
"The United States has been pivotal in supporting Nigeria's membership in the 'Every Breath Counts' Coalition. Nigeria is now one of 2 countries in Africa to have an "oxygen roadmap" that seeks to fight against pneumonia, hypoxemia, & now COVID-19," she stated. She then added that as the U.S. Ambassador to Nigeria, she remains proud of the strong friendship between the two countries.
The Backstory: Last April, Nairametrics had reported when the Minister of Information, Lai Mohammed, said that "President Donald Trump assured that the United States stands in solidarity with Nigeria in this difficult time and promised to send ventilators to support the country in its fight against the pandemic."
COVID-19 Update in Nigeria
On the 11th of August 2020, 423 new confirmed cases and 6 deaths were recorded in Nigeria.
The spread of novel Corona Virus Disease (COVID-19) in Nigeria continues to record significant increase as the latest statistics provided by the Nigeria Centre for Disease Control reveal Nigeria now has 47,290 confirmed cases.
On the 11th of August 2020, 423 new confirmed cases and 6 deaths were recorded in Nigeria, having carried out a total daily test of 2,355 samples across the country.
To date, 47,290 cases have been confirmed, 33,609 cases have been discharged and 956 deaths have been recorded in 36 states and the Federal Capital Territory. A total of 319,851 tests have been carried out as of August 11th, 2020 compared to 317,496 tests a day earlier.
COVID-19 Case Updates- 11th August 2020,
Total Number of Cases – 47,290
Total Number Discharged – 33,609
Total Deaths – 956
Total Tests Carried out – 319,851
According to the NCDC, the 423 new cases were reported from 22 states- Lagos (117), FCT (40), Ondo (35), Rivers (28), Osun (24), Benue (21), Abia (19), Ogun (19), Ebonyi (18), Delta (17), Kwara (17), Kaduna (15), Anambra (14), Ekiti (11), Kano (9), Imo (6), Gombe (4), Oyo (3), Taraba (3), Bauchi (1), Edo (1) and Nasarawa (1).
Meanwhile, the latest numbers bring Lagos state total confirmed cases to 16,074, followed by Abuja (4,525), Oyo (2,890), Edo (2,399), Rivers (1,972), Kano (1,643), Kaduna (1,628), Delta (1,613), Plateau (1,584), Ogun (1,497), Ondo (1,324), Enugu (914), Ebonyi (888), Kwara (882), Katsina (746), Borno (690), Abia (663), Osun (652), Gombe (635),  and Bauchi (578).
Imo State has recorded 485 cases, Benue (430), Nasarawa (371), Bayelsa (346),  Jigawa (322), Akwa Ibom (235), Niger (226), Ekiti (193), Adamawa (185), Anambra (156), Sokoto (154),  Kebbi (90), Taraba (78),  Zamfara (77), Cross River (73), Yobe (67), while Kogi state has recorded 5 cases only.
READ ALSO: COVID-19: Western diplomats warn of disease explosion, poor handling by government
Lock Down and Curfew
In a move to combat the spread of the pandemic disease, President Muhammadu Buhari directed the cessation of all movements in Lagos and the FCT for an initial period of 14 days, which took effect from 11 pm on Monday, 30th March 2020.
The movement restriction, which was extended by another two-weeks period, has been partially put on hold with some businesses commencing operations from May 4. On April 27th, 2020, Nigeria's President, Muhammadu Buhari declared an overnight curfew from 8 pm to 6 am across the country, as part of new measures to contain the spread of the COVID-19. This comes along with the phased and gradual easing of lockdown measures in FCT, Lagos, and Ogun States, which took effect from Saturday, 2nd May 2020, at 9 am.
On Monday, 29th June 2020 the federal government extended the second phase of the eased lockdown by 4 weeks and approved interstate movement outside curfew hours with effect from July 1, 2020. Also, on Monday 27th July 2020, the federal government extended the second phase of eased lockdown by an additional one week.
On Thursday, 6th August 2020 the federal government through the secretary to the Government of the Federation (SGF) and Chairman of the Presidential Task Force (PTF) on COVID-19 announced the extension of the second phase of eased lockdown by another four (4) weeks.
READ ALSO: Bill Gates says Trump's WHO funding suspension is dangerous
| Date | Confirmed case | New cases | Total deaths | New deaths | Total recovery | Active cases | Critical cases |
| --- | --- | --- | --- | --- | --- | --- | --- |
| August 11, 2020 | 47290 | 423 | 956 | 6 | 33609 | 12725 | 7 |
| August 10, 2020 | 46867 | 290 | 950 | 5 | 33346 | 12571 | 7 |
| August 9, 2020 | 46577 | 437 | 945 | 3 | 33186 | 12446 | 7 |
| August 8, 2020 | 46140 | 453 | 942 | 6 | 33044 | 12154 | 7 |
| August 7, 2020 | 45687 | 443 | 936 | 6 | 32637 | 12114 | 7 |
| August 6, 2020 | 45244 | 354 | 930 | 3 | 32430 | 11884 | 7 |
| August 5, 2020 | 44890 | 457 | 927 | 17 | 32165 | 11798 | 7 |
| August 4, 2020 | 44433 | 304 | 910 | 14 | 31851 | 11672 | 7 |
| August 3, 2020 | 44129 | 288 | 896 | 8 | 20663 | 22570 | 7 |
| August 2, 2020 | 43841 | 304 | 888 | 5 | 20308 | 22645 | 7 |
| August 1, 2020 | 43537 | 386 | 883 | 4 | 20287 | 22567 | 7 |
| July 31, 2020 | 43151 | 462 | 879 | 1 | 19565 | 22707 | 7 |
| July 30, 2020 | 42689 | 481 | 878 | 5 | 19270 | 22541 | 7 |
| July 29, 2020 | 42208 | 404 | 873 | 5 | 19004 | 22331 | 7 |
| July 28, 2020 | 41804 | 624 | 868 | 8 | 18764 | 22172 | 7 |
| July 27, 2020 | 41180 | 648 | 860 | 2 | 18203 | 22117 | 7 |
| July 26, 2020 | 40532 | 555 | 858 | 2 | 17374 | 22300 | 7 |
| July 25, 2020 | 39977 | 438 | 856 | 11 | 16948 | 22173 | 7 |
| July 24, 2020 | 39539 | 591 | 845 | 12 | 16559 | 22135 | 7 |
| July 23, 2020 | 38948 | 604 | 833 | 20 | 16061 | 22054 | 7 |
| July 22, 2020 | 38344 | 543 | 813 | 8 | 15815 | 21716 | 7 |
| July 21, 2020 | 37801 | 576 | 805 | 4 | 15677 | 21319 | 7 |
| July 20, 2020 | 37225 | 562 | 801 | 12 | 15333 | 21091 | 7 |
| July 19, 2020 | 36663 | 556 | 789 | 11 | 15105 | 20769 | 7 |
| July 18, 2020 | 36107 | 653 | 778 | 6 | 14938 | 20391 | 7 |
| July 17, 2020 | 35454 | 600 | 772 | 3 | 14633 | 20049 | 7 |
| July 16, 2020 | 34854 | 595 | 769 | 9 | 14292 | 19793 | 7 |
| July 15, 2020 | 34259 | 643 | 760 | 6 | 13999 | 19500 | 7 |
| July 14, 2020 | 33616 | 463 | 754 | 10 | 13792 | 19070 | 7 |
| July 13, 2020 | 33153 | 595 | 744 | 4 | 13671 | 18738 | 7 |
| July 12, 2020 | 32558 | 571 | 740 | 16 | 13447 | 18371 | 7 |
| July 11, 2020 | 31987 | 664 | 724 | 15 | 13103 | 18160 | 7 |
| July 10, 2020 | 31323 | 575 | 709 | 20 | 12795 | 17819 | 7 |
| July 9, 2020 | 30748 | 499 | 689 | 5 | 12546 | 17513 | 7 |
| July 8, 2020 | 30249 | 460 | 684 | 15 | 12373 | 17192 | 7 |
| July 7, 2020 | 29789 | 503 | 669 | 15 | 12108 | 17012 | 7 |
| July 6, 2020 | 29286 | 575 | 654 | 9 | 11828 | 16804 | 7 |
| July 5, 2020 | 28711 | 544 | 645 | 11 | 11665 | 16401 | 7 |
| July 4, 2020 | 28167 | 603 | 634 | 6 | 11462 | 16071 | 7 |
| July 3, 2020 | 27564 | 454 | 628 | 12 | 11069 | 15867 | 7 |
| July 2, 2020 | 27110 | 626 | 616 | 13 | 10801 | 15693 | 7 |
| July 1, 2020 | 26484 | 790 | 603 | 13 | 10152 | 15729 | 7 |
| June 30, 2020 | 25694 | 561 | 590 | 17 | 9746 | 15358 | 7 |
| June 29, 2020 | 25133 | 566 | 573 | 8 | 9402 | 15158 | 7 |
| June 28, 2020 | 24867 | 490 | 565 | 7 | 9007 | 14995 | 7 |
| June 27, 2020 | 24077 | 779 | 558 | 4 | 8625 | 14894 | 7 |
| June 26, 2020 | 23298 | 684 | 554 | 5 | 8253 | 14491 | 7 |
| June 25, 2020 | 22614 | 594 | 549 | 7 | 7822 | 14243 | 7 |
| June 24, 2020 | 22020 | 649 | 542 | 9 | 7613 | 13865 | 7 |
| June 23, 2020 | 21371 | 452 | 533 | 8 | 7338 | 13500 | 7 |
| June 22, 2020 | 20919 | 675 | 525 | 7 | 7109 | 13285 | 7 |
| June 21, 2020 | 20242 | 436 | 518 | 12 | 6879 | 12847 | 7 |
| June 20, 2020 | 19808 | 661 | 506 | 19 | 6718 | 12584 | 7 |
| June 19, 2020 | 19147 | 667 | 487 | 12 | 6581 | 12079 | 7 |
| June 18, 2020 | 18480 | 745 | 475 | 6 | 6307 | 11698 | 7 |
| June 17, 2020 | 17735 | 587 | 469 | 14 | 5967 | 11299 | 7 |
| June 16, 2020 | 17148 | 490 | 455 | 31 | 5623 | 11070 | 7 |
| June 15, 2020 | 16658 | 573 | 424 | 4 | 5349 | 10885 | 7 |
| June 14, 2020 | 16085 | 403 | 420 | 13 | 5220 | 10445 | 7 |
| June 13, 2020 | 15682 | 501 | 407 | 8 | 5101 | 10174 | 7 |
| June 12, 2020 | 15181 | 627 | 399 | 12 | 4891 | 9891 | 7 |
| June 11, 2020 | 14554 | 681 | 387 | 5 | 4494 | 9673 | 7 |
| June 10, 2020 | 13873 | 409 | 382 | 17 | 4351 | 9140 | 7 |
| June 9, 2020 | 13464 | 663 | 365 | 4 | 4206 | 8893 | 7 |
| June 8, 2020 | 12801 | 315 | 361 | 7 | 4040 | 8400 | 7 |
| June 7, 2020 | 12486 | 260 | 354 | 12 | 3959 | 8173 | 7 |
| June 6, 2020 | 12233 | 389 | 342 | 9 | 3826 | 8065 | 7 |
| June 5, 2020 | 11844 | 328 | 333 | 10 | 3696 | 7815 | 7 |
| June 4, 2020 | 11516 | 350 | 323 | 8 | 3535 | 7646 | 7 |
| June 3, 2020 | 11166 | 348 | 315 | 1 | 3329 | 7522 | 7 |
| June 2, 2020 | 10819 | 241 | 314 | 15 | 3239 | 7266 | 7 |
| June 1, 2020 | 10578 | 416 | 299 | 12 | 3122 | 7157 | 9 |
| May 31, 2020 | 10162 | 307 | 287 | 14 | 3007 | 6868 | 7 |
| May 30, 2020 | 9855 | 553 | 273 | 12 | 2856 | 6726 | 7 |
| May 29, 2020 | 9302 | 387 | 261 | 2 | 2697 | 6344 | 7 |
| May 28, 2020 | 8915 | 182 | 259 | 5 | 2592 | 6064 | 7 |
| May 27, 2020 | 8733 | 389 | 254 | 5 | 2501 | 5978 | 7 |
| May 26, 2020 | 8344 | 276 | 249 | 16 | 2385 | 5710 | 7 |
| May 25, 2020 | 8068 | 229 | 233 | 7 | 2311 | 5524 | 7 |
| May 24, 2020 | 7839 | 313 | 226 | 5 | 2263 | 5360 | 7 |
| May 23, 2020 | 7526 | 265 | 221 | 0 | 2174 | 5131 | 7 |
| May 22, 2020 | 7261 | 245 | 221 | 10 | 2007 | 5033 | 7 |
| May 21, 2020 | 7016 | 339 | 211 | 11 | 1907 | 4898 | 7 |
| May 20, 2020 | 6677 | 284 | 200 | 8 | 1840 | 4637 | 7 |
| May 19, 2020 | 6401 | 226 | 192 | 1 | 1734 | 4475 | 7 |
| May 18, 2020 | 6175 | 216 | 191 | 9 | 1644 | 4340 | 7 |
| May 17, 2020 | 5959 | 388 | 182 | 6 | 1594 | 4183 | 7 |
| May 16, 2020 | 5621 | 176 | 176 | 5 | 1472 | 3973 | 7 |
| May 15, 2020 | 5445 | 288 | 171 | 3 | 1320 | 3954 | 4 |
| May 14, 2020 | 5162 | 193 | 168 | 3 | 1180 | 3815 | 4 |
| May 13, 2020 | 4971 | 184 | 164 | 6 | 1070 | 3737 | 4 |
| May 12, 2020 | 4787 | 146 | 158 | 6 | 959 | 3670 | 4 |
| May 11, 2020 | 4641 | 242 | 152 | 10 | 902 | 3589 | 4 |
| May 10, 2020 | 4399 | 248 | 142 | 17 | 778 | 3479 | 4 |
| May 9, 2020 | 4151 | 239 | 127 | 11 | 745 | 3278 | 4 |
| May 8, 2020 | 3912 | 386 | 118 | 10 | 679 | 3115 | 4 |
| May 7, 2020 | 3526 | 381 | 108 | 4 | 601 | 2818 | 4 |
| May 6, 2020 | 3145 | 195 | 104 | 5 | 534 | 2507 | 1 |
| May 5, 2020 | 2950 | 148 | 99 | 5 | 481 | 2370 | 4 |
| May 4, 2020 | 2802 | 245 | 94 | 6 | 417 | 2291 | 2 |
| May 3, 2020 | 2558 | 170 | 88 | 2 | 400 | 2070 | 2 |
| May 2, 2020 | 2388 | 220 | 86 | 17 | 351 | 1952 | 2 |
| May 1, 2020 | 2170 | 238 | 69 | 10 | 351 | 1751 | 2 |
| April 30, 2020 | 1932 | 204 | 59 | 7 | 317 | 1556 | 2 |
| April 29, 2020 | 1728 | 196 | 52 | 7 | 307 | 1369 | 2 |
| April 28, 2020 | 1532 | 195 | 45 | 4 | 255 | 1232 | 2 |
| April 27, 2020 | 1337 | 64 | 41 | 0 | 255 | 994 | 2 |
| April 26, 2020 | 1273 | 91 | 41 | 5 | 239 | 994 | 2 |
| April 25, 2020 | 1182 | 87 | 36 | 3 | 222 | 925 | 2 |
| April 24, 2020 | 1095 | 114 | 33 | 1 | 208 | 855 | 2 |
| April 23, 2020 | 981 | 108 | 32 | 3 | 197 | 753 | 2 |
| April 22, 2020 | 873 | 91 | 29 | 3 | 197 | 648 | 2 |
| April 21, 2020 | 782 | 117 | 26 | 3 | 197 | 560 | 2 |
| April 20, 2020 | 665 | 38 | 23 | 1 | 188 | 466 | 2 |
| April 19, 2020 | 627 | 86 | 22 | 2 | 170 | 436 | 2 |
| April 18, 2020 | 541 | 48 | 20 | 2 | 166 | 356 | 2 |
| April 17, 2020 | 493 | 51 | 18 | 4 | 159 | 317 | 2 |
| April 16, 2020 | 442 | 35 | 13 | 1 | 152 | 277 | 2 |
| April 15, 2020 | 407 | 34 | 12 | 1 | 128 | 267 | 2 |
| April 14, 2020 | 373 | 30 | 11 | 1 | 99 | 263 | 2 |
| April 13, 2020 | 343 | 20 | 10 | 0 | 91 | 242 | 2 |
| April 12, 2020 | 323 | 5 | 10 | 0 | 85 | 228 | 2 |
| April 11, 2020 | 318 | 13 | 10 | 3 | 70 | 238 | 2 |
| April 10, 2020 | 305 | 17 | 7 | 0 | 58 | 240 | 2 |
| April 9, 2020 | 288 | 14 | 7 | 1 | 51 | 230 | 2 |
| April 8, 2020 | 274 | 22 | 6 | 0 | 44 | 226 | 2 |
| April 7, 2020 | 254 | 16 | 6 | 1 | 44 | 204 | 2 |
| April 6, 2020 | 238 | 6 | 5 | 0 | 35 | 198 | 2 |
| April 5, 2020 | 232 | 18 | 5 | 1 | 33 | 194 | 2 |
| April 4, 2020 | 214 | 5 | 4 | 0 | 25 | 185 | 0 |
| April 3, 2020 | 209 | 25 | 4 | 2 | 25 | 180 | 0 |
| April 2, 2020 | 184 | 10 | 2 | 0 | 20 | 162 | 0 |
| April 1, 2020 | 174 | 35 | 2 | 0 | 9 | 163 | 0 |
| March 31, 2020 | 139 | 8 | 2 | 0 | 9 | 128 | 0 |
| March 30, 2020 | 131 | 20 | 2 | 1 | 8 | 121 | 0 |
| March 29, 2020 | 111 | 22 | 1 | 0 | 3 | 107 | 0 |
| March 28, 2020 | 89 | 19 | 1 | 0 | 3 | 85 | 0 |
| March 27, 2020 | 70 | 5 | 1 | 0 | 3 | 66 | 0 |
| March 26, 2020 | 65 | 14 | 1 | 0 | 2 | 62 | 0 |
| March 25, 2020 | 51 | 7 | 1 | 0 | 2 | 48 | 0 |
| March 24, 2020 | 44 | 4 | 1 | 0 | 2 | 41 | 0 |
| March 23, 2020 | 40 | 10 | 1 | 1 | 2 | 37 | 0 |
| March 22, 2020 | 30 | 8 | 0 | 0 | 2 | 28 | 0 |
| March 21, 2020 | 22 | 10 | 0 | 0 | 1 | 21 | 0 |
| March 20, 2020 | 12 | 4 | 0 | 0 | 1 | 11 | 0 |
| March 19, 2020 | 8 | 0 | 0 | 0 | 1 | 7 | 0 |
| March 18, 2020 | 8 | 5 | 0 | 0 | 1 | 7 | 0 |
| March 17, 2020 | 3 | 1 | 0 | 0 | 0 | 3 | 0 |
| March 16, 2020 | 2 | 0 | 0 | 0 | 0 | 2 | 0 |
| March 15, 2020 | 2 | 0 | 0 | 0 | 0 | 2 | 0 |
| March 14, 2020 | 2 | 0 | 0 | 0 | 0 | 2 | 0 |
| March 13, 2020 | 2 | 0 | 0 | 0 | 0 | 2 | 0 |
| March 12, 2020 | 2 | 0 | 0 | 0 | 0 | 2 | 0 |
| March 11, 2020 | 2 | 0 | 0 | 0 | 0 | 2 | 0 |
| March 10, 2020 | 2 | 0 | 0 | 0 | 0 | 2 | 0 |
| March 9, 2020 | 2 | 1 | 0 | 0 | 0 | 2 | 0 |
| March 8, 2020 | 1 | 0 | 0 | 0 | 0 | 1 | 0 |
| March 7, 2020 | 1 | 0 | 0 | 0 | 0 | 1 | 0 |
| March 6, 2020 | 1 | 0 | 0 | 0 | 0 | 1 | 0 |
| March 5, 2020 | 1 | 0 | 0 | 0 | 0 | 1 | 0 |
| March 4, 2020 | 1 | 0 | 0 | 0 | 0 | 1 | 0 |
| March 3, 2020 | 1 | 0 | 0 | 0 | 0 | 1 | 0 |
| March 2, 2020 | 1 | 0 | 0 | 0 | 0 | 1 | 0 |
| March 1, 2020 | 1 | 0 | 0 | 0 | 0 | 1 | 0 |
| February 29, 2020 | 1 | 0 | 0 | 0 | 0 | 1 | 0 |
| February 28, 2020 | 1 | 1 | 0 | 0 | 0 | 1 | 0 |