IMF boss discloses immediate priority 
International Monetary Fund (IMF) has disclosed that its immediate priority is to help countries to minimise their risk of economic crises.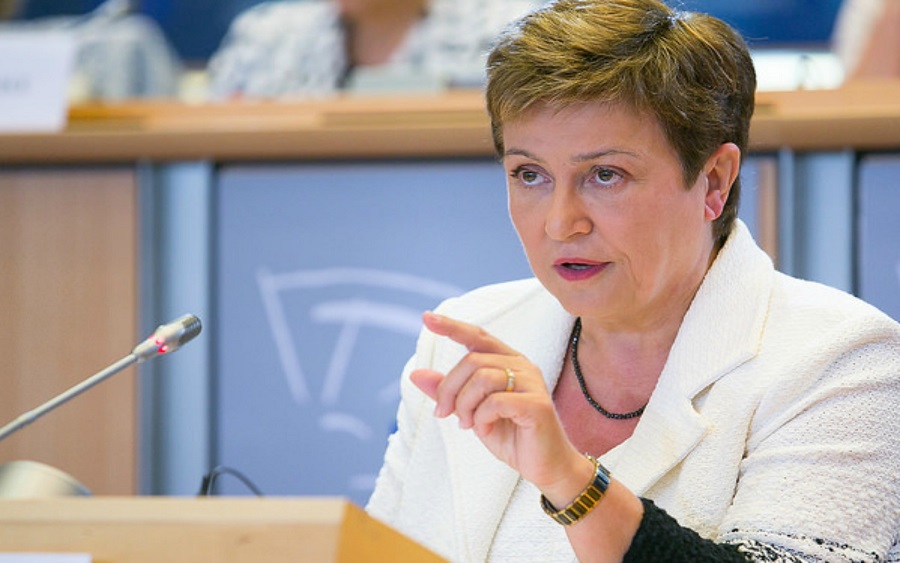 International Monetary Fund (IMF) has disclosed that its immediate priority is to help countries, including Nigeria to minimise their risk of economic crises. In a letter to the IMF's Executive Board, the newly appointed Managing Director of the fund, Kristalina Georgieva said the Fund would not lose sight of its long-term objective, as it aims at helping countries cope with their downturns.
[READ MORE: IMF replaces Lagarde, gets new Managing Director]
Georgieva's statement partly read: "As I noted in my statement to the executive board, our immediate priority is to help countries minimise the risk of crises and be ready to cope with downturns.   
"Yet, we should not lose sight of our long-term objective – to support sound monetary, fiscal and structural policies to build stronger economies and improve people's lives. This means also dealing with issues like inequalities, climate risks and rapid technological change."   
The new IMF boss further expressed that she looked forward to working with all the Fund's 189-member countries, the executive board and staff, and with all its partners in the years ahead. 
Nigeria's economic overview: With a population of almost 200 million people, Nigeria accounts for about 47% of West Africa's population. With an abundance of resources, it is Africa's biggest oil exporter, and also has the largest natural gas reserves on the continent. 
World Bank reported that Nigeria emerged from recession in 2017, with a growth rate of 0.8%, driven mainly by the oil sector. Growth was higher in 2018 (at 1.9%) and more broad-based. However, it still fell below the population growth rate, government projections and pre-recession levels.  
The oil and gas sector, according to the bank's report, reverted to contraction from the second quarter of the year and the non-oil economy was thus the main driver of growth in 2018.  
While agriculture slowed down significantly due to conflict and weather events, non-oil, non-agricultural growth, which remained negative up to the third quarter of 2017 strengthened through 2018 – but remained weak – with services (primarily information and communications technology) resuming as the key driver. 
As the oil sector is not labour-intensive, and the non-oil economy was still relatively weak, nearly a quarter of the workforce was unemployed in 2018; and another 20% under-employed. 
[READ ALSO: IMF reiterates the need for Nigeria, others to completely ditch fuel subsidy]
What you should know: Georgieva, Bulgarian economist had been appointed to replace Christine Lagarde, who resigned to become head of the European Central Bank (ECB). Georgieva's five-year term as Managing Director of the IMF will take effect on Tuesday, October 1, 2019. 
Georgieva served as the interim President for the World Bank Group between February 1, and April 8, 2019. 
Reasons why a record number of people are giving up their US citizenship
These citizens complain of the current political climate while others attributed their decision to taxes.
A new report that was published on Sunday, August 10, 2020, has shown that a record number of people are giving up their United States citizenship. The report suggests that Americans are continuing to renounce their citizenship at the highest levels on record.
This information is contained in a research report that was conducted by Bambridge Accountants, a New York-based firm that specializes in US expatriate tax, UK expats, actors, and other creatives in the US and the UK.
According to the report, more than 5,800 American citizens gave up their citizenship in the first six months of 2020, compared to the 2,072 Americans who renounced their citizenship throughout 2019. The report also noted that the Coronavirus pandemic had motivated US expats to cut ties and avoid the current political climate and onerous tax reporting.
READ MORE: Dual citizenship firm opens office in Nigeria for millionaires, charges over $1 million
A partner at Bambridge Accountants, Alistair Bambridge, in his conversation with CNN, said, "These are mainly people who already left the US and just decided they've had enough of everything. What we've seen is people are over everything happening with President Donald Trump, how the coronavirus pandemic is being handled, and the political policies in the US at the moment."
Bambridge, in its report, also stated that while many people who renounced their citizenship complain of being unhappy with today's current political climate in the US, others attributed their decision to taxes.
READ ALSO: Nigeria's pension assets rise to N10.8 trillion in May 2020
He disclosed that US citizens living abroad are still required to file tax returns every year, report their foreign bank accounts, investments, and pensions. Although these citizens benefited from the $1,200 stimulus checks and $500 for each child, many of them felt that the annual US tax reporting is just too much.
The report also stated that Americans who want to relinquish their citizenship are required to pay $2,350 and appear in person at the US embassy in their resident country if they are not in America.
There are currently about 9 million US expats across the world, even as trends have shown a sharp decline over the last few years of US citizens expatriating.
Download the Nairametrics News App
Despite the risks that come with giving up US citizenship, Bambridge predicts that the trend will only continue going up.
He said, "A lot of people are waiting for the November election to see what's going to happen. If President Trump is reelected, we believe there will be another wave of people who will decide to renounce their citizenship."
IMF assessing additional tools to provide aid to pandemic-hit countries 
The IMF had earlier noted that the Nigerian economy would witness a deeper contraction of 5.4%.
The International Monetary Fund (IMF) noted that it is reviewing additional tools to help provide financing to poorest countries of the world as well as others that have been hit hard by the coronavirus pandemic. This was noted by the Fund's Managing Director, Kristalina Georgieva. 
The IMF had reduced its projections for the world economy, projecting a GDP growth of 5.4% in 2021 compared to 5.8% in its earlier forecasts as a result of the expected challenges to global value chains due to the coronavirus pandemic which has affected the global demand for goods and services. It had also reviewed its projection for Nigeria, noting that the Nigerian economy would witness a deeper contraction of 5.4% and not the 3.4% that it has projected in April 2020. 
Explore Nairalytics, the Nairametrics research website
Georgieva explained to finance ministers and central bank governors from the Group of 20 major economies in the world that they should consider extending a freeze in the official bilateral debt service payments that have been offered to the poorest countries beyond the end of 2020, and seek out better ways to promote private-sector participation. 
READ ALSO: United Capital Plc records 16% rise in profit to N1.9 billion in H1 2020
She also noted that there is ardent need to think about "more comprehensive debt relief for many countries," as a result of the severity of the crisis as well as the already high debt load that many of the respective countries already had to deal with. 
UK and allies accuse Russia of hacking and stealing COVID-19 vaccine data
UK said that vaccine and therapeutic sectors in multiple countries have been targeted by Russian state intelligence.
The UK and its allies have accused Russian state intelligence of hacking international research centres that are in a race to develop a vaccine for COVID-19. The UK, US and Canada on Thursday, said that Russian intelligence is attempting to steal information on those vaccines through irresponsible cyberattacks.
It is, however, unclear if the research facilities have been damaged or if the vaccine programmes have been set back as a result of the hacks but the officials warned that the cyber-attacks are ongoing.
UK's National Cyber Security Centre (NCSC), said that vaccine and therapeutic sectors in multiple countries have been targeted by a group known as APT29, which it said is almost certainly part of Russian state intelligence. Security agencies in the U.S. and Canada later issued their own statements backing up the findings. Russia denied involvement.
The British Foreign Secretary, Dominic Raab, said, ''It is completely unacceptable that the Russian intelligence services are targeting those working to combat the coronavirus pandemic. While others pursue their selfish interests with reckless behaviour, the U.K. and its allies are getting on with the hard work of finding a vaccine and protecting global health."
READ ALSO: NDIC to use AI, digital technology to tackle emerging threats to banks 
The Russians have however denied the allegations by the UK and its allies.
In an explanation to Bloomberg, the Russian spokesman said, ''We don't know who may have hacked pharmaceutical companies and research centers. We can only say Russia has nothing to do with these attempts. We don't accept such accusations.''
The NCSC said APT29, which is also known as Cozy Bear or The Dukes, has targeted U.K., U.S. and Canadian vaccine research and development organizations. They said the campaign of malicious activity is ongoing, predominantly against government, diplomatic, think-tank, healthcare and energy targets to steal valuable intellectual property.
READ MORE: African Union begins COVID-19 vaccine trial group
A cybersecurity firm, Carbon Black, in a published analysis in March, said researchers have long linked APT29 to Russian intelligence agencies as for more than a decade, the group has carried out hacking campaigns that have targeted dozens of governments, research institutes, and corporations around the world.
The British claims were supported by partners at the Canadian Communications Security Establishment (CSE), the US Department for Homeland Security (DHS), Cybersecurity Infrastructure Security Agency (CISA) and the National Security Agency (NSA).
READ ALSO: This billionaire wants to reduce the number of hours people work
The NSA said organizations in the U.S. involved in vaccine development were also targeted by the hackers with the objective of the hacking and stealing information and intellectual property relating to the development and testing of Covid-19 vaccines.
The Canadian government said they are working with Westminster and Washington to stop these cyber-attacks.