Survey unveils Elon Musk as the most inspirational leader in tech 
A recent survey has unveiled Tesla's Chief Executive Officer and Billionaire, Elon Musk as the most inspirational leader in the tech industry at the moment.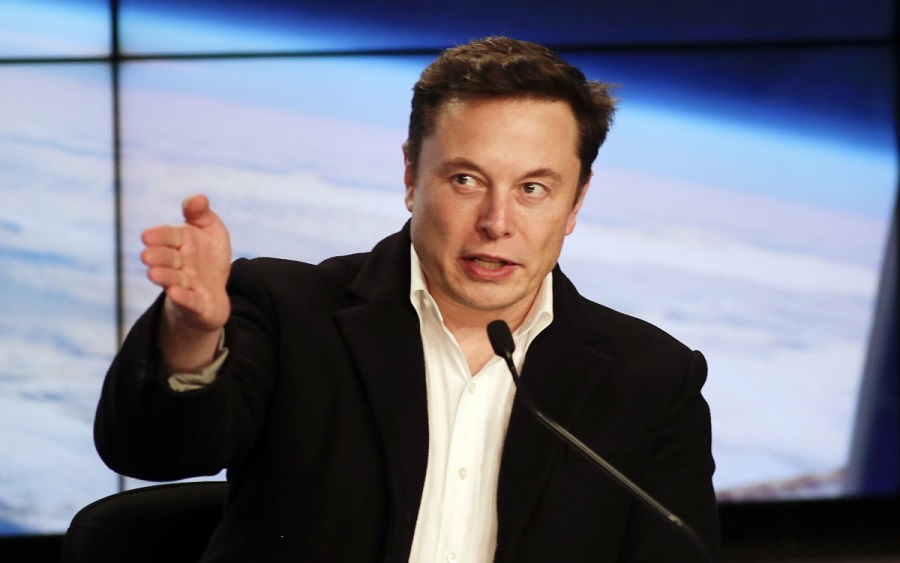 A recent survey of global industry professionals has unveiled Tesla's Chief Executive Officer and Billionaire, Elon Musk as the most inspirational leader in the tech industry at the moment. 
The survey was carried out in form of a poll on a recruitment site where more than 3,600 workers across the U.S, U.K, Canada and France gave their input.
Musk, who is known for his contributions to the auto sector, was ranked as an inspirational leader despite his erratic behaviour, ranging from his public smoking of weed to other acts of his that went viral in the past. 
[READ MORE: FinTech Wars: Access Bank reveals how much it lends daily as payday loans]
One of Musk's actions that scared investors was the case that happened earlier this year. Nairametrics reported that Musk settled a legal dispute with the U.S. Securities and Exchange Commission over his use of Twitter to discuss Tesla's finances. 
Musk's company, SpaceX was also ranked as the second-most popular employer among private companies worldwide, while Tesla was named the 10th most attractive employer among public firms. 
Other tech leaders who made the list include:
Jeff Bezos, founder and CEO of Amazon;

Satya Nadella, CEO of Microsoft;

Mark Zuckerberg, co-founder and CEO of Facebook; 

Jack Ma, co-founder and former chairman of Alibaba; 

Sheryl Sandberg, COO of Facebook;

Reed Hastings, CEO of Netflix;

Susan Wojcicki, CEO of YouTube;

Marissa Mayer, former CEO of Yahoo; and 

Anne Wojcicki, co-founder and CEO of 23andMe.

 
What you should know: Elon Reeve Musk is a technology entrepreneur and engineer. He holds South African, Canadian, and U.S. citizenship and is the founder, CEO, and lead designer of SpaceX; co-founder, CEO, and product architect of Tesla Inc.; co-founder and CEO of Neuralink; founder of the Boring Company; and co-founder of PayPal. 
[READ ALSO: BudgIT's Onigbinde has resigned as Technical Adviser to Ministry of Budget]
About Tesla: Tesla Inc. is an American automotive and energy company based in Palo Alto, California. The company specialises in electric car manufacturing and through its SolarCity subsidiary, solar panel manufacturing. 
Elon Musk loses an estimated $6bn after a Tesla car accident killed two people
Elon Musk's net worth dipped by $6 billion following a tragic Tesla car accident that killed two people.
The second richest man in the world, Elon Musk, witnessed his wealth shed an estimated $6bn after a Tesla car was involved in an accident that led to the death of two people.
Tesla stocks dropped by 3.8% after the news of the crash went mainstream. The resultant effect on Elon Musk's wealth was a $5.71bn loss in a single day.
READ: Google threatens to remove its search engine from Australia due to media code
The Accident
Two men lost their lives on Saturday night in Houston when their 2019 Tesla model car slammed into a tree. Police authorities on sight claimed the car might have been on autopilot due to the sitting position of the corpses.
They also struggled to put out the fire from the Tesla car and even called Tesla for help. The death of the two men has sparked a heated argument between Tesla and its critics. Autopilot or not?
Although police officers' assertion that the car may have been on autopilot remains unconfirmed, it has raised serious uncertainty about the safety of Tesla's autopilot feature and Tesla's critics are not backing down on this.
READ: Dealers explain why 'Tokunbo' Cars are expensive
Elon Musk reacts
Elon Musk has reacted to the news, insisting that the autopilot feature in the crashed vehicle was not enabled. According to him, the Wall Street Journal's coverage of the accident was not professional.
READ: Meet the 39 years old Chinese billionaire electric car maker 
What you should know
Elon Musk is now worth $183bn following the recent drop. He closed the gap on Amazon's Jeff Bezos to $4bn early last week. The gap has widened to $14bn today.
TikTok's 38 year-old founder is worth $35.5 billion – Here's what we know
At 38 years old, Zhang Yiming is the 39th richest man in the world.
TikTok a video sharing app was named the most downloaded app of the first quarter of 2021 but not much is known about its founder. The app now has over 689 million active users worldwide according to statistics from oberlo.com. It has also been downloaded over 2 billion times on App Store and Google Playstore. It is arguably the most popular video-sharing app out there and the numbers keep growing.
TikTok was able to grow at a faster rate than Facebook and Instagram since its startup. The man behind this massive success is currently worth $35.5 billion and he is our person of interest today.
READ: TikTok to relocate headquarters to London following approval by UK ministers
Meet Zhang Yiming, the founder of Bytedance 
38-year-old Zhang Yiming is the CEO and Founder of ByteDance, the parent company of TikTok. Zhang Yiming majored in microelectronics and software engineering at Nankai University. He worked for various tech startups including Microsoft before settling to start his own company.
The billionaire leads a very secretive lifestyle. He founded ByteDance back in 2012 and steered it all the way to financial success. He is currently worth $35.5 billion but his net worth is well on its way to doubling based on recent valuations.
ByteDance has two main flagship products – Toutiao, an AI-backed news aggregator and TikTok which he founded later after the success of Toutiao.
READ: US government to ban WeChat and TikTok from app stores
Revisiting the success of  TikTok 
Last year Zhang Yiming's ByteDance was regarded as the most valuable startup in the world. TikTok became the most downloaded iOS app worldwide in the first quarter of 2019, according to the US research app Sensor Tower.
TikTok is available in 155 countries and in 75 languages.
READ: Folorunsho Alakija's net worth drops below $1bn. A few things to know about her
Impressive valuation 
Bytedance's first major valuation was in 2018 where it was valued at $75bn according to Forbes. This was followed by another valuation which put it at $140bn according to CB Insights.
The latest 2021 valuation places ByteDance at over $250bn according to the South China morning post.
Zhang Yiming owns a quarter of ByteDance and with this recent valuation, his net worth is set to grow to $60bn according to experts in the field.
READ: China will not accept any Microsoft-TikTok deal
Donald Trump scare 
The former president of the United States was on the verge of banning TikTok in the country. He claimed the App has ties to the Chinese government. This would have been a setback giving that the application is quite popular among US millennials and Gen Z. Donald Trump lost his re-election bid and very little has been said by the Biden administration on the issue.
What you should know 
At 38 years old, Zhang Yiming is the 39th richest man in the world. His parents were civil servants.
The popularity of TikTok in the United States has raised concerns from US regulators.
Nairametrics | Company Earnings
Access our Live Feed portal for the latest company earnings as they drop.