Tips that will help you win in business – Amazon Founder 
Jeff Bezos, billionaire and founder of Amazon, has given out a few pieces of advice on what it takes for someone to succeed in business. 
At times, people go through tough times in business be it financial issues, branding, low profit, industry shakeout and so on. These issues often prove difficult that one needs high morale, determination and a never-say-never attitude to come out victorious.
This is the reason why Nairametrics found it vital to bring to you a few pieces of advice from the Billionaire and founder of Amazon, Jeff Bezos on what it takes for someone to succeed in business. 
Being the world richest man is no small feat for someone who started Amazon as an online bookstore in his garage in 1994 to a company with more than $900 billion market cap. One could not have thought of a better person to share tips to help paddle the unstable canoe of business. Find his advice below. 
Be 

passionate: 

Bezos believes it's important for an entrepreneur to follow his or her passion. He says that it's the people who care that win.

 
"You have got to have some passion for the arena that you are going to develop and work in, because otherwise you'll be competing against those who do have passion for that, and they're going to build better products and services." 
[READ MORE: Here's what Warren Buffet thinks parents should teach their kids about money]
Bezos added that to be a successful business person, you need to be a missionary and not a mercenary, meaning that you have to be mission-motivated, not money-motivated. 
Be ready to e

mbrace risk and failure

: 

The business tycoon also made it known that 

taking risks and failing is an integral part of becoming successful in business

. 
"If you come up with a business idea and there's no risk there… it's probably already being done… [and] being done well…. So you have to have something that might not work and you have to accept that your business in many ways is an experiment and it might fail, And that's ok." 
Bezos has had his own share of failures, like the demise of Amazon restaurants and Amazon's pop-up kiosks. Even at that, he continues to enjoy risk-taking in business.  
Change your 

mind

set

: 

Bezos has learned from interacting with the world's most influential minds that the people who usually get things right are those who listen the most and who change their minds often.

 
"What I have found that people who are right change their mind even without getting new data. They have the same data set that they had at the beginning, but they wake up and they reanalyze things all the time and they come to a new conclusion and then they change their mind." 
"In fact, people who win typically have worked hard to recognize what beliefs or biases they hold and "actively try to look for evidence that does not confirm them," Bezos said. 
[READ ALSO: Investing & Gambling: Differences and Where They Intersect]
Many Billionaires became richer by 27% during the COVID-19 pandemic – Swiss Bank UBS
The world's richest saw their wealth climb 27.5% to $10.2trn (£7.9trn) from April to July this year.
Many billionaires have seen their fortunes hit record highs during the pandemic, with top executives from technology and industry earning the most.
According to reports from Swiss bank UBS, the world's richest saw their wealth climb 27.5% to $10.2trn (£7.9trn) from April to July this year.
This is up from the previous peak of $8.9trn at the end of 2017, and largely due to rising global share prices.
READ: Only 9% of Nigerian households obtained loans from banks and microfinance institutions since March – NBS
It also said the number of billionaires had hit a new high of 2,189, up from 2,158 in 2017. It comes as the recent World Bank report showed that acute poverty is set to rise this year for the first time in more than two decades due to the pandemic.
Among the billionaires, the biggest winners this year have been industrialists, whose wealth rose by a staggering 44% in the three months leading to July.
According to Swiss Bank UBS, "Industrials benefited disproportionately as market price increased in a significant economic recovery [after lockdowns around the world]."
READ: NNPC releases audited financial statements, refineries record losses of N154 billion
Other lucky beneficiaries of the pandemic are the Tech billionaires, as their wealth soared by 41%, largely due to the corona-induced demand for their goods and services and social distancing, which accelerated and created the impetus for digital businesses; thereby, compressing several years' of evolution into a few months.
Healthcare billionaires also benefited as the crisis put drug makers and medical device companies in the spotlight.
READ: Wealth of world's billionaires hits $10.2 trillion
Amazon boss Jeff Bezos and Tesla founder Elon Musk – both multi-billionaires – saw their wealth hit new highs this summer, thanks to growth in the price of their companies' stock.
According to UBS, in the last 11 years, China's billionaires have increased their wealth by the biggest percentage, climbing 1,146% between 2009 and 2020.
READ: Senate investigates Nigerian banks over ATM, SMS, and maintenance charges
By comparison, over the same period, the wealth of British billionaires has risen by just 168%. But the biggest accumulation of wealth remains in the US, where American billionaires have $3.5trn, compared to China's $1.7trn.
The UK's wealthy billionaires have just $205bn, compared to Germany's $595bn and France's $443bn.
 READ: Bitcoin Mining just got harder, as mining difficulty reaches an all-time high
Donations
According to UBS, many billionaires benevolently donated some of their wealth to help with the fight against COVID-19,
"Our research has identified 209 billionaires who have publicly committed a total equivalent to $7.2bn from March to June 2020.
"They have reacted quickly, in a way that's akin to disaster relief, providing unrestricted grants to allow grantees to decide how best to use funds."
READ: Buhari earmarks N420 billion for N-Power, GEEP and others under NSIP in 2021 budget
The UBS report also revealed that the UK billionaires donated less than those from other countries.
In the US, 98 billionaires donated $4.5bn; in China, 12 billionaires gave $679m; and in Australia, just 2 billionaires donated $324m. But in the UK, 9 billionaires donated just $298m.
Wealth of world's billionaires hits $10.2 trillion
The total billionaire wealth globally has climbed by 27.5%, reaching $10.2 trillion, up from $8.0 trillion at the beginning of April.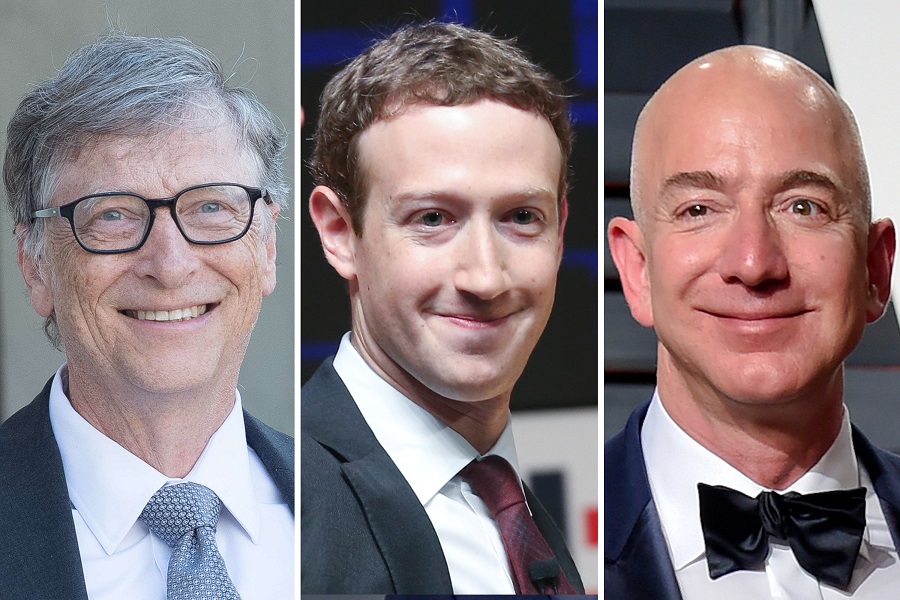 As market turbulence continues to propel the wealthiest amongst us; the world's billionaires have seen their wealth surge to a peak of $10.2 trillion in July, a 14.61% increase from the $8.9 trillion at the end of 2017. 
This was uncovered in the 2020 Billionaires report tagged the "Riding Storm" which was published today, by the Swiss bank UBS and the accounting firm PwC. 
The report found out that the COVID-19 pandemic turbocharged the global economy's transition to digital, and this has benefited today's billionaires, as the pipeline of fresh technologies grows by the day. 
READ: Elon Musk now the third-richest person in the world
The COVID-19 crisis indeed has been the real border between the old and the new economy, as it has spurred increased opportunities for the innovators and the disruptors who dominate the Technology, Health, Industrials, and Entertainment & Media.
However, the net wealth of traditional billionaires in the intermediate industries and sectors, such as entertainment, financial services, materials, and real estate sectors lagged the rest of the universe. While the wealth of those in older industries suffers. 
READ: World billionaires' wealth drop by $388 billion in 2018
With the number of billionaires declining by 43 to 2,058, the total billionaire wealth globally has climbed by 27.5%, reaching $10.2 trillion, up from $8.0 trillion at the beginning of April, and higher than the previous peak of $8.9 trillion at the end of 2017. The number of billionaires has increased from 2,158 in 2017 to 2,189. 
During 2018, 2019, and the first seven months of 2020, the Billionaire class as a whole saw their wealth increase by 19.1%. This clearly signals the polarization taking place, and the rising wealth divergence between billionaires across industries. 
READ: MTN Nigeria records gain, investors profit up by N42 billion
Technology billionaires' total wealth rose by 42.5% to $1.8 trillion, supported by the surge in tech shares. The net worth among those in entertainment, materials, real estate, and finance, lagged the rest of the universe with increases of 10% or less. 
However, healthcare billionaires' total wealth increased by 50.3% to $658.6 billion, boosted by a new age of drug discovery and innovations in diagnostics and medical technology, as well as COVID-19 treatments and equipment. 
READ: 5 habits of Nigeria's business billionaires you should emulate
Geographically, Mainland China benefited most, as billionaire wealth grew fastest in Asia. As of early April 2020, there were 389 Chinese billionaires, worth a total of $1.2 trillion. Their wealth had grown by almost nine times, compared with twice in the US.
The report also revealed that US billionaires collectively controlled $3.6 trillion of the $10.2 trillion global wealth. Billionaires in Mainland China accounted for $1.7 trillion, while Germany and Russia accounted for $594.9 billion and $467.6 billion of the total billionaire wealth respectively. 
The report also spiked concerns on the issues of the growing wealth gap and rising inequality in the world, as the majority at the end of the scale has seen their wealth decline owing to the disruption by the global pandemic. The research arm of the United Nations has warned that global poverty could increase this year for the first time since 1990, reversing a decade of progress. 
However, it was suggested in the report that higher productivity is needed to address the huge public financial deficits while taking care to reduce social inequality and to tackle the environmental resource scarcity by doing more with less.
Elon Musk becomes World's 3rd richest person
Musk has seen a meteoric rise in his wealth, with his net worth growing by $87.8 billion this year.
The recent surge in many leading U.S technology stocks have unsurprisingly created wealth for their founders, investors and stock traders.
What we know: Elon Musk just surpassed the co-founder of Facebook, Mark Zuckerberg to become the third richest person in the world. Shares of Tesla Inc. continued its unrelenting surge after the recent stock split of Tesla stocks. Musk is now estimated to be worth about $115.4 billion, according to the Bloomberg Billionaires Index.
Musk is the present chief executive officer of Tesla, a maker of electric vehicles.
The Palo Alto, California-based company sells sedans, sport utility vehicles, and is the state's largest automotive employer. He's also CEO of Space Exploration Technologies, a rocket manufacturer tapped by NASA to resupply the space station.
Musk, 49, has seen a meteoric rise in his wealth, with his net worth growing by $87.8 billion this year as Tesla shares surged almost 500%.
Also helpful: an audacious pay package – the largest corporate pay deal ever struck between a chief executive officer and a board of directors – that could yield him more than $50 billion if all goals are met.
On Monday, Nairametrics reported how Tesla's share price rose to almost $500 following a 5-for-1 split. Nearly 70 million shares had changed hands as at then, two-thirds of the daily average over the past year.
Tesla's $464 billion market value now exceeds that of retail behemoth Walmart Inc., the largest company in the U.S. by revenue.
Recall Nairametrics, about two weeks ago highlighted major reasons why Nairametrics believed the stock was a strong buy and could surpass the present most valuable listed technology company.
Tesla was founded in 2003 by a group of engineers who wanted to prove that people didn't need to compromise to drive electric – that electric vehicles can be better, quicker, and more fun to drive than gasoline cars.
Today, Tesla builds not only all-electric vehicles but also infinitely scalable clean energy generation and storage products. Tesla believes the faster the world stops relying on fossil fuels and moves towards a zero-emission future, the better.