Over 600 masts at the risk of being demolished by NCC.
Telecom masts numbering 693 have been marked for demolition by the Nigerian Communications Commission (@NgComCommission). Over 400 of the masts are reportedly unidentifiable or untraceable to any network operator in the country.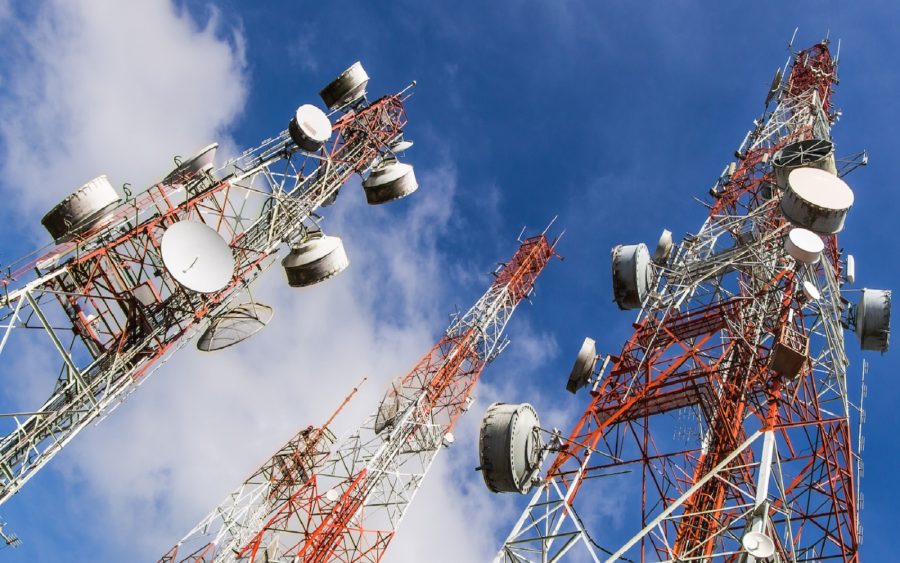 Telecom masts numbering 693 have been marked for demolition by the Nigerian Communications Commission (NCC). Over 400 of the masts are reportedly unidentifiable or untraceable to any network operator in the country.
The masts were reportedly abandoned by some network operators, and the Director for Public Affairs , NCC, Henry Nkemadu, disclosed in a statement that more than 200 of those structures were associated with Rainbownet, Reltel/Zoom and Starcomms, which are all now defunct network service providers.
[READ ALSO: NCC begins another SIM registration compliance audit]
Rainbownet Limited, a private fixed wireless telephone operator, owned by a former Governor of Enugu State, Chimaroke Nnamani, was acquired by the Asset Management Corporation of Nigeria due to its failure to pay a debt of N42 billion.
Reltel was a fixed-wireless provider, which later rebranded to Zoom Mobile, and shut down operation following its failure to compete with the four major network operators in the country.
Starcomms had initially reached an agreement to raise $210 million from Capcom Limited in order to stay afloat. However, the deal was not successful as Capcom could not raise the required funds to acquire the company.
NCC's condition: The regulator gave owners of the masts 90 days to put the structures in good shape or risk demolition. Nkemadu stated that the NCC would not hesitate to destroy the masts and impose fines if the directive issued is not complied with.
"Where there is a failure to comply with this directive, the commission shall exercise its regulatory mandate by taking necessary steps to decommission/dismantle the abandoned masts/towers.
"Affected licensees will be required to reimburse the commission for expenses in this regard, in addition to the payment of a fine as provided in Chapter 5 (4)(d) of the Guidelines."
[READ MORE: Nigerian consumers dispel Coca Cola's fears as growth hits $3.76 billion]
Nkemadu was also concerned about the health and safety implications of the abandoned structures, stating that broadcasting houses had taken advantage of the situation to site their illegal equipment.
"Failure to maintain these structures over a long period of time has resulted in technical failure and constant vandalisation with negative consequences on public health and safety.
"In certain locations, it was observed that criminals took advantage of these abandoned structures to host illegal broadcast equipment for relaying subversive messages against the state."
Note: Provisions on appropriate maintenance of such telecommunications facilities and the guidelines on Technical Specifications for the Installation of Telecommunications Masts and Towers were issued in 2009 by NCC.
COVID-19 Update in Nigeria
On the 24th of November 2020, 168 new confirmed cases and 1 death was recorded in Nigeria
The spread of novel Corona Virus Disease (COVID-19) in Nigeria continues to record significant increases as the latest statistics provided by the Nigeria Centre for Disease Control reveal Nigeria now has 66,607 confirmed cases.
On the 24th of November 2020, 168 new confirmed cases and 1 death was recorded in Nigeria, having carried out a total daily test of 5,838 samples across the country.
To date, 66,607 cases have been confirmed, 62,311 cases have been discharged and 1,169 deaths have been recorded in 36 states and the Federal Capital Territory. A total of 749,136 tests have been carried out as of November 24th, 2020 compared to 743,298 tests a day earlier.
COVID-19 Case Updates- 24th November 2020,
Total Number of Cases – 66,607
Total Number Discharged – 62,311
Total Deaths – 1,169
Total Tests Carried out – 749,136
According to the NCDC, the 168 new cases were reported from 10 states- FCT (61), Lagos (50), Kaduna (27), Oyo (12), Rivers (6), Katsina (5), Ogun (3), Kwara (2), Edo (1), Kano (1).
Meanwhile, the latest numbers bring Lagos state total confirmed cases to 23,018, followed by Abuja (6,576), Plateau (3,805), Oyo (3,715), Rivers (2,963), Kaduna (2,940), Edo (2,695), Ogun (2,156), Delta (1,823), Kano (1,777), Ondo (1,727), Enugu (1,332),  Kwara (1,095), Ebonyi (1,055), Katsina (1,012), Osun (945), Gombe (938). Abia (926), Bauchi (753), and Borno (745).
Imo State has recorded 662  cases, Benue (493), Nasarawa (485), Bayelsa (445),  Ekiti (354), Jigawa (328), Akwa Ibom (319), Niger (296), Anambra (285), Adamawa (261), Sokoto (165), Taraba (157), Yobe (94), Kebbi (93), Cross River (90), Zamfara (79), while Kogi state has recorded 5 cases only.
READ ALSO: COVID-19: Western diplomats warn of disease explosion, poor handling by government
Lock Down and Curfew
In a move to combat the spread of the pandemic disease, President Muhammadu Buhari directed the cessation of all movements in Lagos and the FCT for an initial period of 14 days, which took effect from 11 pm on Monday, 30th March 2020.
The movement restriction, which was extended by another two-weeks period, has been partially put on hold with some businesses commencing operations from May 4. On April 27th, 2020, Nigeria's President, Muhammadu Buhari declared an overnight curfew from 8 pm to 6 am across the country, as part of new measures to contain the spread of the COVID-19. This comes along with the phased and gradual easing of lockdown measures in FCT, Lagos, and Ogun States, which took effect from Saturday, 2nd May 2020, at 9 am.
On Monday, 29th June 2020 the federal government extended the second phase of the eased lockdown by 4 weeks and approved interstate movement outside curfew hours with effect from July 1, 2020. Also, on Monday 27th July 2020, the federal government extended the second phase of eased lockdown by an additional one week.
On Thursday, 6th August 2020 the federal government through the secretary to the Government of the Federation (SGF) and Chairman of the Presidential Task Force (PTF) on COVID-19 announced the extension of the second phase of eased lockdown by another four (4) weeks.
READ ALSO: Bill Gates says Trump's WHO funding suspension is dangerous
US imposes $15,000 visa bond on 15 African countries, others
The US has issued a visa rule requiring tourist and business travelers in some countries to pay a bond of up to $15,000 in addition to the visa fees.
The outgoing administration of US President, Donald Trump, on Monday, November 23, 2020, issued a new temporary visa rule that requires tourist and business travelers from 15 African countries and others to pay a bond of up to $15,000 in addition to the visa fees, which ranges from $16 to $300, in order to visit the United States.
According to TheCable, the US State Department said the visa bond pilot programme, expected to take effect from December 24 and end on June 24, 2021, is targeted at countries whose citizens have higher rates of overstaying B-2 visas for tourists and B-1 visas for business travelers.
READ: Update: No one will take our democracy away, not now, not ever- Biden
The Trump administration said the six-month pilot program aims to test the feasibility of collecting such bonds and will serve as a diplomatic deterrence to overstaying the visas. Hence, overstay places significant pressure on Department of Justice and Department of Homeland Security.
The visa bond rule will permit U.S. consular officers to request tourist and business travelers from countries whose nationals had an overstay rate of 10% and above in 2019 to pay a refundable bond of $5,000, $10,000, or $15,000.
READ: COVID-19: IMF Chief predicts $345 billion financing gap in African countries 
The countries whose tourist and business travelers fall into this category and subjected to the bond requirements are 24 countries, including 15 African countries. While these nations had higher rates of overstays, they sent relatively fewer travelers to the United States.
The countries include Afghanistan, Angola, Bhutan, Burkina Faso, Burma, Burundi, Cape Verde, Chad, the Democratic Republic of the Congo (Kinshasa), Djibouti, Eritrea, the Gambia, Guinea-Bissau, Iran, Laos, Liberia, Libya, Mauritania, Papua New Guinea, Sao Tome and Principe, Sudan, Syria, and Yemen
READ: Falling Oil prices: Nigeria's Halloween reality
Nigerian travelers escaped paying the temporary visa rule, as their overall score was below the threshold of 10% and above overstaying rate.
Senate approves issuance of N148bn promissory notes to Bayelsa, 4 others
Promissory notes worth N148,141,969,161.24 has been approved by the Senate as refund to Bayelsa, Cross River, Ondo, Osun and Rivers States
Promissory notes worth N148.141billion have been approved by the Senate as a refund to Bayelsa, Cross River, Ondo, Osun, and Rivers States for projects executed on behalf of the Federal Government.
The approval which was given by the Senate at the plenary on Tuesday, 24th November 2020, came after the presentation of a report by the Committee on Local and Foreign Debts, led by Senator Ordia Clifford (PDP-Edo).
READ: Banks to lose interest on petrol subsidy-induced loans
According to a news report by NAN, this is a go-ahead to the Federal Government, who had sought the approval of the Senate for issuance of promissory notes for a refund on federal projects executed by State governments.
The request was contained in a letter addressed to President of Senate, Dr. Ahmad Lawan by President Muhammadu Buhari, and read at plenary. The Senate referred the matter to the Committee on Local and Foreign Debts for further legislative input.
(READ MORE: FG inaugurates steering committee on Covid-19 economic recovery)
Senator Ordia Clifford, while presenting the report of the committee, said the Permanent Secretary, Federal Ministry of Finance; Federal Commissioners of Finance and Works in the five states, had briefed the committee on details of the projects.
He said the Committee was presented with documents relating to the approvals of the Federal Government through the Federal Ministry of Works and Housing for the execution of the projects and certificates of completion, amongst other documents.
READ: Boosting IGR; A necessity for states to avoid total dependence on FAAC allocations
At the plenary today, Senator Ordia moved the motion that the Senate approves the Committee's recommendations by approving the issuance of the promissory notes to the State governments.
According to him, the amount due to the five states is N148.14billion.
Bayelsa was allotted N38.40billion
Cross River was allotted N18.39billion
Ondo was allotted N7.82billion
Osun was allotted N4.57billion
Rivers was allotted N78.95billion
What they are saying
The President of the Senate, Ahmad Lawan, disclosed that records showed PDP states had the highest refund, he said: "If you look at the list of states, only two are APC states and they have the least in terms of refund, this is fantastic and a mark of leadership by the Federal Government. This shows tolerance and leadership by this administration."