CORPORATE ACTIONS: An Early Call and A Lost Case
@letsfeelfree listing was the highpoint of corporate actions that took place on the @nsecontact this week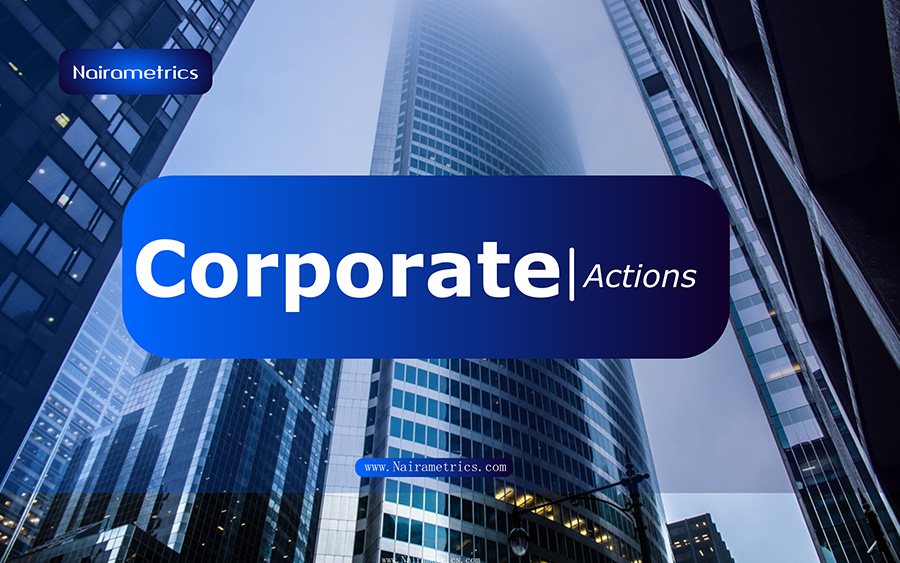 Corporate actions are decisions taken by companies' boards of directors or management teams, that could have impacts on the firms themselves or shareholders. 
Examples of corporate actions include the release of quarterly and full year results,  payment of dividends, closing of shareholders' registers, announcing qualification dates and Annual General Meeting (AGM) dates. 
Here is a review of corporate actions that took place last week, and those expected this week.
Corporate Actions that took place last week
A red listing
Airtel Africa was listed on Tuesday, July 9, 2019. The listing was earlier scheduled for Friday July 5, 2019 but got postponed.
3.7 billion shares were listed at N363 per share. Airtel Africa is the first dually listed telco on the Nigerian Stock Exchange, and the third biggest company on the exchange by market capitalization.
The stock has however performed poorly since listing, and closed down 10.88%, ending Friday's session at N323.50.
Rumours Addressed
Access Bank Plc and Union Bank Plc both denied rumours that there were plans by the former to acquire the tier two lender.
Seplat capital market day
Seplat Petroleum Development Company Plc, had a 'Facts Behind the Figures' session for analysts and investors. The session was focused on the Assa North and Ohaji South ("ANOH") gas project.
Clearing the stables
Shareholders of Trans Nationwide Express Plc seem to be fed up with the company's poor performance, as they sacked three of the company's non Executive Directors: Alhaji Umaru Jimada, Mrs Aderonke Fatade and Mrs Nneka Ikejiani. This took place at the firm's Annual General Meeting (AGM) which was held last week.
Another non Executive Director, Ms Oluwatoyin Adebayo, subsequently resigned effective Friday.
A Lost Case 
Stanbic IBTC Bank (a subsidiary of Stanbic IBTC Holdings which is the listed entity) provided an update pertaining to a 10 year legal tussle which was concluded at the Supreme Court. The bank paid a judgement sum of N2.5 billion to Longterm Global Capital Limited & Mr. Patrick Akinkuotu,
A full provision for this judgment was made in 2013, and as such, the payment of the judgment sum will have no impact on the bank's current liquidity position and profitability.
An early call
Ecobank Trans International announced the redemption of a $250 million Eurobond by its Nigerian subsidiary, Ecobank Nigeria. The bond, which was issued in August 2014, will be redeemed in August 2019, two years ahead of its 2021 maturity. Accrued interest will be paid.
A new Chairman
University Press Plc announced the resignation of Dr Lekan Are, its Chairman, effective July 31, 2019. Obafunso Ogunkeye, a sitting non Executive Director has been appointed Chairman effective August 1, 2019. Olayinka Lawal has also been appointed as a non Executive Director effective August 1, 2019.
Two vacant spots
Notore Chemical Industries Plc announced the resignation of two non Executive Directors, Oluwaseyi Owodunni and Olusoji Emiola.
Omatek wakes up
Omatek Plc sent a notice last week, informing the NSE and the investing public that a board meeting would hold on July 18, 2019. Issues to be discussed at the meeting include the approval of the firm's 2017 and 2018 audited financial statements, as well as issues relating to the regularization of the company's listing status.
Markdowns
Presco Plc was marked down by N2 and its ex dividend price was N44.80. NPF Microfinance Bank Plc was marked down by N0.05, and its ex dividend price was N1.08. NAHCO Aviance Plc was marked down by N0.25, and its ex dividend price was N2.95.
A mark down is the subtraction of a declared dividend from a company's share price.
Results released
LASACO Assurance FY 2018
Lasaco Assurance Plc released its results for the 2018 financial year. Gross premium written increased by 35% from N6.6 billion in 2017 to N9 billion in 2018. Underwriting income went up by 39% from N3.9 billion in 2017 to N5.2 billion in 2018.
Profit before tax increased by 12% from N854 million in 2017 to N958 million in 2018. Profit after tax was up 11% year on year from N661 million in 2017 to N736 million in 2018.
The company declared a dividend of 5 kobo per share.
SAHCO Plc FY 2018 and Q1 2019
SAHCO Plc released its results for the 2018 financial year and first quarter ended March 2019.
For the 2018 financial year, revenue increased by 24.4% from N4.9 billion in 2017 to N6.1 billion in 2018. The firm made a loss before tax of N302 million in 2018, as against a profit before tax of N125 million made in 2017. Loss for the year stood at N665 million, as against a profit after tax of N217 million made in 2017.
For the first quarter ended March 2019, revenue increased from N1.3 billion in 2018 to N1.9 billion in 2019. Profit before tax surged 1284% from N22.6 million in 2018 to N313 million in 2019. Profit after tax stood at N313 million, as against a N25.3 million loss recorded in 2018.
Flour Mills Nigeria FY 2018/2019
Flour Mills of Nigeria Plc released its results for the financial year ended March 2019, after trading hours. Revenue dipped slightly by 2.84% from N542 billion in 2018 to N527 billion in 2019.
Profit before minimum tax fell by 38.7% from N16.5 billion in 2018 to N10.1 billion in 2019. Profit after tax also dropped sharply by 66.1% from N13.6 billion in 2018 to N4 billion in 2019.
The company however increased its dividend payout by 20% from N1 to N1.20. Earnings per share for the 2019 financial year was N1, indicating that the firm may have dipped into its retained earnings in a bid to increase its dividend payout.
Conoil Q1 2019
Conoil Plc released its results for the first quarter ended March, 2019. Revenue increased from N31.3 billion in 2018 to N35.6 billion in 2019. Profit before tax rose by 53.9% from N310 million in 2018, to N478 million in 2019. Profit after tax also rose by 53.9% from N211 million in 2018 to N325 million in 2019.
Austin Laz and Company Plc HY 2019
Austin Laz and Company Plc released its results for the half year ended June 2019. Revenue increased from N191 million in 2018 to N205 million in 2019. The firm made a profit before tax of N10.7 million in 2019, as against a N24 million loss recorded in the comparative period of 2018. Profit after tax stood at N10.6 million, as against a N24.8 million loss recorded in 2019.
Corporate Actions for this week
Abbey Mortgage Bank Plc and Tourist Company of Nigeria Plc will be holding their Annual General Meetings on the 15th and 18th of July 2019 respectively.
Red Star Express Plc will be closing its shareholders register from 17 to 19 July, 2019. Qualification date for the dividend payment is July 18, 2019.
Lafarge Africa Plc will hold a 'Facts behind the Figures' presentation event at the Nigerian Stock Exchange on July 18, 2019.
Official: Imo State is unemployment capital of Nigeria
According to NBS, 75.1% of the total employable people in Imo State are either underemployed or unemployed.
Data from the National Bureau of Statistics reveal Imo State, located in the South-Eastern part of Nigeria has the highest unemployment rate in the country.
In contrast, Anambra State is the state with the least unemployment in the country with 13.1% unemployment rate. The national average for the unemployment rate is 27.1%
Imo State has an unemployment rate of 48.7% as at the second quarter of 2020, by far the highest when compared to any other state in the country.
According to the data, 75.1% of the total employable people in the state are either underemployed or unemployed.
READ MORE: Nigerians react as Anambra lawmakers reject Prado SUVs for Innoson SUVs
See highlights
Total number of employable people – 2.48 million
Fully employed people – 618, 481
Unemployed people in the state – 593. 347
Underemployed – 656, 394
Imo State is largely a civil service town and has been unlucky with state governors over the last 20 years. Private sector jobs are hard to come by in the serene state with most industries setting up show in nearby cities like Aba, Port Harcourt, and Onitsha.
The city was once notorious for ritual motivated murders and kidnappings but has since overcome these challenges.
READ MORE: Ride-hailing: Uber says industry guidelines are inconsistent, unclear
Other States
Akwa Ibom State is next on the list with an unemployment rate of 1.14 million people. The state's underemployed population is about 551k people while the unemployment and underemployment rates combined is 66.9%.
The best: The state with the lowest unemployment rate in Nigeria is Anambra State with 13.1% out of the total working population of 2.25 million people. The state was 37 out of 37 states in the ranking of unemployment by state. About 1.9 million people in Anambra State are either fully employed (1.57 million) or under-employed (384k) in the state.
READ ALSO: Ekeh, Zinox boss, intervenes in Imo State with N1 billion
Lagos State, Nigeria's commercial capital and where most graduates rush to for jobs currently has an unemployment rate of 19.5% and sits at 27 in the state by state unemployment ladder. The data shows about 6.8 million people make up the labour force population in Lagos State out of which 3.99 million people are fully employed and another 1.5 million people are underemployed. About 870k Lagosians who are employable did absolutely nothing.
Download the Nairametrics News App
Concentration: In terms of the concentration of unemployed people, Rivers State came first with a whopping 1.7 million people out of jobs in the state. The state as a working population of 3.9 million. Rivers State unemployment rate is 43.7 and ranks third as the worst. 21.7 million Nigerians are unemployed.
Lagos State had the most employed persona with about 3.99 million people out of a total of 35.5 million.
Julius Berger's rebound contingent on full economic bounce back
Julius Berger's construction portfolio includes infrastructure, industry, building, and facility services solutions.
Due to the COVID-19 pandemic as well as the economic impact of the measures put in place to slow the spread of it, many industries have experienced slower growth. The construction industry was not left out. According to reports by GlobalData, the construction output growth forecast for Sub-Saharan Africa (SSA) has been revised to 2.3%, down from the previous projection of 3.3% (as of mid-April) and 6.0% in the pre-COVID-19 case (Q4 2019 update).
The reason for the contraction was noted by GlobalData to be as a result of the global slowdown and the outbreak of COVID-19 in the region. Other factors responsible include economic headwinds such as inflation, spending cuts, widening fiscal slippages, suspension of certain projects and more that could disrupt the construction sector. This contraction is projected to be 4.3% in South and Southeast Asia while France is expected to shrink by 9.4% in 2020.
Leading Construction Company, Julius Berger, had foreseen the contraction in the industry and commenced efforts to mitigate its impact and cushion the blow. One of such efforts was the reduction in dividend pay-out. After initially announcing a dividend pay-out of N2.75K per 50K share for the financial year ended December 31, 2019 and a bonus of 1 (one) new share for every existing 5 (five) shares held, the company eventually recommended a final cash dividend pay-out of N2.00K per 50k share.
READ ALSO: Lafarge Africa is cutting it all out
It noted that the Group had "carefully considered the emerging social, operational, financial and economic impact of the COVID 19 pandemic, the outlook for Nigeria for the financial year 2020, and the impact on the business and cash flows of the Group."
The company's fears have been confirmed by its recent financials which, among other negatives, showed huge foreign exchange losses of N3.102 billion in the first half of 2020.
Q2 was the hardest
Julius Berger's construction portfolio includes infrastructure, industry, building, and facility services solutions. With companies and nations alike revising scheduled capital expenses as a result of the shrinkages in product demand (owing to global quarantine measures), uncertainties around supply logistics as well as supply of materials, the company had gotten hit. Q1 had its own issues, but Q2 birthed a new dimension of challenges for the company.
Revenue was down 33% from N68.9 billion in Q2 2019 to N46.1 billion in 2020. There was also a huge loss in profit after tax of around 200% from a profit of N2.3 billion in Q2 2019 to a loss of N2.3 billion and this can be attributed to lower revenue, and increased losses from the company's many investments.
Exchange difference on translation of foreign operations for the quarter alone increased by 227% to N1.4 billion in Q2 2020 from N438.5 million in the comparative quarter.
READ ALSO: Petrol importation drops by 512 million litres in 3 months
Outlook for the company and for investors
The disruptions the construction industry is currently experiencing is expected to continue for the medium-long term. Reports by Beroe Inc., a procurement intelligence firm, reveal major concerns that companies in the industry will witness profits being hurt and may even incur losses on a number of projects.
Companies having worldwide supply chains could see tier 2 and tier 3 suppliers highly affected by disruptions related to the pandemic. Worse off, it explains that construction materials like "steel, wood, plaster, aluminum, glazed partition systems, cement and cementitious products, paints, HVAC equipment, electrical equipment, and light fixtures from China are expected to be delayed."
For the company, cost-cutting has never been more important. While there are a series of strategies it could explore to augment the challenges, its growth right now depends largely on the speed of global economic recovery. This is because both the company's input needs as well as its output in terms of the recommencement of projects, depends on the speed with which business as usual commences and the amount of time it takes for the industry to find a new balance for its operations.
READ MORE: The "new normal" in business and economy
For investors, however, this presents a long term opportunity. Julius Berger currently trades at N15.05, falling 44.26% just within the last 3 months. The share price is also on the downside of its 52-week range (N14.42 and 22.92) and its price-to-book ratio of 0.6331 shows that the stock is undervalued.
While the company's EPS is currently low at N2.52, investors who are willing to wait the time could find a gem in the stock particularly with the increased infrastructural needs born out of the population expansion which is taking place in many parts of the world in the years to come.
List of Dividends announced so far in 2020 (August)
List of Dividends announced so far in 2020 (August)
As audited accounts start to trickle in, companies will propose dividend payments to their shareholders as recommended by their respective boards of directors. It is also important to track these announcements to know who is eligible to collect the dividend, when it will be approved and when it will be paid. Dividend payment also affects share prices.
This page will be updated from time to time.
READ ALSO: Updated: Gender Balance, looking at the board composition of top banks on the NSE
Legend
Date Announced – The date the company announced dividends evidenced by a corporate action published on the website of the NSE.
Qualification date – Shareholders who own shares as of this date will receive dividends. If you buy shares and want to receive dividends make sure it is at least three days before this date. Shares get transferred to you on the basis of the T+3 rule (the date you bought plus 3 working days).
Payment date – This is when the dividend will be paid to you, either via post (dividend warrants) or direct credit to your bank accounts (e-dividend).
Closure of Register – Only shareholders who own shares listed in their register before this date will be paid dividends.
You can also scroll sideways to view the rest of the columns if using a mobile phone.
READ MORE: How to read stock market tables
2020 Dividends from companies quoted on the Nigerian Stock Exchange
| Company | DPS | Date Announced | Bonus | Closure of Register | AGM Date | Payment Date | Qualification date |
| --- | --- | --- | --- | --- | --- | --- | --- |
| Northern Nigeria Flour Milss PLC | N0.15k | 13th August 2020 | Nil | 25th - 28th August 2020 | 8th September 2020 | 10th September 2020 | 24th August 2020 |
| Honeywell Flour mills | N0.04k | 5th August 2020 | Nil | 17th - 23rd September 2020 | 30th September 2020 | 30th September 2020 | 16th September 2020 |
| Presco Plc (Updated) | N2.00k | 3rd June 2020 | Nil | 20th - 22nd July 2020 | 2nd September 2020 | 4th September 2020 | 17th July 2020 |
| Cornerstone Insurance | Nil | 4th August 2020 | 7 new shares for every 30 existing shares | 13th -17th August 2020 | NA | NA | 12th August 2020 |
| Flour Mills of Nigeria | N1.4 | 29th July 2020 | Nil | 17th August - 21st August 2020 | 10th September | 14th September 2020 | 14th August 2020 |
| MTN Nigeria Plc | N3.50k | 29th July 2020 | Nil | 17th August 2020 | NA | 24tb August 2020 | 14th August 2020 |
| Cutix PLC | N0.12K | 29th July 2020 | Nil | 16th - 20th November 2020 | 27th November 2020 | 30th November 2020 | 13th November 2020 |
| C & I Leasing PLC | N0.20k | 30th June 2020 | Nil | 14th - 16th July 2020 | 23rd July 2020 | 31st July 2020 | 13th July 2020 |
| McNichols Consolidated Plc (Revised) | N0.03k | 1st April 2020 | Nil | 2nd - 6th July 2020 | 30th July 2020 | 7th August 2020 | 1st July 2020 |
| Dangote Sugar Refinery Plc | N1.10k | 8th June 2020 | Nil | 22nd June 2020 | 9th July 2020 | within 48hrs after AGM | 19th June 2020 |
| Jaiz bank | N0.03k | 9th June 2020 | Nil | 29th June - 3rd July 2020 | 16th July 2020 | 16th July 2020 | 26th June 2020 |
| UAC of Nigeria Plc (UPDATED) | N0.10k | 20th April 2020 | Nil | 19th - 22nd May 2020 | 15th July 2020 | 16th July 2020 | 18th May 2020 |
| Prestige Assurance Plc | Nil | 4th June 2020 | 2 New shares for every 11 existing shares | 22nd - 26th June 2020 | 30th June 2020 | N/A | 19th June 2020 |
| Trans-Nationwide Express Plc | N0.03k | 1st June 2020 | Nil | 6th - 10th July 2020 | 16th July 2020 | 20th July 2020 | 3rd July 2020 |
| Nigeria Aviation Handling Company PLC | N0.30k | 28th May 2020 | Nil | 1st - 3rd July 2020 | 16th July 2020 | 16th July 2020 | 30th June 2020 |
| Skyway Aviation Handling Co. Plc | N0.16k | 1st June 2020 | Nil | 17th - 23rd June 2020 | 30th June 2020 | 30th June 2020 | 16th June 2020 |
| 11 Plc | N8.25 | 28th May 2020 | Nil | 30th Sept - 5th Oct 2020 | to be announced | to be announced | 29th Sept 2020 |
| Glaxo SmithKilne Consumer Nig. Plc | N0.55k | 22nd May 2020 | Nil | 23rd June - 2nd July 2020 | 23rd July 2020 | 24th July 2020 | 22nd June 2020 |
| Airtel Africa | 0.03 | 13th May 2020 | Nil | 6th July 2020 | Not applicable | 24th July 2020 | NA |
| Caverton Offshore Support Group Plc | N0.20k | 22nd May 2020 | Nil | 16th June 2020 | 25th June 2020 | 25th June 2020 | 15th June 2020 |
| Nigerian Breweries Plc (Revised) | N1.51k | 20th May 2020 | Nil | 5th-11th March 2020 | 23rd June 2020 | 24th June 2020 | 4th March 2020 |
| BUA Cement | N1.75k | 19th May 2020 | Nil | 28th Sept - 2nd Oct 2020 | 22nd October 2020 | 23rd October 2020 | 25th September 2020 |
| NASCON Allied Industries Plc | N0.40k | 13th May 2020 | Nil | 15th - 16th July 2020 | 27th July 2020 | 29th July 2020 | 14th July 2020 |
| Total Nigeria Plc | N6.71 | 13th May 2020 | Nil | 5th - 11th June 2020 | to be announced | 24hrs after meeting | 4th June 2020 |
| Cadbury Nigeria Plc | N0.49k | 13th May 2020 | Nil | 25th - 29th May 2020 | 24th June 2020 | 25th June 2020 | 22nd May 2020 |
| May and Baker Plc | N0.25k | 13th May 2020 | Nil | 27th - 29th May 2020 | 4th June 2020 | 8th June 2020 | 26th May 2020 |
| NPF Microfinance Bank Plc | N0.20k | 11th May 2020 | Nil | 17th - 22nd June 2020 | 30th June 2020 | 30th June 2020 | 16th June 2020 |
| Okomu Oil Palm Plc | N2.00 | 23rd April2020 | Nil | 19th - 22nd May 2020 | 28th May 2020 | 29th May 2020 | 18th May 2020 |
| Lafarge Africa Plc | N1 | 27th April 2020 | Nil | 4th - 8th May 2020 | 3rd June 2020 | 3rd June 2020 | 30th April 2020 |
| Wema Bank Plc | N0.04k | 23rd April 2020 | Nil | 7th - 12th May 2020 | 18th May 2020 | 18th May 2020 | 6th May 2020 |
| Union bank of Nigeria | N0.25k | 13th April 2020 | Nil | 27th - 30th April 2020 | 6th May 2020 | 6th May 2020 | 24th April 2020 |
| FBN Holdings | N0.38k | 6th April 2020 | Nil | 21st - 22nd April 2020 | 27th April 2020 | 28th April 2020 | 20th April 2020 |
| Lafarge Africa Plc | N1.00k | 6th April 2020 | Nil | 4th - 8th May 2020 | 26th May 2020 | 26th May 2020 | 30th April 2020 |
| Ikeja Hotel Plc | N0.02 | 3rd April 2020 | Nil | 2nd - 8th July 2020 | 30th July 2020 | 7th August 2020 | 1st July 2020 |
| NEM Insurance | N0.15k | 1st April 2020 | Nil | 4th - 8th May 2020 | to be announced | to be announced | 30th April 2020 |
| FCMB Group Plc | N0.14k | 31st March 2020 | Nil | 15th - 17th April 2020 | 28th April 2020 | 28th April 2020 | 14th April 2020 |
| Beta Glass Nigeria Plc | N1.67k | 30th March 2020 | Nil | 15th - 19th June 2020 | 2nd July 2020 | 3rd July 2020 | 11th June 2020 |
| Capital Hotel Plc | N0.05k | 26th March 2020 | Nil | 20th - 24th April 2020 | 27th May 2020 | 3rd June 2020 | 17th April 2020 |
| Sterling bank Plc | N0.03k | 26th March 2020 | Nil | 5th - 8th May 2020 | 20th May 2020 | 20th May 2020 | 4th May 2020 |
| Boc Gases | N0.30k | 26th March 2020 | Nil | 8th - 10th June 2020 | 25th June 2020 | 26th June 2020 | 5th June 2020 |
| Fidelity Bank Plc | N0.20k | 23rd March 2020 | Nil | 20th - 24th April 2020 | 30th April 2020 | 30th April 2020 | 17th April 2020 |
| Seplat Petroleum Dev. Company Plc | 0.05 | 23rd March 2020 | Nil | 13th May 2020 | 28th May 2020 | 4th June 2020 | 12th May 2020 |
| Julius Berger Nig. Plc | N2.75k | 13th March 2020 | 0.002 | 1st to 3rd June 2020 | 18th June 2020 | 19th June 2020 | 29th May 2020 |
| Nigeria Energy Sector Fund (NESF) | N75.00 | 10th March 2020 | Nil | 20th March 2020 | | 6th April 2020 | 19th March 2020 |
| Access Bank Plc | N0.40k | 6th March 2020 | Nil | 15th April 2020 | 30th April 2020 | 30th April 2020 | 14th April 2020 |
| Nestle Nig Plc | N45.00k | 28th February 2020 | Nil | 18th - 22nd May 2020 | 2nd June 2020 | 2nd July 2020 | 15th May 2020 |
| Stanbic IBTC Holdings Plc | N2.00 | 5th March 2020 | Nil | 19th - 26th March 2020 | 30th June 2020 | 18th June 2020 | 18th March 2020 |
| Guaranty Trust Bank Plc | N2.50k | 2nd March 2020 | Nil | 19th March 2020 | 30th March 2020 | 30th March 2020 | 18th March 2020 |
| United Bank of Africa | N0.80k | 2nd March 2020 | Nil | 16th - 20th March 2020 | 27th March 2020 | 27th March 2020 | 13th March 2020 |
| Transcorp Plc | N0.01k | 28th February 2020 | Nil | 18th - 23rd March 2020 | 25th March 2020 | 27th March 2020 | 17th March 2020 |
| MTN Nigeria Plc | N4.97k | 28th February 2020 | Nil | February 16, 1900 | 8th May 2020 | 19th May 2020 | 17th april 2020 |
| Transcorp Hotels Plc | N0.07k | 28th February 2020 | Nil | 13th-17th March 2020 | 24th March 2020 | 26th March 2020 | 12th March 2020 |
| United Capital PLC | N0.50k | 18th February 2020 | Nil | 9th-13th March 2020 | 24th March 2020 | 26th March 2020 | 6th March 2020 |
| Infinity Trust Mortgage Bank PLC | N0.035K | 30th January 2020 | Nil | 9th-13th March 2020 | 7th May 2020 | 14th May 2020 | 6th March 2020 |
| Zenith bank Plc | N2.50k | 21st February 2020 | Nil | 10th March 2020 | 16th March 2020 | 16th March 2020 | 9th March 2020 |
| Africa Prudential Plc | N0.70k | 25th february 2020 | Nil | 9th-13th March 2020 | 23rd March 2020 | 23rd March 2020 | 6th March 2020 |
| Dangote Cement Plc | N16.00 | 25th february 2020 | Nil | 26th May 2020 | 15th June 2020 | 16th June 2020 | 25th May 2020 |
| | | | | | January 1, 1970 | | |
Subscribe to Stock Select Newsletter by Ugodre