CORPORATE ACTIONS: An Early Call and A Lost Case
@letsfeelfree listing was the highpoint of corporate actions that took place on the @nsecontact this week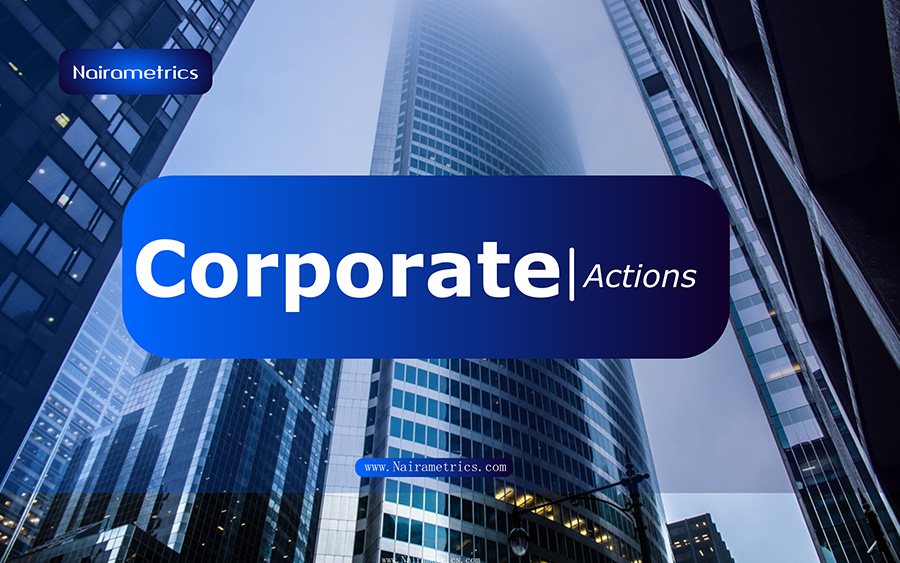 Corporate actions are decisions taken by companies' boards of directors or management teams, that could have impacts on the firms themselves or shareholders. 
Examples of corporate actions include the release of quarterly and full year results,  payment of dividends, closing of shareholders' registers, announcing qualification dates and Annual General Meeting (AGM) dates. 
Here is a review of corporate actions that took place last week, and those expected this week.
Corporate Actions that took place last week
A red listing
Airtel Africa was listed on Tuesday, July 9, 2019. The listing was earlier scheduled for Friday July 5, 2019 but got postponed.
3.7 billion shares were listed at N363 per share. Airtel Africa is the first dually listed telco on the Nigerian Stock Exchange, and the third biggest company on the exchange by market capitalization.
The stock has however performed poorly since listing, and closed down 10.88%, ending Friday's session at N323.50.
Rumours Addressed
Access Bank Plc and Union Bank Plc both denied rumours that there were plans by the former to acquire the tier two lender.
Seplat capital market day
Seplat Petroleum Development Company Plc, had a 'Facts Behind the Figures' session for analysts and investors. The session was focused on the Assa North and Ohaji South ("ANOH") gas project.
Clearing the stables
Shareholders of Trans Nationwide Express Plc seem to be fed up with the company's poor performance, as they sacked three of the company's non Executive Directors: Alhaji Umaru Jimada, Mrs Aderonke Fatade and Mrs Nneka Ikejiani. This took place at the firm's Annual General Meeting (AGM) which was held last week.
Another non Executive Director, Ms Oluwatoyin Adebayo, subsequently resigned effective Friday.
A Lost Case 
Stanbic IBTC Bank (a subsidiary of Stanbic IBTC Holdings which is the listed entity) provided an update pertaining to a 10 year legal tussle which was concluded at the Supreme Court. The bank paid a judgement sum of N2.5 billion to Longterm Global Capital Limited & Mr. Patrick Akinkuotu,
A full provision for this judgment was made in 2013, and as such, the payment of the judgment sum will have no impact on the bank's current liquidity position and profitability.
An early call
Ecobank Trans International announced the redemption of a $250 million Eurobond by its Nigerian subsidiary, Ecobank Nigeria. The bond, which was issued in August 2014, will be redeemed in August 2019, two years ahead of its 2021 maturity. Accrued interest will be paid.
A new Chairman
University Press Plc announced the resignation of Dr Lekan Are, its Chairman, effective July 31, 2019. Obafunso Ogunkeye, a sitting non Executive Director has been appointed Chairman effective August 1, 2019. Olayinka Lawal has also been appointed as a non Executive Director effective August 1, 2019.
Two vacant spots
Notore Chemical Industries Plc announced the resignation of two non Executive Directors, Oluwaseyi Owodunni and Olusoji Emiola.
Omatek wakes up
Omatek Plc sent a notice last week, informing the NSE and the investing public that a board meeting would hold on July 18, 2019. Issues to be discussed at the meeting include the approval of the firm's 2017 and 2018 audited financial statements, as well as issues relating to the regularization of the company's listing status.
Markdowns
Presco Plc was marked down by N2 and its ex dividend price was N44.80. NPF Microfinance Bank Plc was marked down by N0.05, and its ex dividend price was N1.08. NAHCO Aviance Plc was marked down by N0.25, and its ex dividend price was N2.95.
A mark down is the subtraction of a declared dividend from a company's share price.
Results released
LASACO Assurance FY 2018
Lasaco Assurance Plc released its results for the 2018 financial year. Gross premium written increased by 35% from N6.6 billion in 2017 to N9 billion in 2018. Underwriting income went up by 39% from N3.9 billion in 2017 to N5.2 billion in 2018.
Profit before tax increased by 12% from N854 million in 2017 to N958 million in 2018. Profit after tax was up 11% year on year from N661 million in 2017 to N736 million in 2018.
The company declared a dividend of 5 kobo per share.
SAHCO Plc FY 2018 and Q1 2019
SAHCO Plc released its results for the 2018 financial year and first quarter ended March 2019.
For the 2018 financial year, revenue increased by 24.4% from N4.9 billion in 2017 to N6.1 billion in 2018. The firm made a loss before tax of N302 million in 2018, as against a profit before tax of N125 million made in 2017. Loss for the year stood at N665 million, as against a profit after tax of N217 million made in 2017.
For the first quarter ended March 2019, revenue increased from N1.3 billion in 2018 to N1.9 billion in 2019. Profit before tax surged 1284% from N22.6 million in 2018 to N313 million in 2019. Profit after tax stood at N313 million, as against a N25.3 million loss recorded in 2018.
Flour Mills Nigeria FY 2018/2019
Flour Mills of Nigeria Plc released its results for the financial year ended March 2019, after trading hours. Revenue dipped slightly by 2.84% from N542 billion in 2018 to N527 billion in 2019.
Profit before minimum tax fell by 38.7% from N16.5 billion in 2018 to N10.1 billion in 2019. Profit after tax also dropped sharply by 66.1% from N13.6 billion in 2018 to N4 billion in 2019.
The company however increased its dividend payout by 20% from N1 to N1.20. Earnings per share for the 2019 financial year was N1, indicating that the firm may have dipped into its retained earnings in a bid to increase its dividend payout.
Conoil Q1 2019
Conoil Plc released its results for the first quarter ended March, 2019. Revenue increased from N31.3 billion in 2018 to N35.6 billion in 2019. Profit before tax rose by 53.9% from N310 million in 2018, to N478 million in 2019. Profit after tax also rose by 53.9% from N211 million in 2018 to N325 million in 2019.
Austin Laz and Company Plc HY 2019
Austin Laz and Company Plc released its results for the half year ended June 2019. Revenue increased from N191 million in 2018 to N205 million in 2019. The firm made a profit before tax of N10.7 million in 2019, as against a N24 million loss recorded in the comparative period of 2018. Profit after tax stood at N10.6 million, as against a N24.8 million loss recorded in 2019.
Corporate Actions for this week
Abbey Mortgage Bank Plc and Tourist Company of Nigeria Plc will be holding their Annual General Meetings on the 15th and 18th of July 2019 respectively.
Red Star Express Plc will be closing its shareholders register from 17 to 19 July, 2019. Qualification date for the dividend payment is July 18, 2019.
Lafarge Africa Plc will hold a 'Facts behind the Figures' presentation event at the Nigerian Stock Exchange on July 18, 2019.
Tanker explosion: Motorists trapped in gridlock along Magboro axis of Lagos-Ibadan expressway
Hundreds of motorists are trapped on the Magboro axis of the Lagos-Ibadan expressway after a fuel tanker fire.
Hundreds of motorists are trapped on the Magboro axis of the Lagos-Ibadan expressway in Ogun State after a fuel tanker, on Wednesday, caught fire.
The incident has caused gridlock at both inward and outward lanes of the Lagos-Ibadan Expressway, as the fuel being conveyed by the tanker had spilled to the other side of the expressway.
Findings by Nairametrics reveals that the men of the Fire Service and other agencies are battling to extinguish the fire and move the tanker off the road.
The Federal Road Safety Commission's Corridor Commander, Kehinde Hamzat, who confirmed that the tanker went up in flames around 4:15 am, advised motorists to avoid the axis and use other routes.
FRSC's notice read, "The Federal Road Safety Corps wishes to advise the general public on the need for adequate planning of their trips for today for users of the Lagos-Ibadan Corridor.
"The tanker explosion on Magboro bridge on the outward Lagos section of the expressway which occurred at about 0415hrs in the early hours of the day, Wednesday 2nd December, 2020 has called for the need to adjust one's movement for the day.
"The fire is still burning as at 05.20am and this means a total standstill situation of vehicular movement along the expressway.
"Relentless efforts are still being made to extinguish the fire by men of Fire Service backed up by men of other agencies around the scene of the inferno.
"We, therefore, advise the general public to have adequate planning for their trips for those who cannot cancel their planned journeys. We also advise that travellers who are bound to transit in and out of Lagos from the neighbouring state to explore alternative routes where necessary.
"All hands on deck to ensure that the situation is professionally managed and the road returned to proper use for the public."
What you should know
Barely 25 days ago, Nairametrics reported that a fuel-laden tanker went up in flames at the Kara end of Lagos-Ibadan Expressway.
The explosion reportedly claimed two lives and over 20 vehicles (some of which are parked for sale along the traffic corridor).
This was disclosed by LASEMA in its Post-disaster assessment report shared via its Twitter handle on Saturday.
According to the agency, aside from the two fatalities, 10 casualties were recorded, 23 vehicles affected including 1 tanker containing 45000 litres of petrol, 1 luxurious passenger bus, 2 articulated vehicles, and 19 cars.
OFFICIAL: UK Approves Covid-19 Vaccine made by Pfizer/BioNTech
The United Kingdom has approved Covid-19 Vaccine produced by Pfizer/BioNTech and will start distributing from next week.
The United Kingdom has approved Covid-19 Vaccine produced by Pfizer/BioNTech and will start distributing from next week. The approval by UK Regulatory authorities makes the country the first to approve the vaccine in the world.
The Vaccine is given in two shots (doses).
According to reports monitored by Nairametrics, the vaccine will be administered firstly to medical workers and home caregivers, frontline health workers, those aged 80 and above before being made available to the general public.
The vaccine was made by German company BioNTech in conjunction with US Pharmaceutical giant Pfizer and is said to be 95% effective in preventing the disease. This is after it was tested on over 43, 000 people in the mandatory phase 3 trials.
The US Food and Drug Administration is currently reviewing the vaccine and could also approve its usage later in the month.
What they are saying
A UK government spokesperson said:
"The vaccine will be made available across the UK from next week. The NHS has decades of experience in delivering large scale vaccination programmes and will begin putting their extensive preparations into action to provide care and support to all those eligible for vaccination."
"I'm confident now, with the news today, that from spring — from Easter onwards — things are going to be better. We're going to have a summer next year that everybody can enjoy." Matt Hancock, UK health secretary.
The United Kingdom is said to have ordered over 357 million doses from seven manufacturers.
More to follow…
Nigerian stocks close November with biggest monthly gains in two years
The Nigerian stock market closed the month of October with aplomb posting the biggest monthly gains in almost two years.
The Nigerian stock market closed the month of October with aplomb posting the biggest monthly gains in almost two years. The Nigerian All Share Index ended the point with 35,034 points closing with a month to date gains of 14.72%.
Stocks are up 30.48% year to date and on track to reverse the losses of the last two years. Stocks are still off the 2017 high of 38, 243 points suggesting that there could be more room for growth.
Major Driver for Stocks
The stock market has attracted significant demand from institutional and retail investors seeking higher returns on their investments. With interest rates on alternative investments such as fixed income, hundreds of billions of local investor cash flowed into the stock market sending the bulls raging.
The central bank's policy on lowering interest rates has been positive for the stock market as investors scrambling for yield turn to the stock market. The Covid-19 lockdown sent stocks crashing earlier in the year falling by 18.75% in March alone as investors dumped stocks in droves.
This sent dividend yield into double digits only making it a matter of time before investors.
Nigerian stocks have also benefited from the positive sentiments surrounding the rise in oil prices even and the slew of announcements of a vaccine being found for Covid-19.
Top stocks
During the month, Livestock Feeds gained the highest with a 132% returns month to date followed by International Breweries with an 84% pop. Airtel Africa joined the top 10 gainers list during the month with a 55% gain as investors rewarded the telco for its impressive results.
On a year to date basis, Sunu Assurance topped the gainers' chart with a 400% gain followed by BUA cement with 204%. Livestock Feeds, Airtel, and United Capital makes up the rest of the top 5 stocks this year gaining 160%, 97%, and 88% respectively.
United Capital and BUA Cement are included in Nairametrics Stock Select Portfolio.
Can this be sustained?
Investors remain wary of the stock market with the experiences of the last two years still fresh in memories. However, there are factors that could tip the market towards a bearish run.
Interest rates – When the CBN chooses to raise interest rates on treasury bills or OMO bills just know it is time to exit. I need not explain this further.
Zombie Stocks gaining – These are stocks with little to zero fundamentals gaining by double digits. We saw some of these last week and it was quite disturbing. But as an SSN subscriber, we will never recommend a Zombie stock so you cannot be caught napping.
Political Instability – Nigerian Stocks withstood the EndSars protest after a few days of panicking selling. However, with tensions still in the air, any more political skirmishes could depress the market severely.  Nigerian politicians have so far demonstrated an impressive array of skills in managing internal crisis so I am betting that they can manage this. However, with the economy in dire straits, this remains a huge concern for me.
Bombing – I shuddered during the week when I heard there were meetings going on in the Niger Delta to discuss states in the North who were mining and selling Gold. The last thing we need now is another bombing from Niger Delta Militants. If that happens then expect a massive sell off.
Oil Prices – Nigerians stocks remain perfectly correlated to oil prices. It is a rule that has remained for decades and still matters. Whilst we have seen oil prices dipped below $40 in recent weeks, it has found ways to creep above it. The recent wave of covid-19 cases globally remains a concern but this is largely mitigated by the discovery of a possible Covid-19 vaccine.
Foreign Investors – During the week, the operators of the MSCI Index for frontier markets decided to take no action on Nigeria. This means despite all the challenges we have with forex; they still see the Nigerian stock market as a destination for foreign portfolio investments. I do not expect foreign investors to continue to invest in Nigeria due to challenges with capital control, but our market is still attractive. In fact, I hear stocks like Nestle, Nigeria Breweries, International Breweries are attracting significant foreign portfolio investments.
Where does this lead to?
We are now on the cusps of a new market order. If interest rates remain this low, we will continue to see a stock market that will be robust and resilient. Our bold theory is that we might never see another major stock market crash if we sustain this bullish ride for another full quarter.
Investors will demand more accountability from the management of companies while regulators will enforce transparency.
Companies will publish interim and annual reports regularly and will reinforce their investor relations business.
This will trigger confidence in the stock market allowing for sustained investing. At some point soon, we will see the return of mega IPOs, Public Offers, and right issues.
Retail investors will flock into the market, but they will be better informed about what to buy and what not to buy.
This might all sound overly optimistic but let us remember the US stock market has been on a bullish ride since 2008.
Indeed, the global equities market will remain sustained on the positive side if governments in the west continue with their quantitative easing programs that pump in cheap money into the economy.