FMDQ approves UACN and Flour Mills' listing of N20.50bn commercial papers
UACN Property Development Company Plc (UPDC) and Flour Mills of Nigeria Plc have listed a total of N20.5 billion Commercial Papers (CP) on FMDQ OTC Securities Exchange.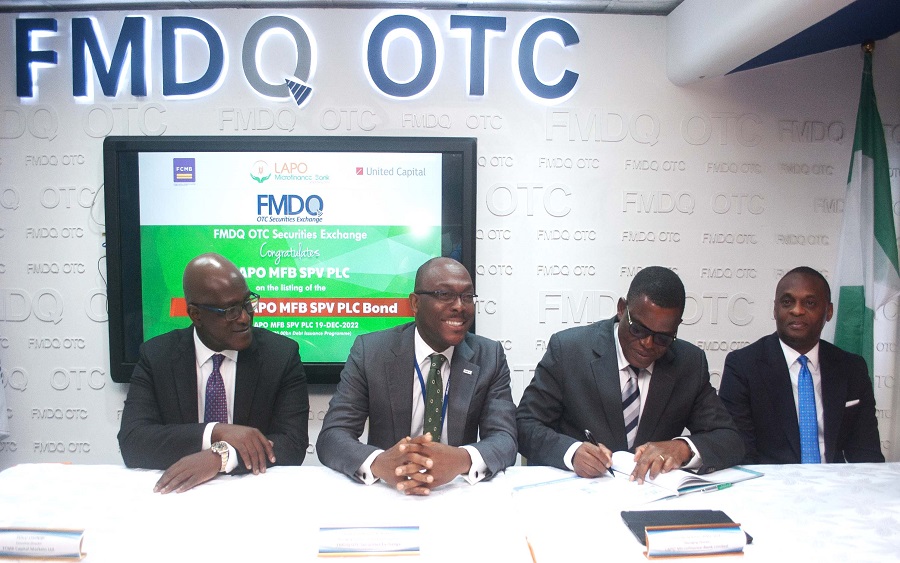 The FMDQ OTC Securities Exchange's Board Listings, Markets and Technology Committee, has approved the listing of N20.5 billion Commercial Papers by UACN Property Development Company Plc (UPDC), and Flour Mills of Nigeria Plc.
Breakdown of the Commercial Paper
The quotations include –Flour Mills' N5.18 billion Series 5 and N1.74 billion Series 6 CP under a N100 billion CP issuance programme. Also included is UACN's N5.62 billion Series 32 and N7.96 billion Series 33 CP under a N24 billion CP issuance programme.
Benefits of the listing to the companies
According to the FMDQ, in addition to the efficient registration process, the quotations of the Commercial Papers on its platform would avail Flour Mills and UACN many benefits, such as enhanced investor confidence in the issuers, transparent/relevant information disclosure on the issues, effective price formation, and global visibility.
FMDQ's statement read in part:
"In line with our strategic objectives to support institutional growth and stimulate continuous development of the economy at large, the FMDQ has shown its steadfastness in aligning the Nigerian debt capital markets to international standards through the promotion and provision of a world-class quotations service, availing issuers and investors the much-needed global visibility, confidence and protection in the markets."
Understanding what commercial paper is
A Commercial Paper is an unsecured, short-term debt instrument issued by a corporation, typically for the financing of accounts payable and inventories and meeting short-term liabilities. Maturities on commercial paper rarely range longer than 270 days. Commercial paper is usually issued at a discount from face value and reflects prevailing market interest rates.
Commercial paper is not usually backed by any form of collateral, making it a form of unsecured debt. As a result, only firms with high-quality debt ratings will easily find buyers without having to offer a substantial discount (higher cost) for the debt issue. Because commercial paper is issued by large institutions, the denominations of the commercial paper offerings are substantial, usually $100,000 or more. Other corporations, financial institutions, wealthy individuals, and money market funds are usually buyers of commercial paper.
Tip Jar, Twitter's new giveaway feature that lets users send money to you
Twitter has introduced a new feature called Tip Jar that allows you send money to your favourite tweeters.
Twitter has introduced a new feature called Tip Jar that allows you send money to your favourite tweeters.
According to the blog post, "Tip Jar is an easy way to support the incredible voices that make up the conversation on Twitter. This is a first step in our work to create new ways for people to receive and show support on Twitter – with money."
The new feature utilizes different payment platforms like PayPal, Venmo, Patreon, CashApp, and others.
Users can link their Twitter accounts with Tip Jar to any of these payment providers. Twitter takes no cut.
READ: Facebook is creating an audio chat product similar to Clubhouse
You'll know an account's Tip Jar is enabled if you see a Tip Jar icon next to the Follow button on their profile page. Tap the icon, and you'll see a list of payment services or platforms that the account has enabled. Select whichever payment service or platform you prefer and you'll be taken off Twitter to the selected app where you can show your support in the amount you choose.
Twitter has released series of features this year as part of its efforts to grow Twitter's user base to 315 million daily active users by the end of 2023.
The company also launched Twitter crop where images don't get crop again on Twitter for Android or iOS. Standard aspect ratio images (16:9 and 4:3) will now display in full without any cropping and images will look just like they did when you shot them.
READ: Does YouTube stand a chance against TikTok?
Lauren Alexander, a Twitter spokesperson said, "Today's launch is a direct result of the feedback people shared with us last year that the way our algorithm cropped images wasn't equitable, The new way of presenting images decreases the platform's reliance on automatic, machine learning-based image cropping."
Twitter has tested several features and more will be rolled out soon.
Customs Apapa Command generates revenue of N65.4 billion in April
This indicates a 64% increase in collection and an unprecedented record that has never been achieved in the history of Apapa Area Command.
The Nigerian Customs Service (NCS) Apapa Area Command has announced a revenue of N65,463,398,355.85 for the month of April—an increase of N25,585,561,139.92 compared to the same period last year.
This was disclosed by Comptroller Ibrahim Yusuf, Area Controller of Apapa command, in a press briefing on Thursday.
What Ibrahim Yusuf is saying
"This indicates a 64% increase in collection and an unprecedented record that has never been achieved in the history of Apapa Area Command.
In line with the provision of extant laws, trade guidelines, and enforcement of government fiscal policy measures, the command was able to further strengthen its anti-smuggling operations against economic saboteurs through credible intelligence-driven operations.
READ: Customs revenue rises by N200 billion to hit N1.5 trillion in 2020
This led to the seizure of 4×40 feet containers laden with unregistered pharmaceuticals (674 cartons of tramadol tablets in 225mg and 120mg, and 805 cartons of codeine syrup in 100ml) at APMT and SIFAX 3 bonded terminal respectively.
Other items seized in the period under review include: two containers of unprocessed wood and one container of scrap copper wire," he said.
He added that the progress the Apapa Command made in the month of April was possible due to the resilience of the officers, citing that the Command had taken steps to ensure efficient revenue collection by creating an enabling environment for legitimate businesses to thrive.
What you should know
Recall Nairametrics reported that the Nigeria Customs Service (NCS) Apapa Command stated earlier that it generated a revenue of N159.58 billion in the first quarter of 2021.