Companies are pulling their ads from YouTube in a boycott
Companies are boycotting YouTube again after evidence shows that the video streaming site is facilitating the activities of a paedophiles.
A growing number of leading American companies have chosen boycott YouTube by cutting advertising ties, after evidence shows that the video streaming site is being used as a medium to facilitate the activities of a paedophilia ring.
Some of the companies who are pausing their advertising partnership with YouTube include the likes of Walt Disney Co., Epic Games Inc., and even August Oetker KG. A spokeswoman for Nestle SA also disclosed yesterday that it will be cutting ties with YouTube which is owned by Google.
What exactly happened?
According to Bloomberg, evidence emerged earlier this week that a group of "soft-core" paedophiles were using the platform to operate; targeting young girls.
A video blogger named Matt Watson had, on Sunday, shared a video explaining how tech experts used YouTube comments to identify some subtly controversial videos that depicted innocent young girls engaging in (otherwise) innocent activities that could be perceived as sexually suggestive; by paedophiles of course.
These activities ranged from girls innocently posing in front of mirrors, as well as girls participating in gymnastics.
According to Watson, YouTube's algorithms typically recommends similar videos to anyone who clicks on them. What is problematic about this situation, therefore, is the fact that paedophiles are known to swarm the comment sections of such videos, leaving sexually suggestive comments about some parts of the video that could be compromising when paused.
The paedophiles also commented with countless sexually suggestive emojis and even went as far as asking if the girls were wearing underwears.
How does this affect the boycotting companies?
The above-mentioned companies are deciding to pull their ads from YouTube because the controversial videos involving young girls, ran right next to ads placed by them. August Oetker KG, for instance, stated that the decision was reached to postpone their YouTube spending after the company's ads were shown to play before the controversial videos.
YouTube has issued apologies
Following the boycott, YouTube quickly apologised to everyone affected and promised to refund all the ad money paid by the companies in the past sixty days.
"Any content –including comments — that endangers minors is abhorrent and we have clear policies prohibiting this on YouTube. We took immediate action by deleting accounts and channels, reporting illegal activity to authorities and disabling violative comments." – YouTube Spokeswoman
Meanwhile, this is not the first time companies have threatened to boycott YouTube. Just two years ago, more than a hundred companies temporarily cut ties with the company due to worries that the companies' ads were showing next to controversial contents depicting terror.
Google bought the video-sharing/streaming site in 2006, a year after it was founded by three former Paypal employees.
Chad's President Deby dies of injuries suffered on the frontlines, as son takes over
The President had visited the frontlines to share his election victory with the soldiers before the unfortunate incident.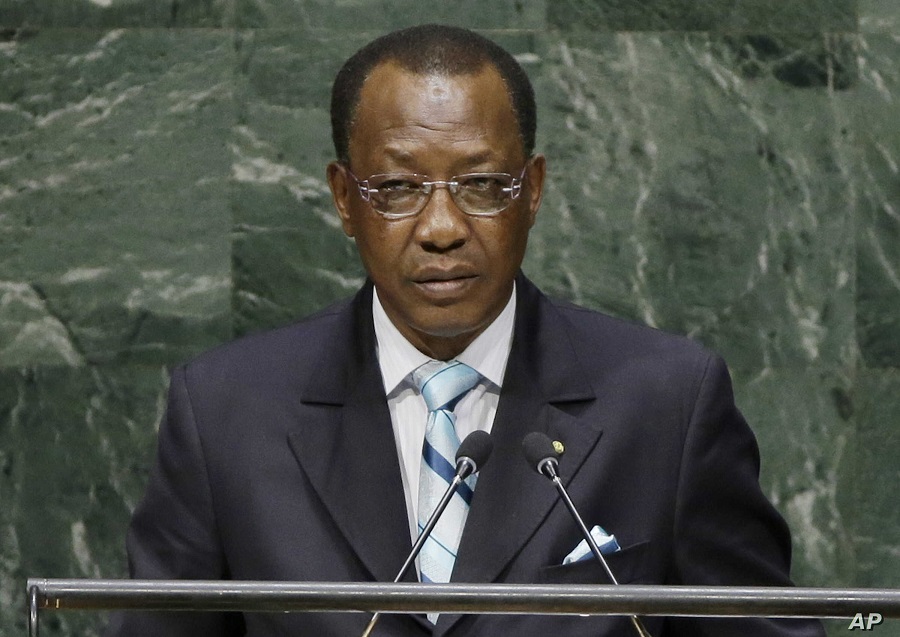 President Idriss Deby of Chad has died of injuries suffered on the frontlines when some terrorists attacked the army. The President had visited the frontlines to share his election victory with the soldiers before the unfortunate incident.
The departure of the newly re-elected President was disclosed by the AFP News Agency on Tuesday through its Twitter handle.
It tweeted, "#UPDATE Chad's newly re-elected President Idriss Deby Itno, in power for three decades, died Tuesday of injuries while fighting rebels in the north of the Sahel country, the army says."
Meanwhile, a four-star general who is a son of Chad's slain president Idriss Deby Itno will replace him at the head of a military council, the army announced Tuesday.
"A military council has been set up headed by his son, General Mahamat Idriss Deby Itno," the army's spokesman, General Azem Bermandoa Agouna, said on state radio, shortly after the announcement that the newly re-elected president had died of wounds while fighting rebels in the north of Chad.
Elon Musk loses an estimated $6bn after a Tesla car accident killed two people
Elon Musk's net worth dipped by $6 billion following a tragic Tesla car accident that killed two people.
The second richest man in the world, Elon Musk, witnessed his wealth shed an estimated $6bn after a Tesla car was involved in an accident that led to the death of two people.
Tesla stocks dropped by 3.8% after the news of the crash went mainstream. The resultant effect on Elon Musk's wealth was a $5.71bn loss in a single day.
READ: Google threatens to remove its search engine from Australia due to media code
The Accident
Two men lost their lives on Saturday night in Houston when their 2019 Tesla model car slammed into a tree. Police authorities on sight claimed the car might have been on autopilot due to the sitting position of the corpses.
They also struggled to put out the fire from the Tesla car and even called Tesla for help. The death of the two men has sparked a heated argument between Tesla and its critics. Autopilot or not?
Although police officers' assertion that the car may have been on autopilot remains unconfirmed, it has raised serious uncertainty about the safety of Tesla's autopilot feature and Tesla's critics are not backing down on this.
READ: Dealers explain why 'Tokunbo' Cars are expensive
Elon Musk reacts
Elon Musk has reacted to the news, insisting that the autopilot feature in the crashed vehicle was not enabled. According to him, the Wall Street Journal's coverage of the accident was not professional.
READ: Meet the 39 years old Chinese billionaire electric car maker 
What you should know
Elon Musk is now worth $183bn following the recent drop. He closed the gap on Amazon's Jeff Bezos to $4bn early last week. The gap has widened to $14bn today.
Nairametrics | Company Earnings
Access our Live Feed portal for the latest company earnings as they drop.