How people doubted us because we were young – Herbert Wigwe
Herbert Wigwe, in an interview with Peace Hyde on My Worst Day, touches on a wide variety of issues.
Co-founder of Access Bank, Herbert Wigwe, in an interview with Peace Hyde on My Worst Day, touches on a wide variety of issues including his experience as an entrepreneur, his worst day in business and advice for young people.  You can read Aigboje Aig Imoukhuede's version of the story here. Here are the excerpts:
What was it like starting out as an entrepreneur?
Interesting, I had the experience a couple of times. I had the opportunity of working in a bank, that didn't go well very early in my career, having trained as a chartered accountant. I also had the opportunity of working yet again, in another entrepreneurial endeavour, where we started a bank from a plain balance sheet, and grew it into one of Nigeria's corporate success stories.
So, coming into Access bank was nothing new. The only difference was we were at the forefront of everything. We were at the firing line of all the pressure and the pains that come with entrepreneurship. We put our own capital at risk, so it was a totally different experience.
What was your experience like in Access Bank compared to GTBank (which was then a relatively young bank)?
It's different when you are doing it under someone else's umbrella. That's intrapreneurship. When you are truly on the firing line, everything is up for grabs, you can lose everything in one second.
What gave you and Aig the confidence? 
Our confidence was built on the fact that we had done it before. Where I first started as a banker, was an entrepreneurial environment. Getting into the bank which we worked in before we worked in Access (which was GTBank) was also a successful entrepreneurial endeavour. So coming into Access, in my mind, was no big deal.
What was the chemistry between you and Aig like?
My partner and brother shared so much in common with me. His aspiration was the exact mirror of what I really wanted to do for myself. When the idea came up, it didn't take one second for us to say, "Let's do it."
How was your team like back then?
It is never one person's effort. It's the effort of a group of people. It's the effort of a strong team. It's also God's blessings because you will meet several landmines along the route. Landmines that you don't even know how to navigate.
Yes, we both came in, but there was also a strong team that we brought in. They may not have been the faces, but these guys were also entrepreneurs. They challenged our thought processes day in, day out. What they didn't know was that each time that happened, it got us stronger and made us more confident to do what we were doing.
What were people's reactions when you and Aig took over Access Bank? 
There were people who thought, "How are these guys going to pull it together?" There were those who thought, "Young people don't work together very well, they are likely to quarrel." Several people thought like that. Some also people said, "It's just a matter of time, something will happen."
In fact, there were some consulting firms that said they were not going to take on our mandate because these guys are just a bit too young for what they want to do. So that was the kind of vibe that we got.
How did you guys felt back then?
Within us, we didn't feel we were too young because we knew there were people who had done it at that age, perhaps with much smaller businesses or with much smaller banks. We felt we were so much better trained than most people who had done it before. We were infinitely confident in our capacity to what we were doing. So age was a number, but if you look at our track record up until that time, we were not 35.
The journey from small to big 
It's been great. There have also been very trying times. There have been days when we've had to roll on the floor and pray, and just beg God that certain things shouldn't happen, when there's been big changes in the macro. More days of celebration with each passing thing. Each success makes us so much more confident. So it's been mixed feelings. On the whole, so much thanksgiving to God and pride.
When will you say was the worst day in business for you
There was some information about an exposure which we had so far. The communication was that it was not a performing loan, and it was not true. Because of the size of the loan, it could have triggered an issue. We were a much smaller institution. And our reputation, particularly in banking, could affect the overall franchise. It could affect our stakeholders, our customers, most importantly our people, because they were going to be concerned about our professional future.
(He later discussed how he fell seriously ill while in Ghana for the opening of the bank's branch, due to the pressure. In order to resolve the situation, himself and Aig had to embark on a fire sale of assets.)
Did these incidents incite fear of failure in you?
I am absolutely petrified of failure, and would do everything possible not to find myself in certain circumstances. People ask us why we spend so much time working. Apart from the fact that we truly enjoy what we are doing…, so I don't know anything about work life balance. I enjoy every second of what I do…  but the thought of failure is something I don't want to dream of. So we are perpetually seeking ways to better prepare ourselves for those difficult moments in life.
We like to share it with our people: the only way to continue to sustain a business over time is for you to always be in day one mode, assuming that something can go wrong. And how do I continue to make sure I lift this enterprise to the very next level, so that whatever shocks come up, one year after, is the day one mode, reinventing and coming up with new innovations to take me ahead.
What is your advice to young people?
A couple of things are very important. You must be extremely confident in what you are doing. You must know what you are doing. You must stick to areas of your competence. Don't do things because others are doing it. Fear and belief in God are very important because there are little things in those moments of despair that would give you comfort. Fear of God and respect of God and religion is critical.
Many Billionaires became richer by 27% during the COVID-19 pandemic – Swiss Bank UBS
The world's richest saw their wealth climb 27.5% to $10.2trn (£7.9trn) from April to July this year.
Many billionaires have seen their fortunes hit record highs during the pandemic, with top executives from technology and industry earning the most.
According to reports from Swiss bank UBS, the world's richest saw their wealth climb 27.5% to $10.2trn (£7.9trn) from April to July this year.
This is up from the previous peak of $8.9trn at the end of 2017, and largely due to rising global share prices.
READ: Only 9% of Nigerian households obtained loans from banks and microfinance institutions since March – NBS
It also said the number of billionaires had hit a new high of 2,189, up from 2,158 in 2017. It comes as the recent World Bank report showed that acute poverty is set to rise this year for the first time in more than two decades due to the pandemic.
Among the billionaires, the biggest winners this year have been industrialists, whose wealth rose by a staggering 44% in the three months leading to July.
According to Swiss Bank UBS, "Industrials benefited disproportionately as market price increased in a significant economic recovery [after lockdowns around the world]."
READ: NNPC releases audited financial statements, refineries record losses of N154 billion
Other lucky beneficiaries of the pandemic are the Tech billionaires, as their wealth soared by 41%, largely due to the corona-induced demand for their goods and services and social distancing, which accelerated and created the impetus for digital businesses; thereby, compressing several years' of evolution into a few months.
Healthcare billionaires also benefited as the crisis put drug makers and medical device companies in the spotlight.
READ: Wealth of world's billionaires hits $10.2 trillion
Amazon boss Jeff Bezos and Tesla founder Elon Musk – both multi-billionaires – saw their wealth hit new highs this summer, thanks to growth in the price of their companies' stock.
According to UBS, in the last 11 years, China's billionaires have increased their wealth by the biggest percentage, climbing 1,146% between 2009 and 2020.
READ: Senate investigates Nigerian banks over ATM, SMS, and maintenance charges
By comparison, over the same period, the wealth of British billionaires has risen by just 168%. But the biggest accumulation of wealth remains in the US, where American billionaires have $3.5trn, compared to China's $1.7trn.
The UK's wealthy billionaires have just $205bn, compared to Germany's $595bn and France's $443bn.
 READ: Bitcoin Mining just got harder, as mining difficulty reaches an all-time high
Donations
According to UBS, many billionaires benevolently donated some of their wealth to help with the fight against COVID-19,
"Our research has identified 209 billionaires who have publicly committed a total equivalent to $7.2bn from March to June 2020.
"They have reacted quickly, in a way that's akin to disaster relief, providing unrestricted grants to allow grantees to decide how best to use funds."
READ: Buhari earmarks N420 billion for N-Power, GEEP and others under NSIP in 2021 budget
The UBS report also revealed that the UK billionaires donated less than those from other countries.
In the US, 98 billionaires donated $4.5bn; in China, 12 billionaires gave $679m; and in Australia, just 2 billionaires donated $324m. But in the UK, 9 billionaires donated just $298m.
Wealth of world's billionaires hits $10.2 trillion
The total billionaire wealth globally has climbed by 27.5%, reaching $10.2 trillion, up from $8.0 trillion at the beginning of April.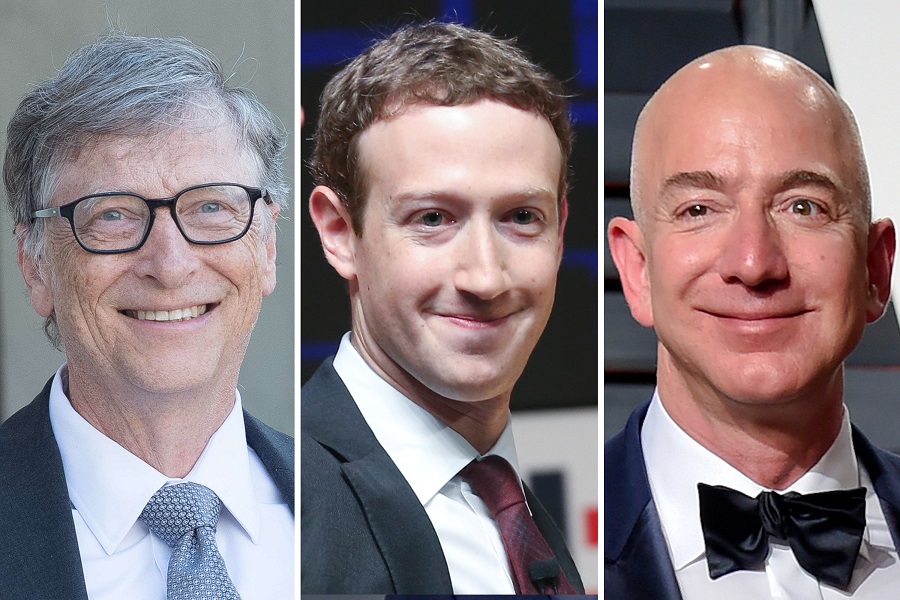 As market turbulence continues to propel the wealthiest amongst us; the world's billionaires have seen their wealth surge to a peak of $10.2 trillion in July, a 14.61% increase from the $8.9 trillion at the end of 2017. 
This was uncovered in the 2020 Billionaires report tagged the "Riding Storm" which was published today, by the Swiss bank UBS and the accounting firm PwC. 
The report found out that the COVID-19 pandemic turbocharged the global economy's transition to digital, and this has benefited today's billionaires, as the pipeline of fresh technologies grows by the day. 
READ: Elon Musk now the third-richest person in the world
The COVID-19 crisis indeed has been the real border between the old and the new economy, as it has spurred increased opportunities for the innovators and the disruptors who dominate the Technology, Health, Industrials, and Entertainment & Media.
However, the net wealth of traditional billionaires in the intermediate industries and sectors, such as entertainment, financial services, materials, and real estate sectors lagged the rest of the universe. While the wealth of those in older industries suffers. 
READ: World billionaires' wealth drop by $388 billion in 2018
With the number of billionaires declining by 43 to 2,058, the total billionaire wealth globally has climbed by 27.5%, reaching $10.2 trillion, up from $8.0 trillion at the beginning of April, and higher than the previous peak of $8.9 trillion at the end of 2017. The number of billionaires has increased from 2,158 in 2017 to 2,189. 
During 2018, 2019, and the first seven months of 2020, the Billionaire class as a whole saw their wealth increase by 19.1%. This clearly signals the polarization taking place, and the rising wealth divergence between billionaires across industries. 
READ: MTN Nigeria records gain, investors profit up by N42 billion
Technology billionaires' total wealth rose by 42.5% to $1.8 trillion, supported by the surge in tech shares. The net worth among those in entertainment, materials, real estate, and finance, lagged the rest of the universe with increases of 10% or less. 
However, healthcare billionaires' total wealth increased by 50.3% to $658.6 billion, boosted by a new age of drug discovery and innovations in diagnostics and medical technology, as well as COVID-19 treatments and equipment. 
READ: 5 habits of Nigeria's business billionaires you should emulate
Geographically, Mainland China benefited most, as billionaire wealth grew fastest in Asia. As of early April 2020, there were 389 Chinese billionaires, worth a total of $1.2 trillion. Their wealth had grown by almost nine times, compared with twice in the US.
The report also revealed that US billionaires collectively controlled $3.6 trillion of the $10.2 trillion global wealth. Billionaires in Mainland China accounted for $1.7 trillion, while Germany and Russia accounted for $594.9 billion and $467.6 billion of the total billionaire wealth respectively. 
The report also spiked concerns on the issues of the growing wealth gap and rising inequality in the world, as the majority at the end of the scale has seen their wealth decline owing to the disruption by the global pandemic. The research arm of the United Nations has warned that global poverty could increase this year for the first time since 1990, reversing a decade of progress. 
However, it was suggested in the report that higher productivity is needed to address the huge public financial deficits while taking care to reduce social inequality and to tackle the environmental resource scarcity by doing more with less.
Elon Musk becomes World's 3rd richest person
Musk has seen a meteoric rise in his wealth, with his net worth growing by $87.8 billion this year.
The recent surge in many leading U.S technology stocks have unsurprisingly created wealth for their founders, investors and stock traders.
What we know: Elon Musk just surpassed the co-founder of Facebook, Mark Zuckerberg to become the third richest person in the world. Shares of Tesla Inc. continued its unrelenting surge after the recent stock split of Tesla stocks. Musk is now estimated to be worth about $115.4 billion, according to the Bloomberg Billionaires Index.
Musk is the present chief executive officer of Tesla, a maker of electric vehicles.
The Palo Alto, California-based company sells sedans, sport utility vehicles, and is the state's largest automotive employer. He's also CEO of Space Exploration Technologies, a rocket manufacturer tapped by NASA to resupply the space station.
Musk, 49, has seen a meteoric rise in his wealth, with his net worth growing by $87.8 billion this year as Tesla shares surged almost 500%.
Also helpful: an audacious pay package – the largest corporate pay deal ever struck between a chief executive officer and a board of directors – that could yield him more than $50 billion if all goals are met.
On Monday, Nairametrics reported how Tesla's share price rose to almost $500 following a 5-for-1 split. Nearly 70 million shares had changed hands as at then, two-thirds of the daily average over the past year.
Tesla's $464 billion market value now exceeds that of retail behemoth Walmart Inc., the largest company in the U.S. by revenue.
Recall Nairametrics, about two weeks ago highlighted major reasons why Nairametrics believed the stock was a strong buy and could surpass the present most valuable listed technology company.
Tesla was founded in 2003 by a group of engineers who wanted to prove that people didn't need to compromise to drive electric – that electric vehicles can be better, quicker, and more fun to drive than gasoline cars.
Today, Tesla builds not only all-electric vehicles but also infinitely scalable clean energy generation and storage products. Tesla believes the faster the world stops relying on fossil fuels and moves towards a zero-emission future, the better.