Focus on this 61-year old pharmacy company and its looming 2018 loss 
The company specialises in the manufacturing and merchandising of drugs, both for human and animal consumption.
On this week's Nairametrics company focus, we are back to profiling little-known companies whose stocks are listed on the Nigerian Stock Exchange (NSE). As you most likely already know, the purpose of this column is to spotlight some of the smaller securities that are seldom in the news. A typical example of such is Neimeth International Pharmaceutical Plc. Get to know everything about the company's business model, history, its owners, competitors, financial records, growth prospects and more.
About Neimeth International Pharmaceuticals Plc: what they do 
With its headquarters in Lagos, Nigeria, Neimeth International Pharmaceuticals Plc specialises in the manufacturing and merchandising of drugs, both for human and animal consumption. The company's pharmaceutical products, which come in various forms such as capsules, injectable drugs, ointments, liquids, and tablets, are marketed across Nigeria and much of the ECOWAS region.
A historical background of the company
Originally known as Pfizer Products Plc, this company began operation in Lagos, Nigeria as a drugstore back in 1957. It is one of the foremost pharmacy companies in the country and is said to have built the very first drug manufacturing plant in Nigeria. The plant, which was in Aba South-Eastern Nigeria, was later damaged during the three-year war that ravaged Aba and other cities and villages around it.
Pfizer Products Plc's parent company was the American drug maker, Pfizer Inc, which in 1997 decided to divest 60% of its shareholdings in the former Nigerian subsidiary, in line with its refocused global business operation. The divestment saw a 60% buy-out of the parent company's shareholding by the management of Pfizer Products Plc, led by the Mazi Sam I. Ohuabunwa, the company's former CEO.
Following the change in ownership structure, a name change became necessary. Consequently, Pfizer Products Plc changed to Neimeth International Pharmaceutical Plc in 1997. The company has since then continued to operate in Nigeria, manufacturing and distributing "world-class quality pharmaceutical and healthcare products and services that meet customers' expectations at all times". It also engages in contract manufacturing as a means of putting its idle plants into good use. It is currently headquartered in Oregun, Lagos.
A look at the company's segments 
Neimeth's business is structured into two broad categories: pharmaceutical and veterinary. The pharmaceutical arm is concerned with the production and marketing of the company's ethical and consumer products, which generate the most revenue. Examples of products manufactured and marketed under the pharmaceutical arm of the company include:
Pyrantrin 
Pancemol 
Nimaterm 
Ciklavit 
Amlovar
Neimelyn 
Norduet 
Normoretic, etc.
Neimeth's veterinary business does not currently generate as much revenue for the company. However, information on the company's website indicate that are plans are in place to revitalise and reposition the segment towards becoming a major money spinner.
Some of the products currently manufactured under the veterinary arm include:
Neimycin Soluble Powder
Neiva Stress
Neimeth Piperazine
Neimycin Chick Formula
Ownership structure
According to information contained in the company's full-year 2017 financial report, substantial shareholding is in the following order:
Intercedd Health Products Limited: 409,857,176 units of shares which makes up 23.74 percentage.
Ordrec Investments Limited: 197,910,746 units of share which makes up 11.46%.
Helko Nigeria Limited: 174,466,757; 10.11%.
Ohuabunwa S. Iheanyichukwu: 120,681,506 units, making up 6.99%.
The remaining 47.7 share percentage is comprised of indirectly-owned shares by the company's directors, as well as shares owned by the investing public.
The company's board of directors
According to information obtained from the company's website, the board of directors is comprised of ten people, a few of whom are quite prominent including accomplished businessman A.B.C Orjiako, and former INEC Chairman, Professor Maurice Iwu.
Dr Ambrose Bryant Chukwueloka Orjiako is currently the company's Chairman. The trained medical doctor and oil tycoon joined the company in 2004 and steadily rose through the ranks to his current position.
Dr Orjiako holds major positions in other notable Nigerian companies, including Seplat Petroleum, which is listed on both the Nigerian Stock Exchange and the London Stock Exchange. Nairametrics' valuation estimates his net worth at over N30 billion.
Another important member of the board is Mr. Christopher U. Umeje, the Acting Managing Director. The trained Accountant and accomplished business professional joined the company in 2008 as an Executive Director. Prior to this time, he had garnered numerous experiences in different industries including banking, manufacturing, and hospitality. He assumed his current position in 2017.
Other notable board members are:
Mrs. Roseline A. Oputa (Executive Director)
Mazi Sam I. Ohuabunwa (Non-Executive Director)
Professor Maurice Iwu (Non-Executive Director)
Engineer Godwin E. Omene (Non-Executive Director)
Mr. A.O. Balogun (Non-Executive Director)
Professor Elijah N. Sokamba (Non-Executive Director)
Thomas Tunbosun Osuku (Non-Executive Director)
Sir Ike Onyechi (Non-Executive Director)
The company's target market
As a drug manufacturer, Neimeth International Pharmaceuticals Plc targets patients, drugstores, hospitals, animal breeders, and pet owners in Nigeria and elsewhere in Africa, precisely Anglophone West Africa. Its wide range of remedial medicine is used in hospitals to cure a wide range of ailments, including malaria.
The company is faced with immense competition
Nigeria has a vibrant and highly-competitive pharmaceutical industry, with major players including the likes of Fidson Healthcare Plc and Glaxo Smith Kline Nigeria Plc. These two companies are perhaps the biggest competitive threats faced by Neimeth. For instance, Fidson Healthcare Plc reported a total revenue of N7.4 billion, with a profit after tax of N521 million. Glaxo Smith Kline Plc also reported a revenue of N8.5 billion, with a loss of N103 million. Neimeth, on the other hand, reported a turnover of N877 million and a loss after tax of N29.5 million for the half year ended March 31st, 2018.
Note that other players in the pharmacy market worth mentioning are Pharma Dekko Plc, May & Baker Plc and Emzor Pharmaceuticals.
A closer look at the company's financial reports
Neimeth International Pharmaceuticals Plc may run at a loss in 2018 unless some special measures are put in place to mitigate this. This is because so far, the company is already running at a loss. Its 2018 half year result is its worst recorded in the past three years. The company had reported a profit after taxation of N195 million, N100 million, and N181 million for the half-year periods ended March 31st, 2017, 2016, and 2015; respectively.
More on this…
It is unclear what exactly is responsible for Neimeth's underwhelming performance in H1 2018. Note that the Board gave no explanations regarding this in the unaudited financial result published on the company website. While we anticipate an explanation, it is unlikely that Neimeth International Pharmaceutical Plc will use economic recession and high exchange rates as excuses for their under-performance during this period.
Recall that the company had cited "restricted access to official foreign exchange" as one of the major challenges that adversely affected its business activities in full-year 2017. More so, a fire outbreak on March 7th, 2017 had destroyed the company's raw material warehouse. This is yet another mitigating factor that contributed to a huge loss of N404.9 million in 2017.
But there has not been a fire outbreak on any of the company's facilities this year. Moreover, the Nigerian economy has overcome recession, even as the Naira's exchange rate against the dollar has remained relatively stable for a while now. Therefore, none of these major constraints could possibly have affected the company during the period under consideration.
In conclusion…
Neimeth International Pharmaceuticals Plc should consider tapping into the potentials that abound in its veterinary segment. This potential is currently untapped, despite its existence. Little wonder the segment generated less than 10% of the company's total revenue for the period under review.
In the meantime, the company needs to improve on its marketing tactics in Nigeria in order to have competitive advantage over the other drug manufacturers. As noted earlier, the competition in this industry is stiff. Hence, marketing must be vigorous.
The company should also strategise and come up with many more workable means of getting ahead. Nigeria has a huge pharmacy market that can be explored further. This is important because the company is vital to the economy and cannot afford to under-perform.
MTN, Dangote Cement, Nestle, others top best dividend stocks in 2019
MTN Nigeria, Dangote Cement, Nestle Nigeria, Stanbic IBTC, GT bank and Zenith bank were the highest paying dividend stocks on the floor of the NSE in 2019. 
Dividend payment is one of the very few ways available for investors to earn a constant stream of income. It is also the main reason shareholders hold unto their shares in a company. Therefore, it brings great satisfaction to investors when these companies declare dividends to their shareholders.
According to data gathered by Nairalytics, the research arm of Nairametrics, MTN Nigeria, Dangote Cement, Nestle Nigeria, Stanbic IBTC, GTBank, and Zenith bank were the highest paying dividend stocks on the floor of the Nigerian Stock Exchange in 2019.
With a combined value of N691.23 billion, these six companies make up a diverse list that includes the telecommunication, food and beverage, industrial manufacturing, and banking sectors.
Here's a breakdown
MTN Nigeria Communications Plc posted a total dividend per share of N7.92k (interim – N2.95k, Final – N4.97k), summing up to N161.21 billion. A dividend payment was made on May 19, 2020, to shareholders whose names appeared on the Register of Members as at April 17, 2020.
(READ MORE: Why these companies remain on NSE's delisting radar)
The telco giant's revenue of N1.17 trillion in 2019 against N1.04 trillion in 2018 represents a 12.6% increase. Profit after tax (PAT) also increased significantly by 38.7% from N145.7 billion in 2018 to N202.1 billion in 2019.
Dangote Cement Plc declared a total dividend payout of N272.65 billion. This breaks down to every shareholder of the company earning N16 on every share held. A payment expected to be made after the company's annual general meeting is scheduled for June 16, 2020, with a qualification date of May 25, 2020.
It is worth noting that the cement manufacturing giant posted a profit after tax of N200.52 billion, a 48.6% decline when compared to a profit of N390.33 billion recorded  in 2018.
Nestle Nigeria Plc declared a total dividend of N70 per share to its shareholders, indicating a total payment of N55.49 billion. The leading consumer goods maker generated N284.04 billion in revenue for the year ended December 2019.
The multinational's profit after tax stood at N45.68 billion, a 6.22% increase compared to N43.01 billion posted in 2018.
(READ MORE: List of Dividends announced so far in 2020 (May))
The management of Stanbic IBTC Holdings Plc proposed a total dividend per share of N3 (interim – N1 and final – N2) per ordinary share of 50 kobos each, which summed up to N31.57 billion. The interim dividends (N10.47 billion) was paid on October 3, 2019, while the final dividend of N21.01 billion is expected to be paid by June 18, 2020.
The bank's full-year result shows that the group's gross earnings increased by 5.2% from N222.36 billion in 2018 to N233.81 billion in 2019.
Stanbic IBTC's profit after tax for the period  recorded a marginal increase of 0.8% to N75.04 billion compared to N74.44 billion in 2018.
Guaranty Trust Bank Plc declared a total of N82.41 billion to shareholders on March 30, 2020 as dividends for the year ended 2019. This indicates a total dividend payment of N2.8 per 50 kobo ordinary shares to shareholders. Final dividend was paid on March 30, 2020 to shareholders whose names were registered in the company's register of members as at March 18, 2020 which was the qualification date.
GTBank, which is Nigeria's most capitalized bank, posted a profit after tax of N196.85 billion, showing a 6.5% increase compared to N184.71 billion recorded in the preceding year.
Zenith Bank Plc also paid N2.8 dividends per ordinary share to its shareholders, summing up to N87.91 billion (interim – N9.42 billion, Final – N78.49 billion) for the year ended 2019. The bank posted profit after tax (PAT) of N208.84 billion in the year under review.
(READ MORE: CFOs of FUGAZ and their 3-year performance record)
The final dividends were paid to Shareholder in March 2020 whose names appeared in the Register of Members as at close of business on 9th March 2020.
What is dividend?
A dividend is a payment by a company to its shareholders, which is paid at the end of a quarter or year. Note that dividends are usually cash payments, although they can sometimes be paid out in company stock.
(READ MORE: NSE Set to Host Sustainable Capital Markets Forum to Promote Green Finance in West Africa)
What to look out for in dividend stocks
The following are what you should look out for in dividend stocks:
Payout Ratio: The dividend payout ratio is the percentage of a company's earnings it uses in paying out dividends. This is an important metric to use when digging into dividend stocks you are considering to buy.
Dividend History: This is simple. All a potential investor needs to do is to check the track record of the company. Many of the companies mentioned above have trackable and impressive track records, including long records of paying annual and interim dividends.
Industry Strength: Here, it is better to own shares in a decent company in a great and lucrative sector than owning shares of a great firm in a tough industry.
IMF advises banks to suspend dividend payment
However, halting dividend payments may not go down well for many retail and institutional investors, who rely on bank dividends for regular income.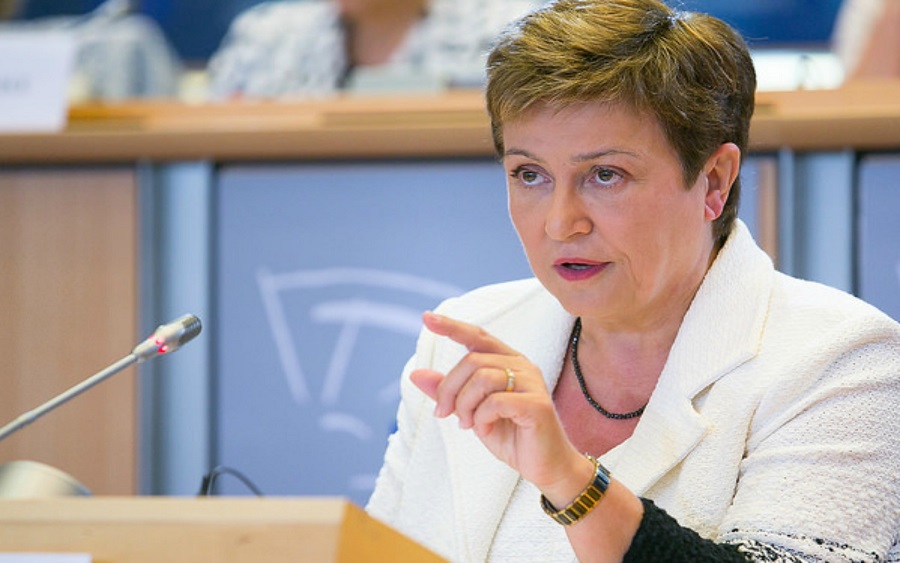 In an article published on its website, International Monetary Fund (IMF) Managing Director, Kristalina Georgieva, advised banks to halt dividend payment for now. According to her, with the expectation of a deep recession in 2020 and partial recovery in 2021, banks' resilience will be tested. Therefore, having in place strong capital and liquidity positions to support fresh credit will be essential.
According to the article, one of the steps needed to reinforce bank buffers is retaining earnings from ongoing operations which are not insignificant.
IMF staff calculate that the 30 global systemically important banks distributed about US$250bn in dividends and share buybacks last year.
READ MORE: State Governments: Another cycle of non-payment of salaries to begin soon
In a circular dated January 31, 2018, the Central Bank of Nigeria (CBN) stipulated new conditions for eligibility of Nigerian banks to pay dividend and the quantum of dividend to be paid out by banks who are eligible. Prior to the release of the circular, dividend payout policy for Nigerian banks had been spelt out in Section 16(1) of BOFIA 2004 (as amended) and Prudential Guidelines for DMBs of 2010. The circular provided guidelines and restrictions around divdidend payout for banks based on NPL ratio, CRR levels, and Capital Adequacy Ratio (CAR).
However, there were no regulatory restriction on dividend payout for banks that meet the minimum capital adequacy ratio, have a CRR of "low" or "moderate" and an NPL ratio of not more than 5%. However, it is expected that the Board of such institutions will recommend payouts based on effective risk assessment and economic realities. Indeed, current economic realities demand caution.
Current economic realities mean that banks face asset quality threats, further devaluation threat which may impact capital in some cases, and lower profits which in turn affects the quantum of capital retained. Ideally, these should reflect in NPL ratio and CAR ratio and should immediately restrict banks' ability to pay dividend. However, there is usually a time lag before these ratios begin to reflect the new economic realities. Therefore, IMF's advise may come in handy for many banks.
(READ MORE: Software security limitations cited as major reason for Covid-19 bank rush)
That said, halting dividend payments may not go down well for many retail and institutional investors, who rely on bank dividends for regular income. Banks like Zenith and Guaranty Trust have a good history of consistent dividend payment with attractive yields which is a major attraction for many shareholders.
---
CSL STOCKBROKERS LIMITED CSL Stockbrokers,
Member of the Nigerian Stock Exchange,
First City Plaza, 44 Marina,
PO Box 9117,
Lagos State,
NIGERIA.
CFOs of FUGAZ and their 3-year performance record
CFO is to ensure that the company is highly profitable so that no matter how high it's share price might be, if listed on the floor of the Nigerian Stock Exchange, it would still be termed undervalued.
Among many executive positions in an organisation, the Chief Financial Officer (CFO) is sometimes considered to be one of the most strategic, and rightly so. When the firm in question is an operator in the financial services sector, then the office becomes even more critical to be thrown to just anyone.
Besides being responsible for fiscal operating results, the CFO is the senior executive directly responsible for managing the financial strategy, decision and actions of a company. He tracks cash flow, analyses the company's financial strengths and weaknesses, and fill in for the lapses, reducing operations costs and increasing income.
In other words, we can say that the job of the CFO is to ensure that the company is highly profitable so that no matter how high it's share price might be, if listed on the floor of the Nigerian Stock Exchange, it would still be termed undervalued.
This article looks at the CFOs in Nigeria's tier one banks, their profiles, their last 3 years records and projections for 2020.
READ ALSO: Billionaire investors in the Nigerian Insurance space (2)
Ugo Nwaghodoh, Group CFO, United Bank for Africa Plc (UBA)
Ugo is a seasoned financial analyst and accountant with experience spanning assurance, advisory, financial control, financial modelling & programming, strategy and business transformation, investor relations, corporate restructuring, risk management, mergers & acquisition, business integration and project management.
He has been the Group CFO at United Bank for Africa Plc since 2011, managing the performance, financial control, portfolio investment and investor relations among others.  Before then he was the Divisional Head, Financial Control and Investor Relations between 2008 and 2011.
He also had a brief stint as Group Chief Compliance Officer, and as Head of Special Project (Corporate Mergers). He was Head, Performance Management, Strategy and Business Transformation for about 3 years, where he drove the cost optimization initiatives of the bank, and engaged in policy formulation.
Before UBA, he had worked as Manager, Assurance and Business Advisory Services with PriceWaterhouseCoopers Nigeria for 8 years, and 2 years in Kenya on secondment.
He has a degree in Accounting and Finance, and MSc in Finance & Management from the Cranfield School of Management, Cranfield University.
He is a fellow, Institute of Chartered Accountants of Nigeria (FCA).
His last 3 years performance
UBA, under Nwaghodoh's watch, had a fairly unfavourable 2018 as cost to income ratio increased from 57.8% in 2017 to 64% in 2018, and profit after tax almost remained the same increasing only slightly from N78.59 billion in 2017 to N78.60 billion in 2018.
The bank, however, staged a comeback in 2019 with cost to income ratio reduced to 62.7% while profit after tax increased by over N10 billion to N89.08 billion.
Share price however declined from N10.3 in 2017 to N7.7 in 2018 and N7.15 in 2019, probably not Nwaghodoh's fault though, since this happened across most financial services institutions. In addition, the bank also paid N30 million as fine to the CBN in 2018, a situation which led shareholders to cry out to Apex bank for what was termed 'unfair penalties'.
Nwaghodoh, however, has a beautifully designed investor relations page to his credit, with answers to Investors FAQs, analysts reports and credit ratings for the bank, shareholders information and news among others.
Oluseyi Kumapayi, CFO Access Bank Plc
Kumapayi joined Access Bank in 2002. Before then, he was with the First City Monument Bank (FCMB) where he served as Financial officer.
Kumapayi got his MBA from the Kellogg school of management, Northwestern University, and  has been severally endorsed in Corporate finance, risk management and business strategy, financial analysis, mergers and acquisitions, financial modelling and investment banking.
He also attended the INSEAD course on Risk Management, London Business School (LBS) High Performance People Skills program, Euromoney, Assets and Liability Management, Strategy Master Class and Mergers and Acquisition. He is a Certified Chartered Accountant.
Now let's look at the bank's three years performance under Kumapayi. 
For the cost to income ratio, Access bank has remained profitable over the last three years, but now the question would be how profitable?
Cost to income ratio reduced from 72.40% in 2017 to 65.30% in 2018 showing that the bank's strategies succeeded in reducing the ratio of cost to income and making more profits. However, 2019 recorded a negative progression to 68.7%.
This is in spite of the fact that profit after tax grew significantly to N97.5 billion in 2019, from N94.98 billion in 2018 and N53.6billion in 2017.
Overall, we can say the indices point to greater progress made in 2018, compared to 2019.
Note also that the merger between Access Bank and Diamond bank started in 2018, running through 2019 before it was eventually sealed with the launching of the new Access logo, and the slogan 'access more'. The role of a CFO in a merger of this magnitude is ourightly priceless, given that not all merger talks result in a successful merger of assets, shareholders, and even management team.
There is also the acquistion of controlling equity interest in Transnational Bank Kenya Plc, which Access Bank undertook in October 2019.
Share price at last day of the year progressed from N10.45 to N6.8 to N10, showing that share price dropped most in 2018, which interestingly happened to be the most profitable year so far. In the same 2018, Access bank paid N20 million in fines to the Central Bank of Nigeria.
Kumapayi has kept the investor relations page of the bank's website duly updated with annual financial reports, investor news, credit ratings, upcoming events, shareholders information and news.
Oyewale Ariyibi, CFO, First bank of Nigeria Plc
Before becoming Chief Financial Officer at FBN Holdings Plc, Oyewale Ariyibi had worked with Transnational Corporation of Nigeria Plc (Transcorp) as Chief Finance Officer, and at Standard Chartered Bank, Nigeria as Country Financial Controller.
He has a cumulative 23 years experience in banking and financial services, business assurance, tax management, business process review and consulting across several institutions.
He has been certified in areas such as capital raising, tax planning and cost management, operational risk management, strategic and corporate planning, compliance and business assurance amongst others, and is a Fellow of the Institute of Chartered Accountants of Nigeria (FCA), Associate of the Chartered Institute of Taxation (ACIT) and Certified Pension Institute of Nigeria (ACIP).
So what has he done with First Bank in the last three years?
Profit after tax has been on an increase, from N47.78 billion in 2017 to N59.74 billion in 2018 and N62.09 billion in 2019. This is laudable given that 2016/17 was not the best times for the Nigerian economy.
Share price has however dropped from N8.8 in 2017 to N7.95 in 2018 and N6.15 in 2019.
This may be no fault of his given that he has managed to keep the cost to income ratio stable at 80.17% in 2017, 80.15% in 2018, but it increased slightly in 2019 to 81.31%.
Note that the FBN Holdings also paid a fine of N32.65 million to the CBN in 2018.
This trend can be considered worrisome not only because FBN holdings has the highest cost to income ratio among the tier one banks, but because it is the only of the five banks where cost to income ratio did not reduce over the last 3 years.
This probably explains why shareholders earned 0.25 dividends per share in 2017, 0.26 in 2018 and 0.38 in 2019, the least dividends declared by any of the top banks.
The investors' relations page of the bank's site is a bit unclear and it is not easy to access needed information, but once a site visitor gets past the initial confusion, one can see shareholders information, corporate governance reports, financial highlights, unclaimed dividends, press releases and news.
Ariyibi might need to ask some pointers from his colleagues in other tier one banks.
Recently, Ariyibi led engagements with regulators towards FBN's intention to divest its 65% holdings in FBN insurance Limited.
Mukhtar Adam, CFO Zenith Bank Plc.
Mukhtar Adam was appointed Chief Financial Officer (CFO) of Zenith Bank in 2018, and is currently the Group Head, Financial Control and Strategic Planning Group of the bank.
Before this, he was the bank's Deputy CFO, and sometime before 2014, he headed the Financial Reporting, Tax Management and Strategic Planning Groups, overseeing the entire Zenith Group's financial reporting.
Adams worked in Financial Services Group of the Nigerian and Ghanaian practices of PricewaterhouseCoopers (now PwC), as a Senior Consultant, before joining Zenith Bank in 2007.
Adam holds a PhD in Finance from the Leeds Beckett University (UK); M.Sc. (Finance – Financial Sector Management) from University of London's School of Oriental and African Studies, (UK); MBA (Finance) from the University of Leicester (UK) and B.Ed. Social Sciences (Economics and Management) from the University of Cape Coast (Ghana).
Many feathers for one man's cap, we must agree!
He also holds a Diploma in International Financial Reporting Standards (IFRS) from the Institute of Chartered Accountants in England and Wales (ICAEW).
He is a member of the Institute of Chartered Accountants of Nigeria (ICAN), Chartered Institute of Taxation of Nigeria (CITN), and Institute of Chartered Accountants of Ghana (ICAG).
So, what has Mukhtar Adam achieved for Zenith bank since he took over from Stanley Amuchie in 2018?
It's been three progressive years for this tier one bank as cost to income ratio has continued to decline from 52.70 in 2017, to 49.30 in 2018 and further down to 48.8% in 2019. Commendably, this progression is not just a result of cutting down operation costs, but increasing income.
Profit after tax for 2017 stood at N173.79 billion and increased to N193.42 billion in 2018 and spiked further to N208.84 billion in 2019.
Whatever magic wand Adams holds over the bank, it must be working well because among the five tier one banks, Zenith bank has consistently had the highest profit after tax for the past three years.
Share price of the bank also moved from N25.6 in 2017 to N23.05 in 2018 and further down to N18.6 as at last day of 2019.
However, this cannot be counted against him as share price is subject to a whole range of extraneous factors. In the 2018, the bank paid N10 million fine to the CBN.
With his input, the bank also maintains a detailed investors relations page with press releases, credit ratings, corporate governance reports and financial updates. In addition to the BOT which pops up to help guide a visitor through the page and answer inquiries, Adams also appears to be one CFO who spells out his key financial strategies on all aspects of the banks operations, on the investors relations page.
Adebanji Adeniyi, CFO, GT Bank
Adeniyi became CFO of GT bank in 2013.
Adeniyi has been certified competent in risk management, portfolio management, risks and investments, Operational dynamics and Associated Risks among others, and has over two decades of professional experience.
He gained his early experience from notable companies including PricewaterhouseCoopers, and Arthur Andersen (now KPMG).
His banking experience comes from his stint with Lead Bank Plc, and his years at GT Bank. He is a Fellow of Institute of Chartered Accountants (FCA), and also holds a MBA.
So, what has he been up to in the last 3 years.
For Guaranty Trust Bank Plc, cost to income ratio reduced from 38.2% in 2017, to 37.2% in 2018, and to 36.1% in 2019
In addition to its gradual improvement, GT bank has maintained the best cost to income ratio among the top banks.
The bank has also maintained a high profit after tax after Zenith bank. GT Bank recorded N170.47 billion profits after tax in 2017 and this increased to N184.64 billion in 2018 and N196.86 billion in 2019.
Like other banks, however, share price has dropped over the years – from N40.75 in 2017 to N34.45 in 2018 and N29.7 in 2019. In addition to this, GT Bank also received a heavy penalty of N24 million in 2018 from the CBN.
In terms of profitability, both for the bank and for investors, Adeniyi is getting it right.
The bank also has a well laid out investors relations page detailing corporate and financial information, outlooks and insights, upcoming events and investors news, shareholders information and annual reports.
Kudos!