Angola embraces free markets while Nigeria clings to the past
Southern African major oil producer Angola has signalled its intentions to devalue its currency the Kwacha exchange rate against the dollar. Devaluation is the change in value of a country's currency from the previous value set.  The country's central bank governor disclosed this during an interview session with reporters.
The Kwacha is currently pegged at 166 to the dollar, but trades at 400 on the black market. Angola, like most petro economies was been hard hit by the fall in crude oil prices.
The country plans to renegotiate interest and capital repayments on its debt, which has an estimated size of $38 billion.  Doing so, free up funds that can be spent on critical areas of the economy.
Possible reasons behind these moves
Angola's newly sworn President Joao Lourenco may be using the opportunity of his honeymoon period to take all the hard decisions necessary for the growth of the economy. A new administration can easily take hard decisions when it still has a high approval rating. Embracing free market policies also encourages an influx of investors into the country
Nigeria clings to the past
Nigeria's Central Bank rather than embrace a managed float of the Naira, opted to wait till the foreign exchange rates nearly hit N500 to a dollar, and industries struggling to access foreign exchange.  The country has ramped up its debt drive, with a large proportion of it going to recurrent expenditure.
The government has also opted to subsidize petrol through the Nigerian National Petroleum Corporation (NNPC) rather than adopt market driven prices. An price modulation system earlier introduced seems to exist on only paper.
About Angola
Angola ( officially the Republic of Angola) is the seventh-largest country in Africa. It is bordered by Namibia to the south, the Democratic Republic of the Congo to the north, Zambia to the east, and the Atlantic Ocean to the west. Angola's immediate President Jose dos Santos handed over power after spending 38 years in power.
Ratings agency, Moody's reveals it is reviewing First Bank's ratings
Moody's explained why it might downgrade First Bank's ratings.
Moody's Ratings agency said on Thursday that it has put First Bank of Nigeria on review for a downgrade after the central bank sacked the board of directors and replaced them with new directors.
Moody's made this statement in a report titled 'Removal of Non-Executive Board Members Highlights Governance Shortcomings.'
In a quote, Moody's said:
"Moody's Investors Service, ("Moody's") has today placed all long-term ratings and assessments of First Bank of Nigeria Limited (First Bank) on review for downgrade. The review will focus primarily on an assessment of evolving governance considerations at First Bank, specifically corporate governance developments. The rating action follows the dissolution of First Bank's board by the Central Bank of Nigeria (CBN), the bank's primary regulator, on 29 April 2021. As a result of this action by the CBN, all the non-executive directors were removed while the executive management remained in place."
The Governor of the Central Bank of Nigeria, Godwin Emefiele, had last week announced the sack of the entire board of directors of FBN Holdings Plc and its subsidiary, First Bank of Nigeria Ltd following the initial removal of its MD/CEO Dr Sola Adeduntan. Following his sacking of the board, he set up a new board for the bank holding company and its subsidiary and also reinstated Adeduntan as MD/CEO.
Moody's mentioned that the regulatory actions demanded of First Bank by the CBN introduces a clould of uncertainty over the outlook of the bank. For example, the CBN had asked the bank to divest from its holdings in two listed companies while also recovering its loans from one of them.
"The review for possible downgrade reflects the rating agency's view that the removal of all non-executive directors of the bank's board by the regulator demonstrates corporate governance shortcomings and weaknesses in board oversight. The bank also needs to implement regulatory directives concerning the resolutions of loans to, and shareholding in non-banking related parties, which reportedly had not been executed in the recent past.
Moody's notes that the outcomes of these developments are uncertain at this point, and the final and long-term governance, reputational and financial implications of the events for First Bank are also unclear."
The central bank directive sacking the board of the bank also retained its executive management perhaps suggesting that the CBN had confidence in the ability of the MD and his team to manage the bank. Moody's also noted this in its briefing.
"While the bank's executive management team remained the same, the rating agency believes these developments could distract management's focus on implementing the bank's strategic plan and road to recovery. First Bank management's immediate key target was to reduce nonperforming loans (NPLs) to levels comparable with domestic peers. The rating agency recognises that, in the context of asset risks, the bank took steps to reduce its stock of problem loans, with its reported NPL ratio falling to 7.7% at year-end 2020 from 25.9% in 2018."
Will Moody's downgrade First Bank?
The rating agency explained that the decision to downgrade will depend on how strong the bank's corporate governance structure is and whether the CBN will impose additional sanctions. If any of these crystallizes, it could downgrade its ratings.
"The bank's long-term deposit ratings can be downgraded if flaws in the bank's governance systems exist, and if the CBN imposes additional sanctions on the bank, including, but not limited to, conditions to address any vulnerabilities that may be discovered. Financial output that is less than anticipated could also result in a rating downgrade."
Moody's, however, poured water on any optimism around a rating upgrade.
Given the review for downgrade and the pessimistic outlook on the government of Nigeria, there is a slim chance that First Bank's ratings will be upgraded. Stronger solvency progress than currently reflected in the ratings, combined with a stabilization of the sovereign outlook, could result in the outlook being stabilized.
Why is rating important?
Corporate Organizations desire positive ratings because of the effect it has on their ability to raise capital as well as the cost of capital. A high credit rating typically attracts positive investor sentiments helping organizations tap the debt and equity markets, especially from institutional investors.
Coin of the week: Ever heard of EOS?
EOS is currently trading $11.33 with 936 million coins in circulation and a total supply of 1.02 billion.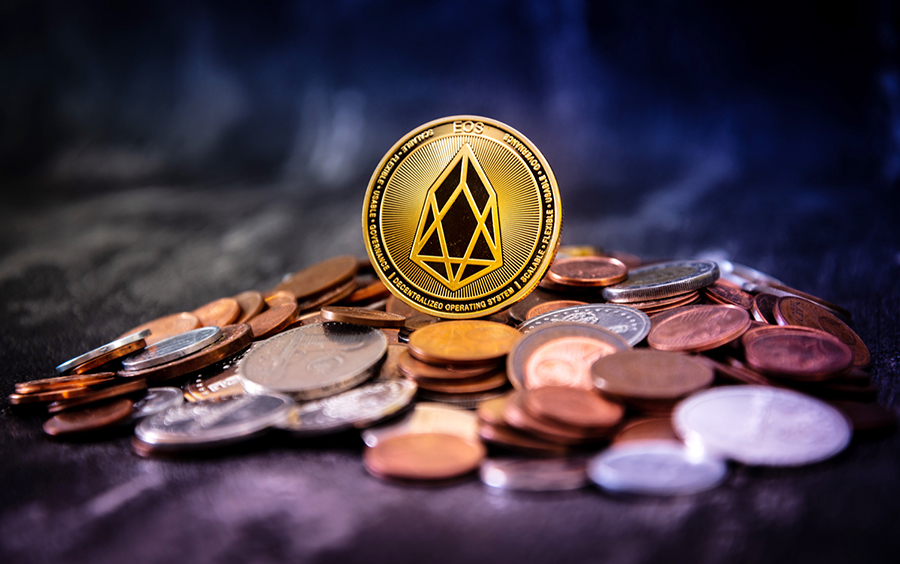 EOS was created and designed to allow developers to build decentralized apps (DApps). DApps are any computer applications whose operation is maintained by a distributed network of computer nodes, as opposed to a single server.
The EOS platform was developed by the company Block.one, to make it as straightforward as possible for programmers to embrace blockchain technology and ensure that the network is easier to use than rivals. It also aims to deliver greater levels of scalability than other blockchains which can only do a dozen transactions per second.
EOS was created by Daniel Larimer and Brendan Blumer. Brenden Blumer is an entrepreneur, who was one of the co-founders of Okay.com, a digitally focused real estate agency in Hong Kong while Daniel Larimer is a software programmer who has also started a series of crypto ventures such as the crypto trading platform BitShares and the Steem blockchain. They are both members of Block.one's executive team, with Brendan Blumer as CEO and Daniel Larimer as CTO.
Why Invest in EOS?
Block.one stated that EOS can accommodate the demands of thousands of DApps, even if they were being used by a high number of people. Parallel execution, as well as a modular approach, are said to drive this efficiency.
EOS represents a truly democratic system that takes into account the will of the people, in this case, its token holders, as they can vote for block producers as well as other matters such as protocol upgrades.
Network Security
EOS, like many other coins, uses a delegated proof-of-stake consensus mechanism. This concept was conceived by Daniel Larimer and aims to solve some of the flaws that are seen in conventional PoW (Proof-of-Work) and PoS (Proof-of-Stake) systems.
As stated earlier, those who own EOS tokens can vote for representatives who will be responsible for validating its transactions. One of the advantages is that it helps eliminate consolidation, where smaller miners are pushed out by those who have greater levels of computing power and resources.
Price Analysis
EOS is currently trading $11.33 with 936 million coins in circulation and a total supply of 1.02 billion. EOS has gained approximately 466% return comparing its 52 weeks low to its current price today. It is currently down 49.71% from its all-time high of $22.89 that was last traded on the 29th of April, 2018.
Recently, after the Biden administration's proposed tax hike, the coin dropped from its previous 2021 peek of $8.80 to a 0.236 Fibonacci retracement zone of $4.74, creating a new higher-low that indicates a bull market. No surprise that the market broke its previous 2021 high to create a new high of $13.18 on the 6th of May, 2021, following news of the coin proposing to increase its staking rewards. It is believed that this running will lead the coin to break its previous all-time high of 2018.
Although it is not advisable to buy coins at peak prices, recent news as earlier mentioned, suggests that an increase in demand for the coin is imminent. Block.one mentioned that the protocol needs to increase the rate of inflation from its current pace of 1% to a rate between 1.2% and 3.8% intended to increase financial incentives for voters and block producers. While token holders still need to settle on what exact size the inflation rate will increase to, the possibility of higher yields for community participation has brought demand to the coin.
A second major development for the protocol is the EOS PowerUp model, which intends to allow users to pay a fee to power up their account for 24-hours to transact on the network as opposed to paying a transaction fee for every transaction. Block.one mentions that the PowerUP model offers EOS token holders another way to earn a yield by depositing unused EOS tokens to receive a percentage of all the 'power-up' fees that are generated by the network. This has become an increasingly attractive option as investors are searching for ways to avoid the high gas fees (transaction fees) and network congestion on the Ethereum (ETH) network.
With the overall cryptocurrency market bullish and projects like Litecoin (LTC) and Ethereum Classic (ETC) reaching new highs, EOS is a blockchain project that could benefit investors as the cryptocurrency bull market continues.