Sahara Group commissions 36 million litres petroleum storage facility in Tanzania
A strategic hub for facilitating the distribution of petroleum products within Tanzania and other East African nations has emerged with the commissioning of a Terminal that has a 36 million litre storage facility by Sahara Group in Tanzania.
Operated by Sahara Tanzania Limited, an affiliate of leading African energy conglomerate Sahara Group, the Terminal is located in Vijibweni, Industrial area Kigamboni in Dar Es Salaam. It has a storage capacity of 18 million litres for Automotive Gas Oil (AGO) and 18 million litres for Premium Motor Spirit (PMS). The company also has 6 loading arms for PMS and 6 loading arms for AGO which gives it capacity to load up to 120 trucks per day.
Speaking at the official commissioning of the facility in Dar Es Salaam, Supply Manager, Petroleum Bulk Purchasing Agency (PBPA), Raymond Lusekelo, said the entry of Sahara Tanzania Limited into the oil and gas sector in Tanzania was remarkable at a period where the administration of His Excellency, Mr. John Magufuli was spearheading an unprecedented drive to bring about significant investment in the sector.
"I salute and congratulate the Board and Management of Sahara Tanzania Limited on the commissioning of its terminal which we are gathered to celebrate today. This is a strategic investment that signposts the commitment of the company to enhancing the profile of the sector through continuing investments across the entire energy value chain," he said.
According to Taofik Lawal, Terminal Manager, Sahara Tanzania Limited, the company commenced operations in March 2016, with a "dynamic blend of young talent and state of the art technology that is redefining the oil and gas sector in Tanzania."
"We bring smart solutions to energy needs by deploying the best possible technology as well as distribution and storage facilities that are world class. Our operations are guided by best international practice and we are passionate about total quality management and excellent service delivery," he added.
He stated that the resilience and perseverance of the company's workforce had made it a market leader in the importation, sale and distribution of petroleum products in Tanzania, with further prospects of being the preferred provider across the sub-region.
"We are investing heavily in human capital development and currently have 25 Tanzanian professionals adding value to the great work we are doing in Tanzania. We are looking at increasing this number as we continue to embark on strategic expansion in Tanzania and beyond."
Lawal said the formal launch of Sahara Foundation in Tanzania was an indication of the company's commitment to promoting sustainable development in the nation.
Sahara Foundation projects in Tanzania include: School Sanitation Wash & Hygiene (SWASH) Project- Improving hygiene at Salma Kikwete Secondary School where more than 1264 students now have access to modern and hygienic toilet facilities.
The Foundation also upgraded the Library at Pugu Secondary School, transforming learning experience for over 900 students and 70 teachers.
Concluding, Lawal said: "The energy sector in Tanzania has the potential to be the best in East Africa. Key investments like the one we are witnessing today are required in infrastructure and technology to enhance value and drive excellence. We believe the nation under the leadership and guidance of the current administration has what it takes to assume this leadership position in East Africa. We are here to ensure that thus happens and will be available to contribute our quota to the growth and development of Tanzania."
Nigeria's tier-1 banks earn N18.4 billion from account maintenance charges in Q1 2020
Banks' earnings from account maintenance charges, though low when compared to other revenue streams, still make up a significant portion of their non-interest income.
Nigeria's tier-1 banks — comprised of First Bank, UBA, GTBank, Access Bank, and Zenith Bank (FUGAZ) — generated a total of N18.4 billion from bank maintenance charges in Q1 2020. The sum is 17.12% more than N15.6 billion that was generated by the five banks during the comparable period in 2019.
This is according to recent checks by Nairametrics Research, a breakdown of which revealed that Zenith Bank generated the most income from account maintenance fees, followed by Access Bank and then, GTBank.
See the breakdown below.
Zenith Bank Plc: N5.7 billion
Access Bank Plc: N3.9 billion
Guaranty Trust Bank Plc: N3.3 billion
First Bank Plc: N3.1 billion
United Bank for Africa Plc: N2.3 billion
READ MORE: Stocktaking: Ebenezer Onyeagwu's year as CEO of Zenith bank
What you should know about account maintenance charges
Banks' earnings from account maintenance charges, though low when compared to other revenue streams, still make up a significant portion of their non-interest income.
According to the latest directive by the Central Bank of Nigeria on bank charges, Nigerian banks are allowed to charge their customers a "negotiable" N1 per mille. What this means is that banks can charge N1 per N1000 debit transactions on current accounts. Banks' account maintenance charges come in the form of COT (i.e., Commission on Turnover) which is a charge levied on customer withdrawals by their banks. In Nigeria, these charges are mainly applicable to current accounts.
"Current Account Maintenance Fee (CAMF): Applicable to current accounts ONLY in respect of customer-induced debit transactions to third parties and debit transfers/lodgments to the customer's account in another bank. Note that CAMF is not applicable to Savings Accounts," said part of the CBN directive.
(READ THIS: You must know these terms if you want to own a bank account in Nigeria)
Customers don't like account maintenance charges
Interestingly, a lot of Nigerian bank customers are not keen on bank maintenance charges. After all, nobody likes to get debit alerts, especially so when such is coming from their banks. Perhaps, the main reason some customers dislike bank maintenance charges is because they tend to be higher than the interest capitalised entitled to such customers. Professor Ayobami Ojebode of the Department of  Communications and Language Arts, University of Ibadan, recently complained about this, saying:
"Dear bank, I see o! Don't think I don't see you! You credit me N50 interest on my savings and debit N150 for account maintenance & card fee etc! Come here, what do you really think you are doing?"
MTN, Dangote Cement, Nestle, others top best dividend stocks in 2019
MTN Nigeria, Dangote Cement, Nestle Nigeria, Stanbic IBTC, GT bank and Zenith bank were the highest paying dividend stocks on the floor of the NSE in 2019. 
Dividend payment is one of the very few ways available for investors to earn a constant stream of income. It is also the main reason shareholders hold unto their shares in a company. Therefore, it brings great satisfaction to investors when these companies declare dividends to their shareholders.
According to data gathered by Nairalytics, the research arm of Nairametrics, MTN Nigeria, Dangote Cement, Nestle Nigeria, Stanbic IBTC, GTBank, and Zenith bank were the highest paying dividend stocks on the floor of the Nigerian Stock Exchange in 2019.
With a combined value of N691.23 billion, these six companies make up a diverse list that includes the telecommunication, food and beverage, industrial manufacturing, and banking sectors.
Here's a breakdown
MTN Nigeria Communications Plc posted a total dividend per share of N7.92k (interim – N2.95k, Final – N4.97k), summing up to N161.21 billion. A dividend payment was made on May 19, 2020, to shareholders whose names appeared on the Register of Members as at April 17, 2020.
(READ MORE: Why these companies remain on NSE's delisting radar)
The telco giant's revenue of N1.17 trillion in 2019 against N1.04 trillion in 2018 represents a 12.6% increase. Profit after tax (PAT) also increased significantly by 38.7% from N145.7 billion in 2018 to N202.1 billion in 2019.
Dangote Cement Plc declared a total dividend payout of N272.65 billion. This breaks down to every shareholder of the company earning N16 on every share held. A payment expected to be made after the company's annual general meeting is scheduled for June 16, 2020, with a qualification date of May 25, 2020.
It is worth noting that the cement manufacturing giant posted a profit after tax of N200.52 billion, a 48.6% decline when compared to a profit of N390.33 billion recorded  in 2018.
Nestle Nigeria Plc declared a total dividend of N70 per share to its shareholders, indicating a total payment of N55.49 billion. The leading consumer goods maker generated N284.04 billion in revenue for the year ended December 2019.
The multinational's profit after tax stood at N45.68 billion, a 6.22% increase compared to N43.01 billion posted in 2018.
(READ MORE: List of Dividends announced so far in 2020 (May))
The management of Stanbic IBTC Holdings Plc proposed a total dividend per share of N3 (interim – N1 and final – N2) per ordinary share of 50 kobos each, which summed up to N31.57 billion. The interim dividends (N10.47 billion) was paid on October 3, 2019, while the final dividend of N21.01 billion is expected to be paid by June 18, 2020.
The bank's full-year result shows that the group's gross earnings increased by 5.2% from N222.36 billion in 2018 to N233.81 billion in 2019.
Stanbic IBTC's profit after tax for the period  recorded a marginal increase of 0.8% to N75.04 billion compared to N74.44 billion in 2018.
Guaranty Trust Bank Plc declared a total of N82.41 billion to shareholders on March 30, 2020 as dividends for the year ended 2019. This indicates a total dividend payment of N2.8 per 50 kobo ordinary shares to shareholders. Final dividend was paid on March 30, 2020 to shareholders whose names were registered in the company's register of members as at March 18, 2020 which was the qualification date.
GTBank, which is Nigeria's most capitalized bank, posted a profit after tax of N196.85 billion, showing a 6.5% increase compared to N184.71 billion recorded in the preceding year.
Zenith Bank Plc also paid N2.8 dividends per ordinary share to its shareholders, summing up to N87.91 billion (interim – N9.42 billion, Final – N78.49 billion) for the year ended 2019. The bank posted profit after tax (PAT) of N208.84 billion in the year under review.
(READ MORE: CFOs of FUGAZ and their 3-year performance record)
The final dividends were paid to Shareholder in March 2020 whose names appeared in the Register of Members as at close of business on 9th March 2020.
What is dividend?
A dividend is a payment by a company to its shareholders, which is paid at the end of a quarter or year. Note that dividends are usually cash payments, although they can sometimes be paid out in company stock.
(READ MORE: NSE Set to Host Sustainable Capital Markets Forum to Promote Green Finance in West Africa)
What to look out for in dividend stocks
The following are what you should look out for in dividend stocks:
Payout Ratio: The dividend payout ratio is the percentage of a company's earnings it uses in paying out dividends. This is an important metric to use when digging into dividend stocks you are considering to buy.
Dividend History: This is simple. All a potential investor needs to do is to check the track record of the company. Many of the companies mentioned above have trackable and impressive track records, including long records of paying annual and interim dividends.
Industry Strength: Here, it is better to own shares in a decent company in a great and lucrative sector than owning shares of a great firm in a tough industry.
IMF advises banks to suspend dividend payment
However, halting dividend payments may not go down well for many retail and institutional investors, who rely on bank dividends for regular income.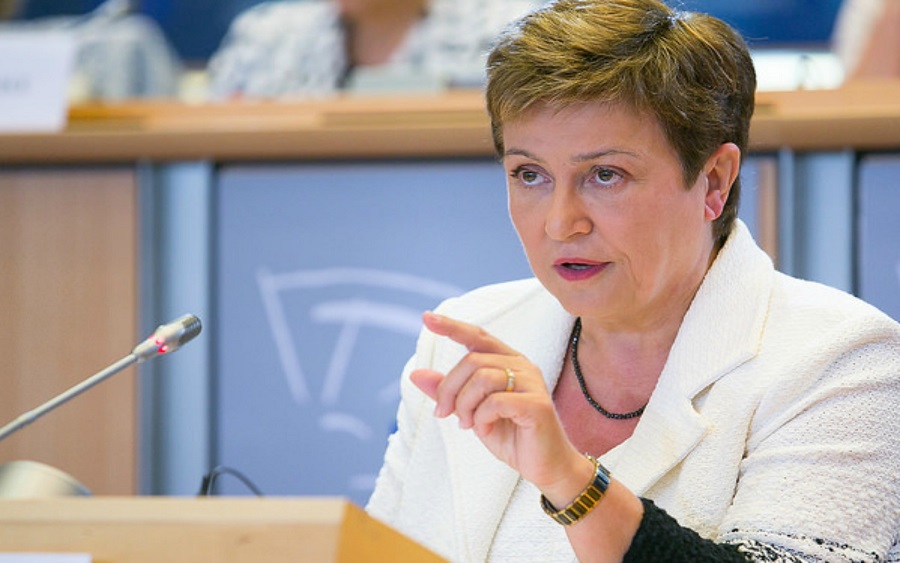 In an article published on its website, International Monetary Fund (IMF) Managing Director, Kristalina Georgieva, advised banks to halt dividend payment for now. According to her, with the expectation of a deep recession in 2020 and partial recovery in 2021, banks' resilience will be tested. Therefore, having in place strong capital and liquidity positions to support fresh credit will be essential.
According to the article, one of the steps needed to reinforce bank buffers is retaining earnings from ongoing operations which are not insignificant.
IMF staff calculate that the 30 global systemically important banks distributed about US$250bn in dividends and share buybacks last year.
READ MORE: State Governments: Another cycle of non-payment of salaries to begin soon
In a circular dated January 31, 2018, the Central Bank of Nigeria (CBN) stipulated new conditions for eligibility of Nigerian banks to pay dividend and the quantum of dividend to be paid out by banks who are eligible. Prior to the release of the circular, dividend payout policy for Nigerian banks had been spelt out in Section 16(1) of BOFIA 2004 (as amended) and Prudential Guidelines for DMBs of 2010. The circular provided guidelines and restrictions around divdidend payout for banks based on NPL ratio, CRR levels, and Capital Adequacy Ratio (CAR).
However, there were no regulatory restriction on dividend payout for banks that meet the minimum capital adequacy ratio, have a CRR of "low" or "moderate" and an NPL ratio of not more than 5%. However, it is expected that the Board of such institutions will recommend payouts based on effective risk assessment and economic realities. Indeed, current economic realities demand caution.
Current economic realities mean that banks face asset quality threats, further devaluation threat which may impact capital in some cases, and lower profits which in turn affects the quantum of capital retained. Ideally, these should reflect in NPL ratio and CAR ratio and should immediately restrict banks' ability to pay dividend. However, there is usually a time lag before these ratios begin to reflect the new economic realities. Therefore, IMF's advise may come in handy for many banks.
(READ MORE: Software security limitations cited as major reason for Covid-19 bank rush)
That said, halting dividend payments may not go down well for many retail and institutional investors, who rely on bank dividends for regular income. Banks like Zenith and Guaranty Trust have a good history of consistent dividend payment with attractive yields which is a major attraction for many shareholders.
---
CSL STOCKBROKERS LIMITED CSL Stockbrokers,
Member of the Nigerian Stock Exchange,
First City Plaza, 44 Marina,
PO Box 9117,
Lagos State,
NIGERIA.