2017 Budget Signed: Full Text of Osinbajo budget signing speech 
Acting President, Professor Yemi Osinbajo signed the 2017 Appropriation Bill on Monday June 12, 2017. The long awaited bill which contains details of the 2017 budget was passed by the National Assembly last year and was being scrutinised by the executive.
Here is a full transcript of the budget signing speech.
BLEAKNESS OF RECESSION ABOUT TO WITNESS DAWN OF ABUNDANCE, SAYS AG. PRESIDENT AT 2017 BUDGET SIGNING
REMARKS BY AG. PRESIDENT YEMI OSINBAJO, SAN, AT THE SIGNING OF THE 2017 APPROPRIATION BILL INTO LAW ON MONDAY 12TH JUNE 2017 AT THE PRESIDENTIAL VILLA, ABUJA.
A few minutes ago, I signed the 2017 Appropriations Bill into law. This is an important milestone in our economic recovery and Growth plan laid in April by President Muhammadu Buhari.
I would like to express my appreciation to the Senate President, the Speaker of the House of Representatives, as well as the entire leadership and members of the National Assembly for completing work on the 2017 Appropriation Bill. And I will return to this point presently.
The process of preparing and processing this Bill was much smoother than the 2016 Appropriations Bill. On the executive side, there were no allegations of errors, or mistakes, and there was a significant improvement in the quality of the preparation, as well as the presentation.
I wish to commend the Ministry of Budget and Planning for such a remarkable improvement over a single budget cycle.
On the side of the National Assembly, I wish to commend the collaborative spirit of the engagements our MDAs had with their various committees, and with the leadership, during the budget defence sessions. There were far fewer reported cases of acrimony, or hostile wrangling this year, than in the past.
From the reports we received, the sessions were generally conducted in a friendly atmosphere. There is no doubt that our democracy is maturing.
However, the final presentation and the signing of the budget has been considerably delayed. This was largely due to disagreements we had about the changes introduced to our 2017 Budget proposals by the National Assembly.
The executive took the view that the changes fundamentally affected some of our priority programmes and would make implementation extremely difficult and in some cases impossible.
I must say that the entire leadership of the National Assembly led by the Senate President and the Speaker, adopted a commendably patriotic and statesmanlike approach to our engagements on resolving these critical issues.
In sum, the engagements yielded acceptable results . The most important being that the leadership of the National Assembly has given us a commitment that the National Assembly will re-instate the budgetary allocations for all the important executive projects, such as the railway standard gauge projects, the Mambilla Power Project, the Second Niger Bridge, the Lagos – Ibadan Expressway etc. which they had reduced to fund some of the new projects they introduced.
This re-instatement will be by way of an application for virement by the Executive which they have agreed will be expeditiously considered and approved by the National Assembly.
It is as a result of that understanding and the outcome of our detailed engagements that we feel able to sign the 2017 Appropriations Bill into law today.
I am also pleased to mention that, in our discussions with the leadership of the National Assembly, we have jointly resolved to return to a predictable January to December fiscal year.
It is a particularly important development because this accords with the financial year of most private sector companies, underscoring the crucial relationship between government and the private sector.
Therefore, on the understanding that we will be submitting the 2018 Budget to the National Assembly by October 2017, the leadership of the National Assembly has committed to working towards the passage of the 2018 Budget into law before the end of 2017. I must, once more, express my appreciation to the leadership of the National Assembly, for the collaborative spirit in which these discussions were conducted.
The 2017 Budget, which I have signed into law today, is christened "Budget of Economic Recovery and Growth" and reflects our commitment to ensure strong linkage between the medium-term Economic Recovery and Growth Plan (ERGP) recently launched by His Excellency, President Muhammadu Buhari and the annual budgets.
It is designed to bring the Nigerian economy out of recession unto a path of sustainable and inclusive growth. The budget has a revenue projection of N5.08 trillion and an aggregate expenditure of N7.44 trillion. The projected fiscal deficit of N2.36 trillion is to be financed largely by borrowing.
Let me assure those who have expressed concern about the growing public debt that we are taking several actions to grow government revenues as well as plug revenue leakages. This is because, notwithstanding the fact that our borrowings are still within sustainability limits, we are determined, in the medium term, to reduce our reliance on borrowings to finance our expenditures.
Details of the budget, as approved by the National Assembly, will be made available by the Honourable Minister of Budget and National Planning.
As you are all aware, our economy is already signaling a gradual recovery as growth is headed towards positive territory. First quarter GDP, at -0.52% compares favourably with -2.06% in the first quarter of 2016.
Inflation is declining – down to 17.24% from 18.74% as at May 2016. Our external reserves are now US$30.28 billion as at June 8, 2017 up from US$26.59 billion as at May 31, 2016.
We are also gradually instilling confidence in our exchange rate regime. This improvement in GDP growth and other macro-economic indicators is largely attributable to our strategic implementation of the 2016 Budget as well as stronger macroeconomic management and policy coordination.
I am confident that the 2017 Budget will deliver positive economic growth and prosperity – one that is self-sustaining and inclusive. In this regard, the 2017 budget will be implemented in line with our Economic Recovery and Growth Plan.
Over the 2017-2020 plan period, we are focusing on five (5) key execution priorities, namely:
*Stabilizing the macroeconomic environment;
*Agriculture and Food security;
*Energy sufficiency in power and petroleum products;
*Improved transportation infrastructure; and
*Industrialization through support for micro, small and medium-scale enterprises (MSMEs).
The 2017 budget includes provisions that reflect these priorities.
To demonstrate our commitment to following through our Economic Recovery and Growth Plan, the 2017 budget allocates over N2 trillion to capital expenditure, principally infrastructure.
For instance, we are committing over N200 billion to improve transport infrastructure such as roads and rail; over N500 billion for investments in works, power, and housing; and N46 billion for Special Economic Zone Projects to be set up in each geopolitical zone.
The signing of the budget today will trigger activities in the domestic economy which will lead to job creation and more opportunities for employment, especially for our youth. And, as I indicated earlier, we will be returning to the National Assembly to seek upward adjustments by way of virements in relation to a number of critical projects which have received inadequate provision in the budget just passed by the National Assembly.
We acknowledge that government alone cannot achieve the overarching goal of delivering inclusive growth; that is why the 2017 budget provides a lot of opportunities for partnerships with the private sector.
To help the private sector thrive, we are determined to create an enabling business environment. We are already recording verifiable progress across several areas ranging from a new Visa-on-Arrival scheme to reforms at our ports and regulatory agencies.
The Online business registration process has reduced time required for business registration from 10 to 2 days. It is expected that the Executive Order on transparency and efficiency in the business environment will make it even easier for investors to get the permits and licenses they require for their businesses.
Pursuant to our commitments to the Open Government Partnership, we recently issued an Executive Order that will promote budget transparency, accountability and efficiency. We want to make the Federal budget work more efficiently for the people.
Thus, beyond the huge provisions for investments in critical infrastructure, we have mandated Government agencies to spend more of their budgets on locally produced goods. This will open more opportunities for job creation with benefits for government in form of tax revenues.
We are also working hard to improve our revenue collection efficiency so that we can achieve our revenue projections. While we are deploying technological tools to enhance collections, the implementation of the Treasury Single Account (TSA) will continue to contribute significantly to improving transparency and accountability over government revenues.
Our fight against corruption is yielding positive results. Some of the recoveries are included in the 2017 Budget which will be expended on identifiable capital projects.
Already, we are beginning to see some improvement in the quality of public expenditure. This is great motivation for us to remain resolute in our fight against corruption so that economic prosperity is enjoyed by all Nigerians.
Let me reiterate that the implementation of our 2017 Budget will bring added impetus to our ongoing economic recovery. We will intensify our economic diversification efforts in our bid to expand opportunities for wealth creation and employment, thereby creating inclusive and sustainable growth.
Our path to progress and abundance is clear. The tools are in place and the resilient, resourceful and hardworking Nigerian people are set to go. I have no doubt that by the grace of God, the bleakness of recession is about to witness the uplifting dawn of abundance.
God bless Federal Republic of Nigeria.
Prof. Yemi Osinbajo, SAN, GCON
COVID-19 reveals that many Nigerians have no emergency savings
The playout of events following the lockdowns resulting from the ongoing COVID 19 pandemic shows that Nigerians do not have emergency savings
Though we are still grappling with the effects  of COVID-19, it may not be too early to begin to take stock and find out what we did well during the pandemic and what we should have done better.
Almost everyone's radar has been on the ill-preparedness or lack of appropriate response by the government, with little or no time for an inward look at ourselves. The type of government we have in Nigeria should not have left anyone surprised at their response to the pandemic, especially when it came to the welfare of the populace. What do you expect from a government that is dysfunctional, at best?
With such government, it is time for Nigerians to begin to watch out for themselves and prepare for the unforeseen, like the times we are in currently. The playout of events following the lockdowns caused by the ongoing COVID-19 pandemic shows that Nigerians do not have emergency savings.
According to a recent publication from the Punch Newspaper, "Barely one month of a lockdown of Abuja, Lagos and Ogun state, millions of Nigerians had become stricken with hunger. Many could not bear an extension of the movement restrictions." The ensuing protests were indicative of the fact that many Nigerians were living off their daily incomes with no savings to fall back on.
High Poverty Level
Many may have asked how they could save without having funds, to begin with. Agreed, the level of poverty is high in Nigeria; however, people should know that having savings is not a luxury, but a necessity. It does not have to be large, but putting aside something, no matter how small on a regular basis goes a long way in times of emergency.
I have seen images of Nigerians who surprised themselves and others with how much they saved over time in their piggy banks. There is no hard and fast rule of how much one should have in emergency funds, but there seems to be an agreement among financial analysts and planners that having the equivalent of 6 months' expenses in your emergency savings account is the ideal.
The author of the book "Richest Man in Babylon" stated it clearly that if you do not save, it means that you have paid everyone else but yourself.
How to Start Saving
Pay yourself first: In line with the instructions in "The Richest Man in Babylon," when you receive your monthly salary or collect that sales proceed from your business, "pay yourself first" by saving at least 10% of your collections or salary. For the salary earner, set up a direct deposit account where the money would be taken out of your pay directly into a bank savings account. By so doing, you are forced to save.
(READ MORE: If you experience these signs then know your salary is not enough)
Cultivate the savings habit: Just as spontaneous buying is a habit, form the habit of saving. Do not see saving as putting aside the remnants (if any) after all your expenses. If that is your attitude to savings, then you fall into the group that pays everyone else but themselves.
One thing is certain; as long as you have the money, there will always be something that is going to demand that money from you.
Remind yourself to save: If you are a salary earner who does not want to set up a direct deposit from your paycheck or you are a businessman or woman of any means, you can set up a savings reminder around the time you receive your salary or around your peak business time.
One website that can help you with this is https://www.futureme.org/  With this website, you can send an email to yourself to be delivered around the time you expect to receive your pay or business income, reminding yourself to save. Just like you set an alarm on your mobile phone, you can do so with a reminder to save.
Start Small ASAP: The Bible says that if you are not faithful with small things, how can you be faithful with larger things. You do not need millions to start saving, all you need is the will, the determination, and consistency. So, start small and start now, but be consistent.
Reduce your Expenses: As already noted, one of the reasons that people do not save is because their expenses keep increasing, even when income sources are shrinking. If you find yourself in that situation (and you surely will, at one point or the other), cut down on your expenses and make them fall in line with trends in your income. Avoid spontaneous, emotional and flamboyant buying. Buy out of need, not out of want.
(READ MORE: Between saving, investing, speculating, trading & gambling)
Why It Seems Difficult to Save: To a whole lot of people, it is difficult to save because they live in the now. This is what financial psychologists call scarcity of attention. This scarcity of attention stops people from seeing what is really important and makes them see the urgent current expenses they need to cover.
One reason why it is difficult to save is that while the expenses keep rising (out of increased need and inflation), sources of income keep shrinking or stagnating. The good thing however, is that we have the option to shrink our expenses in line with shrinkages in our income, but often times, we do not choose to do that. That is where the inability to save starts from.
Conclusion: If there is any lesson, we learned from the sudden outbreak of COVID-19, it is and should be that emergencies happen, and efforts should be made to cushion the financial impact of such emergencies by preparing for them in advance through emergency savings.
---
Written by  Uchenna Ndimele uchenna@mutualfundsnigeria.com
IMF advises banks to suspend dividend payment
However, halting dividend payments may not go down well for many retail and institutional investors, who rely on bank dividends for regular income.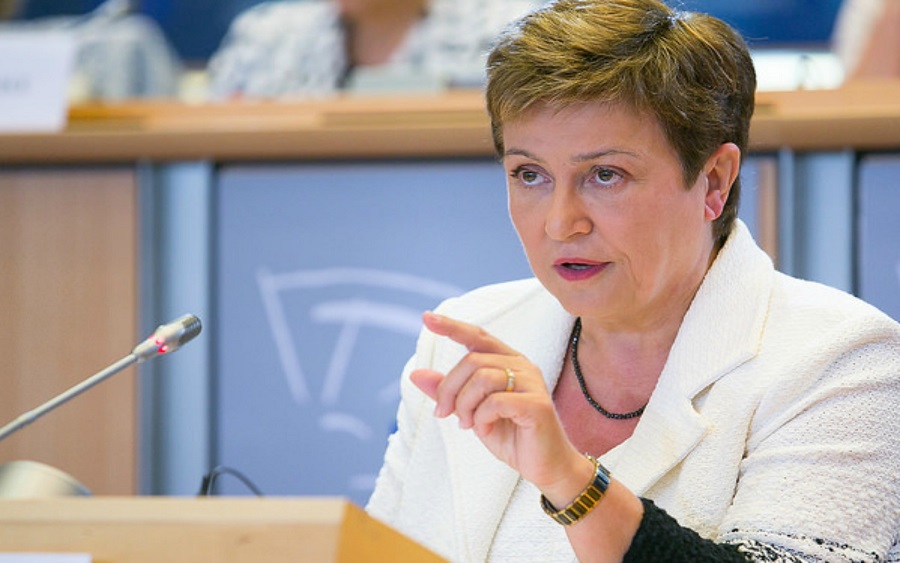 In an article published on its website, International Monetary Fund (IMF) Managing Director, Kristalina Georgieva, advised banks to halt dividend payment for now. According to her, with the expectation of a deep recession in 2020 and partial recovery in 2021, banks' resilience will be tested. Therefore, having in place strong capital and liquidity positions to support fresh credit will be essential.
According to the article, one of the steps needed to reinforce bank buffers is retaining earnings from ongoing operations which are not insignificant.
IMF staff calculate that the 30 global systemically important banks distributed about US$250bn in dividends and share buybacks last year.
READ MORE: State Governments: Another cycle of non-payment of salaries to begin soon
In a circular dated January 31, 2018, the Central Bank of Nigeria (CBN) stipulated new conditions for eligibility of Nigerian banks to pay dividend and the quantum of dividend to be paid out by banks who are eligible. Prior to the release of the circular, dividend payout policy for Nigerian banks had been spelt out in Section 16(1) of BOFIA 2004 (as amended) and Prudential Guidelines for DMBs of 2010. The circular provided guidelines and restrictions around divdidend payout for banks based on NPL ratio, CRR levels, and Capital Adequacy Ratio (CAR).
However, there were no regulatory restriction on dividend payout for banks that meet the minimum capital adequacy ratio, have a CRR of "low" or "moderate" and an NPL ratio of not more than 5%. However, it is expected that the Board of such institutions will recommend payouts based on effective risk assessment and economic realities. Indeed, current economic realities demand caution.
Current economic realities mean that banks face asset quality threats, further devaluation threat which may impact capital in some cases, and lower profits which in turn affects the quantum of capital retained. Ideally, these should reflect in NPL ratio and CAR ratio and should immediately restrict banks' ability to pay dividend. However, there is usually a time lag before these ratios begin to reflect the new economic realities. Therefore, IMF's advise may come in handy for many banks.
(READ MORE: Software security limitations cited as major reason for Covid-19 bank rush)
That said, halting dividend payments may not go down well for many retail and institutional investors, who rely on bank dividends for regular income. Banks like Zenith and Guaranty Trust have a good history of consistent dividend payment with attractive yields which is a major attraction for many shareholders.
---
CSL STOCKBROKERS LIMITED CSL Stockbrokers,
Member of the Nigerian Stock Exchange,
First City Plaza, 44 Marina,
PO Box 9117,
Lagos State,
NIGERIA.
CBN reduces MPR to 12.50%, holds other metrics
Central Bank of Nigeria (CBN) has reduced the Monetary Policy Rate (MPR) from 13.50% to 12.50% and retains CRR at 27.5%, Liquidity ratio at 30%.
The Monetary Policy Committee (MPC) of the Central Bank of Nigeria (CBN) has reduced the Monetary Policy Rate (MPR) from 13.50% to 12.50%.
Governor, CBN, Godwin Emefiele, disclosed this while reading the communique at the end of the MPC meeting on Thursday in Abuja.  Meanwhile, other parameters such as the Cash Reserve Ratio  (CRR) remained at 27.5%, Liquidity ratio at 30%.
READ ALSO: Bankers decry rise in public debt, weak economy
Highlights of the Committee's decision
MPC cuts MPR by 100 basis points to 12.50%
CRR stood at 27.5%
The Liquidity Ratio was also kept at 30%
Get the Nairametrics News App
CBN MPC cuts policy rate by 100 basis points to 12.5 %, maintains other parameters constant.

— Central Bank of Nigeria (@cenbank) May 28, 2020
READ ALSO: Nigeria's total debt to hit N33 trillion – Senate
According to Emefiele, the decision of the MPC to reduce the Monetary Policy Rate  was informed by the impact of the Covid-19 pandemic on the economy, increased inflationary pressure, restrictions in international trade and more.
He highlighted the decline in the nation's GDP as well as the decline in the manufacturing and non-manufacturing purchasing index which were attributable to slower growth in production, rate of unemployment, amongst others.
READ MORE: AfDB's Akinwumi Adesina hits back, denies allegations against him
On reopening of the economy, Emefiele emphasised the need for Government to work towards a gradual reopening in line with recommendations of the Presidential Task Force (PTF) and advice from medical experts, insisting that efforts must be directed at saving not only lives but also livelihoods. He said,
"This is to enable the resumption of economic activities necessary to stimulate growth, accelerate the pace of recovery and restore livelihoods, particularly the vulnerable in our society.
"With respect to output, the Committee urged the Federal Government to continue exploring options of partnership with the private sector to fund investment in infrastructure. This would aid employment generation, support production and boost output growth."