Access Bank rewards businessman with education allowance for 5 years
A businessman and 1,044 Nigerians across the country, emerged winners at the quarterly, senior citizens and women's draws of the DiamondXtra.
Okpala Mark, a businessman and 1,044 Nigerians across the country, emerged winners at the quarterly, senior citizens and women's draws of the DiamondXtra Season 11 reward scheme held yesterday in Lagos.
Speaking shortly after receiving his Education allowance prize cheque for five years, Okpala told newsmen that he has been a customer of Access Bank for years, adding that he never knew he would emerge winner someday.
"I feel so super happy and excited; I never saw this coming. All I kept doing all these years was to top my DiamondXtra Savings account which I started with N5000 a few years ago.  I constantly topped it with bigger amounts which as a result made me richer today. I want to say a big thank you to Access Bank, I also want to encourage other Nigerians, especially my fellow businessmen to partake in this initiative because this bank ends up making their customers happy. I can assure you that with these funds, my children's education will progress to a whole new level."
Some of the winners, who were presented with their cash prizes, were Mr. Gabriel Nwakwe, who won N1 million rent for a year; Mr, Ahmed Abimbola, who won N1 million while Mrs. Amaka Patience Ajuluchu, Dr. Yinsua Ahmed, Oladeinde Sule, and Mrs. Vivian Oyebukwa and Jidai John, all won N500,000 respectively.
Under the cluster category of senior citizens, Mrs. Adewale Wilfred Abosede, Mrs. Rosemary Udo, Mr. Patrick Ogamune, Mr. Godfrey Tosin, Mrs. Obiesie Ekwotosi, Mr. Chimara Charles Uzodinma, and Alero Otimeyin, were winners.
[READ MORE: Access Bank to establish a subsidiary in Cameroon)
And on the women cluster draw, Mrs. Clara Ibiwiele, Mrs. Alero Oyimenyi, and Mrs. Effimwen Eyo won N300,000.
Speaking on the sidelines of the event, the Head Retail Products, Access Bank Mr. Robert Giles said: "DiamondXtra has been running for 11 years and in that 11 years, we have grown every year. The prize fund and the number of prizes have grown every year. And in the last decade, we have given out over N5 billion in prizes to over 20,000 beneficiaries and last year over 4000 beneficiaries.
"The salary for life is great and that is the prize the customers wanted and every year we have added more prizes such as the educational allowance for five years, senior citizens prizes, rent for a year as well as other ad hoc draws throughout the year to make it more accessible and to create more stories for our customers."
Speaking on the Season 12, he said, "It is a tight lip secret, but we would stay true to our promise of keeping DiamondXtra going and we would stay true to our promise for salary for life and everything our customers loved last year, we would keep and our customers have asked for a few more things and we would feature it. So, more prizes more winner and a few exciting features we would keep secret."
Also, the Group Head Consumer Banking Access Bank, Mrs. Adaeze Umeh, said, "Season 12 is even going to be much bigger because we have gotten feedback from our customers to know what they want to see in season 12 and Diamondxtra is a product that has been here for 11 years meaning we have strong followership. And each season we try to build in what customers loved in season 11 and would want in season 12 because it is a product for our customers and we are touching lives."
To participate to stand a chance to win in the Diamondxtra reward scheme, simply dial *901*5# or visit any Access Bank branch and open a DiamondXtra account with a minimum of N5,000 and increase their balance with a minimum of N5,000 every month.
Coronation Merchant Bank partners Union Systems to commence full automation of its Trade Finance Operations
Coronation Merchant Bank has continued to make giant strides in Trade financing.
Leading financial institution in Nigeria, Coronation Merchant Bank, has partnered with Union Systems Limited  to fully automate its Trade Finance Operations.  The trade finance software, Trade-XTM comes with a front-end portal, OptimusTM that empowers corporate clients to initiate and manage their trade transactions from both web and mobile platforms from anywhere in the world.
Earlier this year, the Bank announced its partnership with IFC (a member of the World Bank Group) to provide a $40 million Trade Finance Guarantee facility. In addition to this, the Bank has continued to make other strides in Trade financing such as its recent appointment as a designated bank for the collection and remittance of all Revenue Payments (i.e. Import, Excise and other duties) by the Nigeria Customs Service.
Commenting on the partnership with Union Systems, Banjo Adegbohungbe, Managing Director/CEO of Coronation Merchant Bank stated that, "We are delighted to partner with Union Systems in providing an automated platform to help our trade clients achieve their business objectives. Leveraging this platform, we hope to further improve our clients' end-to-end experience in their trade-related transactions".  He further stated that, "the launch of the automated trade platform is in line with the Bank's strategy of becoming a foremost financial institution in trade financing in Nigeria and across Africa".
READ ALSO: Coronation Merchant Bank appoints Banjo Adegbohungbe as Acting Managing Director
Also commenting on the partnership, Chuks Onyebuchi, CEO Union Systems said, "We are very pleased to be the preferred partner to automate the bank's trade operations using our products, Trade-XTM and OptimusTM. We will be bringing to bear our over 20 years' experience of successful implementation of trade finance solutions across Africa. Our software will provide a seamless experience to the bank's clients on all their trade finance activities from the comfort of their home and office."
About Coronation Merchant Bank
Coronation Merchant Bank was established in 2015 to provide wholesale banking to a long under-served market. The Bank offers Investment and Corporate Banking, Private Banking/Wealth Management and, Global Markets/Treasury Services to its clientele.
This year, the Bank has received numerous awards from international organizations for product innovation, sound corporate governance structures and commendable financial performance. Some of the international awards received by the Bank include Best Investment Bank in Nigeria by Global Finance Magazine, Best Investment Bank in Nigeria by World Finance, Best Investment Bank in Nigeria by Global Banking & Finance Review and Best Investment Bank by Global Business Outlook,
About Union Systems Limited
Union Systems Limited (USL) is an Information Technology Company that provides financial software solutions and professional services to major banks in Africa. The company provides software solutions to financial institutions to enhance their software capabilities, effectively scale processes, improve compliance and drive operational efficiencies.
READ ALSO: Coronation Merchant Bank records 14% growth in earnings for 2019 FY
With headquarters in Lagos, Nigeria, the company has a deep understanding of the African market and has a team of highly qualified consultants that have real-world experience in the delivery of complex software solutions.  Top banks in Africa rely on Union Systems to deliver growth, profitability and regulatory compliance in financial software applications.
Multichoice Nigeria: How investing $2.1 billion in Nigeria's media and entertainment value chain impacts national economy
Multichoice's commitment to enriching lives, as their mantra says, has never been in doubt.
Through MultiChoice Nigeria's socio-economic investment, for 27 years, the company has made significant contributions to the growth of the Nigerian economy. At the heart of this investment is entrepreneurship and employment opportunities through multiple channel distribution platforms and a commitment to the continuous growth of the sports, technology, film and video sectors through infrastructural development.
In 2015, when a set of big goals called the Millennium Development Goals that were set two decades ago reached their 'expiry date', with some of the key objectives still unmet, a new 15-year timeline was set for yet another group of goals, this time called the Sustainable Development Goals. From eight goals to seventeen new goals, five years in, the world can say that a major shift seems to be happening.
One clear indication of this is in the way business operations for many organizations around the world have evolved. With many companies becoming more conscious of how their affairs affect the environment, how consumers interact with their products, and how much value they really add to society, corporate social responsibility or value, has moved from being an item on the checklist to become a business core.
Explore economic research data from Nairametrics on Nairalytics
Now, while many businesses seem to be playing catch-up, there are others even in Africa, who unknowingly, but with great startup vision, had laid the foundation and built a template for what a socially responsible company should look like.
Established in 1993, Multichoice Nigeria had a 7-year lead time, before the MDGs became a guide and used those years to build a solid business that combines profit and purpose. Today, that business represents what shared prosperity is, having created the right mix of opportunities for its people to grow, while helping to build an industry that ranks as the second-largest in the world and the most loved in Africa.
As people say, if content is king, distribution is definitely queen, and this thinking remains why Nollywood owes a lot of the accolades it gets today to Multichoice Nigeria. Between 2015 and 2019, Accenture in its new report for Multichoice, estimates that about $428million has gone into the local content production business of Multichoice, mostly in developing local creativity and building the production infrastructure to support it. To put this investment in more perspective, it directly translates to 117,459 hours of local content. That's huge, on both an African and global scale, even huger given that it's only from 5 years of enriching lives; definitely more if the organization's 27 years is brought into view.
READ MORE: MultiChoice plans reduction in DSTV subscription fees across some African countries
These sorts of investments rarely occur without a ripple effect on human capital development, but leaving things to chance isn't the Multichoice way. The Multichoice Talent Factory further drives the local content goal for Multichoice, as they welcome a cohort of 20 students who after one year graduate, are better equipped to keep the African film industry innovative and constantly growing. It is an intentional play at giving equal opportunities to anyone with film and broadcast dreams to pick the skills they require to make a mark in the industry.
On one hand, as Multichoice continues to build more credibility for the entertainment and media industry in Africa, through its investment in local content, future talents, even award shows, it is also ensuring the market for the content they produce grows on the other hand. This process has required a strong supply chain and Multichoice Nigeria has proven equal to the task investing over $1 billion in their distributor, supplier, even installer network in just the last 5 years. With further investment in their 961 employees, in the areas of training and other benefits, it is safe to say they have gone beyond building a business, to building an ecosystem.
READ ALSO: Andela to expand presence to all African countries
Whether this ecosystem model works is a question their recently released socio-economic value report put together by Accenture and covering the last five years of operations answers perfectly. The contribution of an estimated US$2.1bn to the Nigerian economy between that 5-year period, shows that they understand the role they play in achieving a prosperous Africa based on inclusive growth and sustainable development.
In Multichoice's 27 years of operating in Nigeria, their commitment to actually enriching lives as their mantra says, has never been in doubt. Beyond the strides their video content business has made in employing people directly, creating jobs for even more people in adjacent industries, training talents and building infrastructure; the company has always still found a way to give back to the different communities where they operate.
With a portfolio of grassroots sporting programs, various awards that recognize great work from inspiring Africans, essential care for people with sickle cell disorder and investments in education and educational content, Multichoice Nigeria shows it is more than just business.
Cowrie Integrated Systems and COINQVEST announce payment processor partnership
Allowing Nigerian online merchants to accept BTC, ETH, XLM, or other cryptocurrencies and settle directly in naira.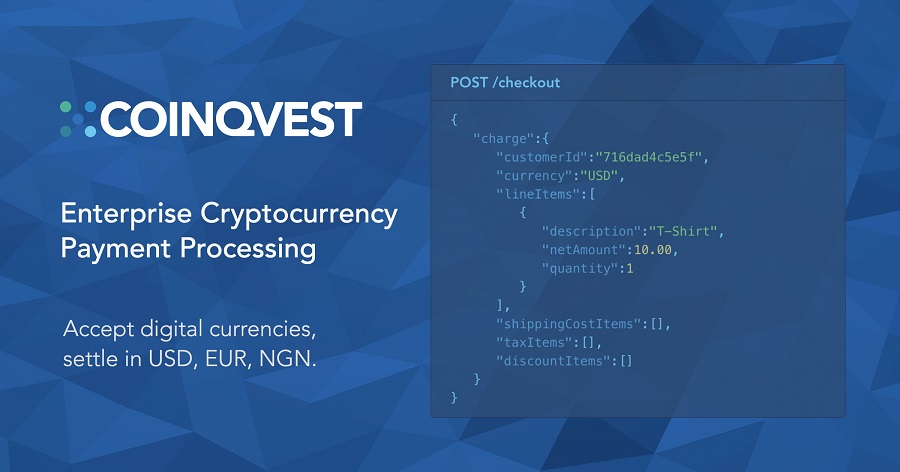 July 9th, 2020, COINQVEST and Cowrie Integrated Systems today announced a partnership to allow Nigerian merchants to add major cryptocurrencies such as Bitcoin and Ethereum to online payment options in online shops and e-commerce businesses. The cooperation between Cowrie and COINQVEST enables these funds to be settled to Nigerian Naira (NGN) bank accounts, in minutes.
Nigerian online merchants can now process payments using any of the major cryptocurrencies their customers use. This financial flexibility and speed can be a game-changer for large and small merchants alike.
The Cowrie and COINQVEST partnership promises a range of positive impacts for enterprises wanting to update their payment processing infrastructure. The COINQVEST platform provides all of the user experience merchants seek and require.
COINQVEST's software development kits make integration easy for developers. Merchants unfamiliar with coding can opt for COINQVEST's turnkey checkout solutions for WordPress, Shopify and Magento. Once set up, merchants have a valuable financial toolbox.
They're able to accept cryptocurrencies (or any supported currency), convert it to their national currency, and withdraw funds to their bank accounts. Merchants have access to customer transaction analytics to tailor their businesses as needed. Also included are compliant and accountant-friendly tax records, useful during tax season.
"Bitcoin is exchanged, and NGN immediately transferred to a bank account, offering a modern and internet-based payment option for customers", says COINQVEST co-founder Marcin Olszowy. He continues, "We eliminate credit card processor fees, payment delays, chargebacks. Immediate transaction settlement also improves financial monitoring and business turnover."
Cowrie co-founder Gbubemi Agbeyegbe explains, "Bitcoin is extremely popular in Nigeria, with the highest adoption rate in Africa. This solution lets online merchants embrace digital payments and gives customers an option to use their Bitcoin in everyday lives."
COINQVEST co-founder Stefan Schneider adds, "COINQVEST offers the most efficient way to accept Bitcoin compliantly. This is why Nigerian businesses, such as leading online fashion store PayPorte and others, already embrace digital currency payment processing via COINQVEST."
About COINQVEST
COINQVEST is a safe and seamless enterprise payment gateway and API between fiat and digital currencies. Processing is secure and automatic, with beautifully designed back-end analytics like invoicing and transaction history to serve enterprise business needs. COINQVEST's developer-centric API can assist merchants or B2B candidates to accept a variety of digital payment options alongside their current methods. Website: www.coinqvest.com
About Cowrie Integrated Systems
Incorporated in the UK and Nigeria, Cowrie Integrated Systems is a fin-tech company that provides value-added services over electronic payment networks. Cowrie Integrated Systems is a well-established Nigerian payment processor and fiat to crypto payment platform and exchange. Website: www.cowrie.exchange