Access Bank makes top 500 global banking brands
Access Bank Plc has been named as one of the top 500 global banking brands, according to leading business valuation and strategy consultancy, Brand Finance.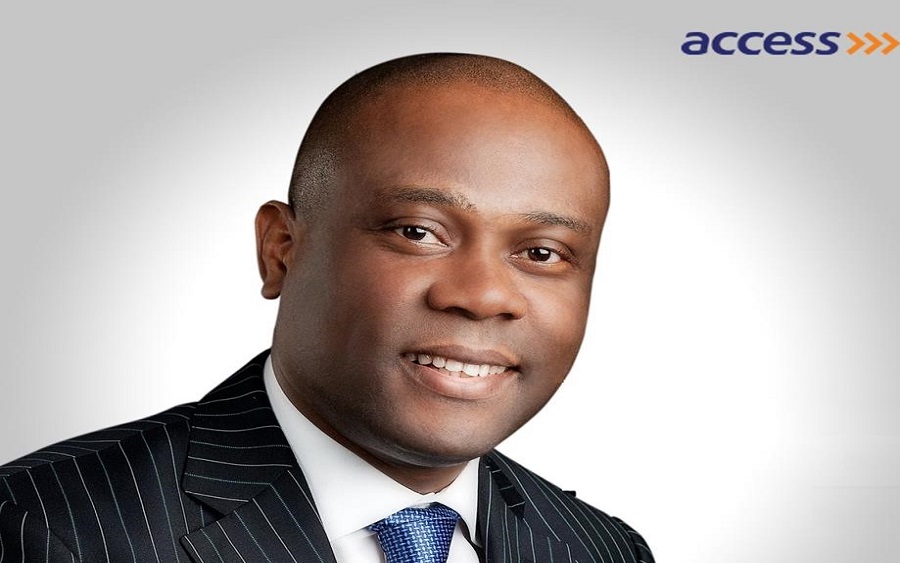 Nigeria's largest retail bank, Access Bank Plc., has been named as one of the top 500 global banking brands by a leading business valuation and strategy consultancy, Brand Finance.
Access Bank has demonstrated growth since it was last ranked as the fifth most valuable Nigerian bank in the 2017 Banking 500 report. The Bank now ranks second with a valuation of $242 million.
The Bank's valuation comes on the back of its successful merger with Diamond Bank in April 2019, and its recent expansion into the East African market. The nine-months post-merger financial results posted by the Bank showed gross earnings of N513 billion, an increase of 37% above the N375.2 billion recorded within the same time frame in 2018.
Further analysis of the results showed the Bank's asset base remained strong and diversified, growing by 33% to N6.6 trillion as at September 2019, up from N4.95 trillion as of December 31, 2018.
The Group Managing Director, Access Bank Plc., talking about the Bank's growth trajectory, said, "In the last twelve months, Access Bank has grown into a powerhouse in the Nigerian and indeed, African banking industry. We are happy with all the successes recorded so far, and we hope to reach and surpass other targets we have set for ourselves.
READ ALSO: Network glitch: Poor internet speed impedes banking services
"Access Bank will continue on its journey to becoming Africa's gateway to the world, through strategic expansion into new and emerging markets within and outside Africa and providing best-in-class customer experience." 
He went further to urge investors and other stakeholders to keep their faith in the Bank, reassuring that the Bank will stay true to its values of ethical and sustainable banking practices.
"Access Bank will continue to innovate and remain profitable while offering value to all investors and stakeholders. As we strive to expand our business operations, we will remain true to our core values of sustainable banking and adherence to global best practices," Wigwe concluded.
Published in the United Kingdom, the Banking 500 Report is an annual ranking of the world's strongest and most valuable banking brands.
Develop Homegrown Solutions, Human Capacity and Invest in Agriculture to Rebuild Africa; Experts say at UBA Africa Day Conversations
•Prioritise SMEs Development
•Advocate Partnerships between Private Sector and Government
African thought leaders and great minds have noted that the development of homegrown solutions and adequate investment in human capacity building and agricultural expansion are key steps that will help to rebuild Africa and put the continent on a stronger footing post Covid-19.
Analysing the theme 'Domestic Policies, Regional Development and a Global Agenda: SDGs and African Development at Crossroads; the speakers collectively gave this submission during the second panel session of the 2020 edition of United Bank for Africa (UBA) African Day Conversations.
The virtual session, which was moderated by Veteran Journalist and Media Consultant, Eugenia Abu, was made up of thought leaders from across Africa, including the Regional CEO, UBA West Africa, Abiola Bawuah (Ghana); Senior Program Coordinator, Regional Network of Agricultural Policy Research Institutes, Dr Nalishebo Meebelo (Zambia); Leadership Coach and Chairman, Go Ahead Africa Ltd, Roland Kwemain (Cameroon); Founder and Executive Director, Social Change Factory, Sobel Aziz Ngom (Senegal); Special Assistant to the President Muhammadu Buhari on Digital and New Media, Tolu Ogunlesi (Nigeria); and Social Entrepreneur and Founder, LEAP Africa, Ndidi Nwuneli (Nigeria).
Abiola Bauwah who emphasised how Africa should rely less on foreign donors, said, "There are five areas we should work on more for us to reach the SDG goals; the private sector; rapid industrialization; institutions and the rule of law; develop our human capital; remove the barriers across Africa. We should institute Africapitalism which is an economic philosophy that says that the human and capital resources of Africa are the only ways in which we can develop Africa."
Nalishebo Meebelo noted that there's a lot that young people can do along the value chain of manufacturing, transporting, technology and marketing, adding that, "Government cannot do it alone, they need to work with other stakeholders. Cut and paste solutions do not work for us here in Africa, we need to have our own homegrown solutions to fight this pandemic."
Eugenia Abu, who focused on the huge role that women and youth must play in rebuilding the continent, said that Africa had to work together to provide solutions to its numerous challenges. "Women, entrepreneurial champions, young people and collaborations between African countries are very key to developing Africa," she stated.
Ndidi Nwuneli who was saddened that the agricultural sector remained hugely untapped, emphasised the need for a change of mindset where people usually equated agriculture to poverty. "This is a $1 trillion industry and we are neglecting it; therefore my charge to you is that we invest in the agricultural sector, prioritize it, leverage it, transform our educational system to prepare our young people for this sector, change the mindset and trade with each other," she explained.
Sobel Aziz Ngom pointed out the need for the youth to take charge in Africa. "It is time to not just serve young people, but to trust them to lead. The challenge that we have at the domestic and continental level is making the change in our structure and in the political system that give the place to young people to be 100% engaged," Ngom stated.
In his own submission, Tolu Ogunlesi, said, "All over the countries young people are seizing opportunities, and we need to start thinking about how to make sure that this is not just for the age of COVID but for now and beyond COVID-19. Even if the pandemic was to disappear today, I hope that the lessons we're learning, we're not going to forget them and go back to where we used to be."
For Roland Kwemain, more institutions need to tow the line of UBA in events such as UBA Africa Conversations. "If 100 multinationals in Africa were doing that UBA is doing, we would go far because CSR is an amazing leverage not just for the brand but also for supporting people & women in terms of activities. The truth is that we need partnership between the government, corporates and the civil society," he said.
The United Bank for Africa is a leading pan-African financial institution offering banking services to more than twenty million customers globally. With footprint in 20 African countries and presence globally in the United Kingdom, the USA and France, UBA is connecting people and businesses across Africa through retail, commercial and corporate banking, innovative cross border payments and remittances, trade finance and ancillary banking services.
Get access to Eurobonds on Wealth.ng
Like every other investment, buying Eurobonds should be a well thought out process and not just another plight to add to your investments or be tagged a Eurobond investor.
Now you have access to buy USD denominated Bonds from FGN and other Corporate entities like Fidelity, UBA, Ecobank etc directly from Wealth.ng.
What is a Eurobond?
A Eurobond is a fixed-income debt instrument (security) denominated in a different currency than the local one of the country where the bond is issued. Hence, it is a unique type of bond.
Eurobonds are not necessarily denominated in Euros as the name implies. For example, bonds denominated in US Dollars are better known as Eurodollar bonds, while those denominated in Japanese Yen are called Euroyen bonds.
Benefit to Investors
• Affordable: The main benefit to local investors in purchasing a Eurobond is that it is relatively cheap to obtain.
• Liquidity: Importantly, Eurobonds are highly liquid and can be converted into cash within one fiscal year. Since the bonds are fixed-income securities; Eurobonds usually offer a fixed interest rate to investors such as yourselves and we have made this readily available to you on Wealth.ng.
• Foreign Exposure: There is also exposure to foreign investments staying in the home country.
• Diversification: It also gives a sense of diversification spreading out the risks.
So If you're looking for new ways to invest in the ever-changing economic environment, the FGN and Corporate Eurobonds (USD) are your ideal choice to increase your chances of positive returns and earning a profit on your investment.
How to invest in Eurobonds on Wealth.ng
The process of investing in Eurobonds in Nigeria does not differ from that of ordinary bonds. Simply select your preferred Eurobond product, and make payment directly on Wealth.ng. Please note that you can get started with a minimum of $500 and a 1% penalty fee applies for early liquidation.
Before you Buy
Like every other investment, buying Eurobonds should be a well thought out process and not just another plight to add to your investments or be tagged a Eurobond investor. It is advisable to review and understand the risk profile of any Eurobond that you are interested in buying.
Get started with Investing in Eurobonds on Wealth.ng— www.wealth.ng
CBN's financial inclusion drive achievable with tech– Expert
Critical technology intervention such as CICOD Lyte would help businesses to thrive and scale above the hurdles of inefficiency, leakages and poor service delivery.
To help Nigeria's apex bank, the Central Bank of Nigeria achieve financial inclusivity and accelerated growth among Micro, Small and Medium Enterprises (MSMEs), business processes will require integrated technology for optimum results.
This was revealed by the United Kingdom trained IT expert, Wumi Oghoetuoma, CEO, Crown Interactive. According to him, critical technology intervention such as CICOD Lyte would help businesses to thrive and scale above the hurdles of inefficiency, leakages and poor service delivery.
Ogboetuoma revealed this while unveiling Crown Interactive's new offering, CICOD Lyte which will help grow and engender profitability among Micro, Small and Medium Enterprises (MSMEs).
Shedding more light, the IT expert explains, "All organizations have business processes that enable them to deliver their products and services to their end-users. For many organizations in Nigeria, these processes are tracked manually, leading to inefficient operations, leakages and ultimately poor service delivery. Today, large organizations such as Eko Electricity Distribution Company and others currently use the CICOD Lyte solution provided by Crown Interactive to manage their key business processes and track their revenue flow."
Explaining more, he disclosed, "CICOD Lyte provides customers with the ability to set up their online businesses immediately, manage orders, take payments and manage deliveries without the need for any technical skills. CICOD Lyte is currently offering a 30 days free trial period. Crown Interactive is offering fully integrated but modular systems that can be integrated into existing organizations' software applications where required or operate independently to provide an unparalleled platform for automating key business processes.
Set up in 2005, Crown Interactive is a software company based in Lagos, Nigeria with a focus on delivering solutions that enable Customer Management, Workflow Management and Revenue Assurance. Wumi Oghoetuoma is a graduate of Computer Science from Kingston University, UK. His career spans over 20 years across various continents providing technology and business analysis services for global organizations such as Oracle Corporation, AOL, Virgin Media, Altech UEC and Thompson Reuters