INSIGHT: Here's a reliable way to save money from your monthly salary
Developing the habit of saving money consistently is one of the most difficult things to do on the planet. There are a lot of reasons why this is so.
Developing the habit of saving money consistently is one of the most difficult things to do on the planet. There are a lot of reasons why this is so. Writing for CNN Money, a professor of Economics at Harvard University named Sendhil Mullainathan, explained that humans are more likely to prioritize their immediate needs (e.g. a new phone) over our future needs (such as retirement).
This is similar to why we procrastinate in general. According to Hal Hershfield, an assistant professor at New York University's Stern School of Business, "On a psychological and emotional level, we really consider that future self as if it's another person." In essence, we see our future selves as strangers. Since the person we will become in a few months or years are unknown to us, we do not always make the best decisions for our future.
You work 9-5 every day, earn a salary, but end up broke and wonder why you have to go through the same cycle every month. Well, this happens not necessarily because you are reckless with money (although it could be), but mostly because there are just so many things to sort out.
However, there are several benefits to saving money as you can see below;
Saving enough money can guarantee your financial freedom.
Savings provides safety and easy access in case of any unexpected occurrence.
Saving money will give you peace of mind, pride, and independence. The less fear you have of going broke, the more freedom you have of doing anything you want and the likelihood of increasing your happiness.
Should I save money with each paycheck?
The answer is No. Just try to make more money. That is easier than saving money. I find that whenever I try to save money, I end up spending more. I don't know why that is. I'm a horrible spender, which is probably why I've gone broke so many times.
[Read More: Financial missteps that could ruin your marriage]
It is better to just make more money with multiple streams of income so you don't worry about going broke. And then saving money will come naturally as you make more money.
Do not forget that a salary will never make you money. After taxes and the daily grind, and your exhaustion and the feelings of 'I hate my job', coupled with inflation and new expenses (kids), you will never be able to save.
I say it glibly, try to make more money. I know it is not that easy to do. But as James Altucher has stated, if you have a constant focus on alternative means of income, then you will earn more money in the long run.
I recently came across the statement above and I completely agree with it to a large extent. It is very difficult to save money from your salary anywhere in the world; more so in a country like Nigeria where many terrible economic conditions working against you.
[Read Also: Your salary is a bribe to make you forget your dreams – Awosanya]
The average Nigerian multimillionaire/billionaire has more than 5 sources of income. You can ask the tax authorities to verify this.
 So, what does this have to do with saving money?
This has a lot to do with it because you have skills that are marketable even if you don't recognise it. You are presently working at a job providing services that you get paid for which means you provide value in exchange for a salary. Imagine a scenario where you can provide those services to people out there and get paid for it on the side. That's the dream and it is very possible.
So what do I do if I have no skills?
First, you must be willing to be open to change to improve yourself because your best ideas and habits got you to your present position. Now do the three things below and tell me in six months if things do not change for the better.
Read hundreds of books in fields you are interested in learning about.
Listen to podcasts from people you would love to be like, learn from their mistakes and successes.
Take courses online – there are thousands of courses you can learn on sites like YouTube, Coursera & Udemy for as lows as N3,000. Once you are done learning, start offering to do things for people for free, seek feedback from trusted people then recycle.
There are lots of people on freelance websites worldwide ready to pay you to help them do things that can be done in hours in exchange for foreign currency. Doesn't this sound exciting?
[Read Also: If you experience these signs then know your salary is not enough]
A friend of mine who runs an entertainment business paid money to learn on how to make money through Wikipedia which he has successfully used on freelancing websites and has earned more than $20,000 in less than 6 months! Some of the jobs he does takes him less than 30 mins to complete.
That's the power of ideas and skills, two things no one can take away from you. You just have to know yourself, taste and notice the things that draw your attention.
I read Steve Jobs once took a calligraphy course, which seemed meaningless at the time, but he had a vision and knew where he was going. That calligraphy course has had a major effect on the design of the iPhone.
Below is a list of twenty companies that will pay you for freelance service;
Fiverr.com
Upwork.com
Authenticjobs.com
Flexjobs.com
Weworkremotely.com
Remote.io
Skipthedrive.com
Virtualvocations.com
Remoteok.io
Careersstackoverflow.com
Toptal.com
Guru.com
Jobs.github.com
Dribble.com
Jobscribe.com
Wfh.io
Powertofly.com
Landings.job
Jobspresso.com
Europremotely.com
I don't have the time or money to learn new skills; I just want to save from my salary?
Below are things you can start doing to ensure you save money not just from your salary but any other income that comes from your hustle;
[Read Also: 7 ways to save money after payday ]
Picture yourself being broke at old age: 
I think if you are completely honest with yourself and visualize how broke and lonely you will be at the mercy of others when old, you will be forced to start thinking about saving.
Look at the old people around you complaining of years they wasted chasing things that did not matter, and how life has become unbearable because they refused to save, invest and continuously improve themselves when they were younger.  You don't want that to be you in 30 years, so start now.
Start calculating your net-worth:
When I started writing down my budget and calculating my net-worth I became more mindful and conscious of where my money was going and started questioning everything I spent on. I started asking myself before I spend, what is the value added?
There is something magical about writing down things, the flow between your brain, the pen and paper crystallizes and creates a force that pushes you to want to get things done.
Start by reviewing your bank statements for at least 3 months and follow where the money goes. The trend will show you where your biggest expenses are. Not doing this will be like guesswork.
Record every naira you spend.
I would always do everything possible to ensure my wealth increased so I would cut down on unnecessary expenses which helped me my savings.
There are lots of financial apps that offer a more efficient way of monitoring your spending habits than writing down on a piece of paper, however, what is ultimately required is a high level of discipline.
Calculate how many hours of work it will take you to buy:
Most salary earners will find it difficult to do this math because they don't understand the relationship between time and income. It is important to understand that you gave thousands of (blood, sweat, and tears) hours to earn your salary. So, it is paramount to apply that same principle when it comes to spending it.
For example, if I earn N150,000 monthly and I'm interested in buying an iPhone X for say N300,000, I would have to work for 2 months without paying any bills to be able to afford it. This will help you analyze the value of an item better and will limit spending on things you don't really need at that moment.
Before you spend a Naira, establish a goal
Establish a goal that must be achieved before spending a Naira. You can create a percentage rule for yourself; for example, say before I buy that car I must make 1/10th of the cost of that car from other sources apart from my salary.
You can also create other goals like losing a certain amount of weight or finding a life partner before splurging on a vacation.
Automate savings:
Let me be honest, it is almost impossible to save if you don't automate savings, which means paying yourself first. Life happens in such a way that there will always be something to pay for, so you have to ensure you are one step ahead of the vicissitudes of life by automating savings.
[Read Also: How To Calculate Your Taxes In Nigeria]
Open a savings account for your Investment activities:
We all have a transactional savings account, where we receive our monthly salaries, pay bills, and keep emergency money, however, most people do not have set aside a savings account for managing investment funds.
You should open another savings account for your investment purposes, where money will be set aside for investment and reinvestment purposes.
For example, if you buy a stock that pays a dividend or a bond that pays you a coupon (interest), you should request for the dividend to be credited automatically to this investment savings account. This will ensure that the returns generated can be reinvested in the financial markets, instead of spending it on things that wouldn't generate income for you.
Other Unorthodox ways of saving
Sell N50,000 – N200,000 worth of clothing, shoes, electronics and other household cluster before paying N100,000 for the latest HD TV, watch or suit. Go on websites where you can buy or sell.
Open a mutual fund for your unborn or newly born child to fund the child's tuition fee before going on a vacation.
Purchase an insurance policy before spending more than N1,000,000 on that car. When tribulations occur you realize that a car is meaningless (not saying a car isn't important) and what saved you is the insurance cover you grudgingly bought.
Buy an Inverter: It is cost effective and would save you money in the long run. The inverter would power your house for 2-3 days without power supply and would make you save money buying fuel.
I would appreciate your ideas on how to save money from a salary in the comments section.
7 key ways women can effectively build a professional career while running a family
Juggling between work and family life has been one challenge faced by many women.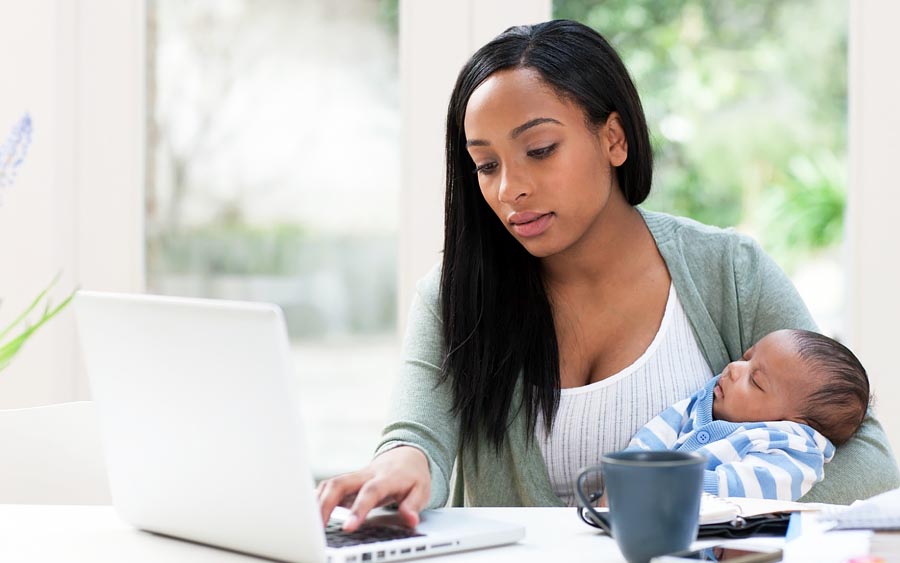 According to the World Bank collection of development indicators, compiled from officially recognized sources, women make up 44.94% of labour force in Nigeria as at 2019. It can be estimated that more than half of this number of working women are wives and mothers. This is quite impressive and shows an appreciable increase in the number of working women and working mothers to compared to what was seen two decades ago.  However. The rise in the number of working women and mothers also increased some of the problems working wives/mothers faced both at home and at work. In fact, some of these problems remain largely unattended to in the Nigerian society.
In our world today, especially in the corporate world, where competitive nature is prevalent, a lot of women have risen career-wise and have carved a niche for themselves. Some of the career choices they made has put so many of them in a state of dilemma. i.e. juggling between their work as well as their family life, thereby making it difficult for them to strike a balance.
READ: 10 side businesses to sustain your professional career
In addition, many husbands, especially in Nigeria where patriarchy is strong do not support the idea of their wives working. A few who buy the idea, do so grudgingly, thereby, not offering their full support and cooperation to their wives.  This, however, has made a lot of relationships suffer.
Contrary to the above, many men give their wives full consent to work, pursue their dreams and professions. In Nigeria, there is an indication that most working mothers/wives are working not just for self-fulfilment but also to supplement their husband's income in the face of persistent inflation and to assist their spouse financially.
A lot of people find it difficult balancing the strike i.e. their career and family, leading to some having to quit their jobs. Nevertheless, there are some women who, over the years were able to balance their professional careers with that of their family, and these women have become source of inspiration to so many women finding it difficult to strike the balance. And they are the likes of Oby Ezekwesili, Folorunso Alakija, Aisha Ahmed, Ibukun Awosika, Toyin Sanni, Ebelechukwu Nwachukwu and so many other women striving in their area of specialization.
READ: President Buhari approves N13.3 billion for Community Policing in Nigeria
According to Mrs. Ebelechukwu Nwachukwu (MD/CEO, NSIA Insurance Company Limited) in an exclusive interview with the Amazons Watch Magazine editorial team, she said that "balancing work with family life is quiet challenging to achieve but is very achievable. I think women more than men need to realize that it is essential to start early to focus on a desired career and we need to stay the course when marriage and children come. We do not have time to play around or to waste, and we must stay motivated and not burn out. Women, by starting early would already have set a pace, before family life comes in. Even when you don't start early; women must realize that many times, we need to do more. We must stay the course"
According to Ibukun Awosika (Chairman Firstbank Nigeria) "In life, you decide on those things that are important to you, because as a woman I have all my visions and dreams and I want to achieve them. I want to also be a successful mother to my children and I want to be a successful wife to my husband; once I am able to balance it up, it will make a successful home. All we need is understanding. And we need a balanced home to have the right atmosphere. I also apply wisdom most of the time because the day my children matter most to me, I create time for them. The day it is my husband that matters, I create the time. The same goes for my work. If not, everything will crumble and that is why I need to measure the percentage of attention I give to them and that is why I can't advise another woman on how to run her family because it is your circumstances that determine your kind of action; my home is different from any other home. I am happy to be married to the best man."
READ: Women and unemployment in Nigeria: How government and stakeholders can bridge the gap
Here are the 7 ways to help make sure both your career and your family flourish:
Having a supportive spouse is key to balance
Having a supportive spouse is key to balancing your career and family because he will assist in the responsibilities of taking care of the family. Having a supportive spouse will enable you reach your career height. They go as far as being supportive of their pursuits to seek higher education thereby supporting them financially, morally, emotionally and otherwise.
Though at times some when overwhelmed might grumble about a woman's dedication to her job, however, as a woman the best way to resolve this concern is by being diplomatic. Nevertheless, when your spouse is being supportive, it is still imperative to give them top priority and also tend to their needs.
Planning and time management is crucial
Good planning and time management are crucial to balancing career and family. A lot of people are faced with the challenges of taking care of their young children/ pursuing their careers. Some will plan it in a way that they will pursue postgraduate degrees or career advancement when their children are older.
Also, when planning and managing time, figure out your family's priorities. Have a calendar that includes dates when bills are due, a list of school and family events, extracurricular activities, birthdays, and more. It is always recommended to use a Google calendar, which can be easily shared and synced on smartphones. Set aside 15 minutes each Sunday to review and prepare for the upcoming week's schedule. This helps eliminate surprises during the week. Also, have a time put in place to take care of yourself by going to a spa and exercising (like a yoga class). Remember to eat well and get enough rest. These are simple things a lot of working mothers/wives' neglect.
Be focus and work hard
This is specifically true for women who want to compete for leadership positions and elevate higher in their careers. For you to get to that position you have to be focused and work so hard to avoid your gender being a hindrance to your success. There is often pressure from employers on women to convince them that their loyalties lie at work and not at home, since working mothers might not be able to afford to spend extra hours doing overtime or other work-related activities which can jeopardize their family. The best way to meet up with all the expectations is to be focused and work super hard. Multitasking will aid you to achieve your goals. Avoid time-wasting, casual internet browsing, gossiping, and long lunches. All these things cause distractions and make you less productive.
Hire a good house help/nanny  
When trying to balance a professional career with family, it is advisable to hire someone that will take care of your children. You may decide to employ a house help/nanny or even invite a family member, like your mother/mother-in-law to come around and take care of your kid(s).
When hiring a help/nanny it is always imperative to do a background check of the person you are bringing inside your home so you wouldn't end up creating a problem for yourself and for your family. Go for someone that has excellent experience and is adaptable to kids of various age range; caring for newborns and older children who need homework help.
The house help could cover the necessary functions, such as cooking, laundry, cleaning, and taking care of the children while both parents are at work. It is imperative to show your house help love so they can reciprocate and take good care of your children when you are at work.
Find quality creche for you kids
Using a Creche (for toddlers) is a good way of balancing your work and family for those that do not want to hire a nanny/house-help. There are some inexpensive schools you can enroll your kids, where they will receive proper care. Having them enroll in Creche will give you ample time to focus on your job and grow your career. You and your spouse can reshuffle on how you both can go for school runs. Choosing a Creche is not something you carelessly pick out and move on, the reason being that leaving your child in the care of others is a major act and needs your utmost attention. Before choosing a Creche it is important to take note of their services and leave room for evaluation to be sure they are in good hands.
Go for online courses
Getting an education is very important to a lot of women as it enables them to achieve higher leadership positions. Having a successful career has to do with furthering your education, whether through degrees or certifications.
For this to be feasible, since you are trying to balance your career and that of your family, it is advisable to venture into online professional courses/online Master/PHD courses. Going into online courses will give you sufficient time to take care of your family and also aid in self-development which is a good ladder to enable you climb faster in your career.
Create a family time
Making time for your kids is crucial, both during the week and on the weekends, to nurture your family dynamic and allow everyone to bond. Always create family time, like having a family breakfast and family weekend. The family weekend covers going to the movies/amusement parks.  When you are having family time, avoid talking about work or checking your phone. Instead, focus on your kids' interests by asking questions about their friends, classes, and hobbies. With older children, ask for their activity suggestions and try to meet their needs.
Get relevant economic and financial data on Nairalytics
In conclusion, being a full-time working mother can lead to feelings of guilt and stress because of divided attention between work and family. The key is to be focus on a plan, get organized, and find the right balance between profession and parenthood.
Great tips for landing a job during this lockdown
The coronavirus pandemic has had its impact on job opportunities, but here are some tips for landing jobs.
The economic lockdown and movement restrictions due to the coronavirus pandemic has had an impact on job opportunities. Some of them could be in the form of job losses, getting new jobs, or even changing the way we work.
Given the unemployment numbers especially in these challenging times, it might be hard not to be apprehensive.
According to a report from Bloomberg, Mark Hamrick, senior economic analyst for personal finance website Bankrate.com, said, "It's important to remember that there is hiring happening. There's always attrition and individuals leaving for other jobs."
Robin Ryan, a career counsellor, said that just a few unemployed people are job hunting at the moment. Most believe that there are no jobs, they can't be hired, or that only lower-level jobs are available.
Here are some tips for landing jobs during this lockdown.
Beat the system: Make a list of your recent jobs and your top accomplishments at each of them. Those are the items that should be on your résumé. To get past automated applicant vetting systems, enter your work tasks—budgeting, project management, graphic design, team leadership, etc.—in the first bullet point under each job. Don't include extraneous formatting, such as text boxes, tables, footers, or headers, because application software can't recognize it.
(READ MORE:Skills Africa needs for sustainable development)
Assess your prospects: You have to find out if the opportunities in your industry are shrinking. According to Hamrick, "many people fail to see that their skills might apply to a variety of settings." Consider some of the sectors that have stayed open in the lockdown—finance, real estate, food and other consumer goods, technology, and retail, plus suppliers and distributors for each. If that exercise doesn't yield much, think about how your skills might help companies sharpen their online business. "There's a need for people to help facilitate digital transformation," Hamrick says.
Hit up recruiters (Recruiting agency firms): Let them help you with your resume and offer suggestions about things you might do to stand out.
Use your resources: Companies are filling positions needed to support virtual workers as part of their pandemic strategies. Many company websites might not yet reflect these changes, so try popular online job search websites, type in a company and your city, and you'll get a better sense of what kind of hiring is going on.
Network: That friend-of-a-friend who previously ignored you. He's home now and might be up for a quick Zoom coffee date. Connect with everyone you know in your field. (LinkedIn is good for this.). Those connections build on each other. You can ask mutual acquaintances to introduce you to people who can help and once that happens, you can fix a virtual coffee date. If that goes well, ask for an introduction to a hiring manager or supervisor. You've got nothing to lose.
Nairametrics | Company Earnings